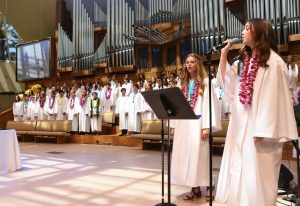 On Thursday, June 15, Mariners Christian School held its graduation ceremony for the Eighth Grade Graduating Class of 2017. 
Eighth grade students, families, friends, and the entire MCS faculty and staff gathered in the beautiful sanctuary at St. Andrews Presbyterian Church in Newport Beach to present diplomas, listen to music and keynote speakers, view a slideshow of middle school memories, and acknowledge key student accomplishments and leadership awards.
The program included:
•        Student Welcome by John Herold, Student Council President
•        Invocation by Graham Nelson, Student Council Vice President
•        Special Message from Heather Harrison, Middle School Principal
•        Worship music by MCS Student Worship Band
•        Alumni Heritage College Scholarship presented by Chris Spurgin, Middle School Teacher
•        Eighth Grade Speech by student Mia Collier
•        Salutatorian Awards presented by Tami Thurston, Middle School Teacher
•        Valedictorian Speech by student Grace Jones
•        Bill Jones Leadership & Integrity Awards by John Hellriegel, Middle School Teacher
•        Special Gift to 8th Grade Class, Troy Moore, Head of School
•        Commencement Address by Brian Darrow, Pastor of The W Church and MCS Dad
•        Benediction by Carrie Olson, MCS Board Member and MCS Mom
 Eighty-three 8th grade students received their diplomas while wearing formal white graduation gowns in the lovely setting of St. Andrews Church.
For more information, visit marinerscs.org.