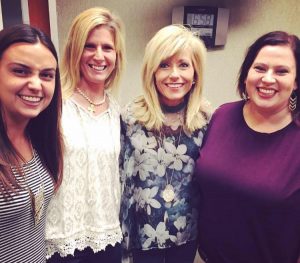 "Today can be the day that you get back to your calling," said Beth Moore to the 1,700 women who came to hear her recently at Mariners Church. "God is faithful. I don't know what you've been through, but weave it together with all that God has done for you. Recount His blessings, declare them. God has a plan for you that is good. He is for us, not against us."
"We are meant to be transformed, we are meant to be different, to change the way we think and act," she continued. "We really are supposed to get unstuck, to get better, and get on with life. Stop trying to figure out why something didn't work out, and move on. There are some things we are not going to understand until we get to heaven. Be a voice. Use your voice to help those who can't speak for themselves."
Beth Moore is an evangelist, author, and Bible teacher. She is the founder of Living Proof Ministries, a Bible-based organization for women based in Houston, Texas. She speaks on video and radio, and teaches conferences around the U.S. as well as numerous countries.
"The Beth Moore event was a way to reach the women in our area, and to challenge them to be a blessing to those God has put in their community," explained Carmella Hansberger, Women's Pastor at Mariners. "Beth's talks centered around understanding Satan's destructive will for our lives, and how to stand against those attacks. She challenged us to walk in freedom and victory as followers of Jesus Christ, and to be involved in the lives of those around us."
"We want women to understand what it means to be free from the shame, guilt and bondage that their stories can put them in; to be free to walk in courage, strength, security, and power in their true identity in Christ through the blood of the cross," she continued. "Their story then becomes a catalyst for compassion, conviction and a desire to move beyond themselves. When they are able to walk in freedom, they are blessed to be a blessing, and they can begin to reach out to others in their stories, and help them find freedom as well."
Carmella explained that Beth's team at Tyndale House Publishing approached Mariners to see if they would host the event and have Beth as the guest speaker. Beth offered to speak as a gift of her time, with the request that the event also be a fundraiser to reach out to the homeless in the area. The staff at Mariners was thrilled and chose to support two of their ministry partners through the fundraiser: The Launch Pad and the Orange County Rescue Mission.
Over $30,000 was raised that evening, which will be given to the two ministries.
The Launch Pad provides long-term residential support to young adults ged 18-24 who are "aging out" of foster care. They offer services and support that takes up where foster care leaves off, creating a personalized plan designed to meet the individual goals of each young adult.
The Orange County Rescue Mission "ministers the love of Jesus Christ to the Least, the Last, and the Lost our our community through the provision of assistance in the areas of guidance, counseling, education, job training, shelter, food, clothing, healthy care and independent living communities."
"Beth brought a strong message about our identity in Christ and women responded in worship, truth and prayer. They also responded by giving towards homelessness, and signing up to get involved in serving in local outreach."
For further information, see marinerschurch.org.
Cindy can be reached at [email protected]