I know I'm not the only foodie in town who enjoys foie gras, a decadent delicacy made from duck or goose liver. That enjoyment will end July 1, when a statewide ban on foie gras goes into effect.
Animal-rights activists were successful in getting California legislators to pass a bill banning foie gras, citing the force feeding of fowl to fatten their livers, a practice that's prevalent in France.
A handful of local restaurants serve foie gras, including Brasserie Pascal. Chef Pascal Olhats has said that he obtains his foie gras from farms that use more ethical means of feeding their fowl, but a ban is a ban, and Pascal will soon be obliged to remove foie gras from his menu.
But before the ban begins, discriminating diners can take advantage of Pascal's new Foie Gras menu, available now through June 30 at Brasserie Pascal.
This three-course menu ($55 for three courses or available a la carte) features a choice of seven items showcasing foie gras: three starters, three entrees, and dessert.
Pascal invited me to his restaurant to sample the menu, an offer this foodie could not refuse after reading the descriptions of the dishes.
The Endive and Frisee Salad with Foie Gras Mousse, Caramelized Green Apples and White Balsamic Vinaigrette is a fun twist on a traditional meal starter, while the Thyme Roasted Wild Mushroom Soup a la Crème with Foie Gras Gourgere is hearty and delicious.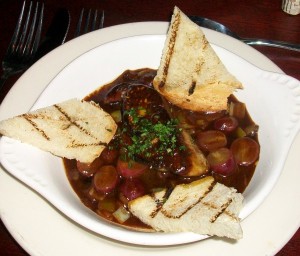 My favorite appetizer is the Seared Foie Gras Au Raisins with Leeks, Grapes and Muscat Wine. It's a fairly simple preparation with a perfect combination of flavors. Pascal suggested I pair the dish with a glass of Sauternes, which went well with the foie gras.
Of the three entrees, I most enjoyed the Pan Seared Day Boat Scallops, served with Foie Gras Risotto, Maple Glazed Baby Carrots, and Truffle Jus. The scallops are melt-in-your-mouth tender, and the foie gras risotto offers the ideal balance of flavors and texture.
The other two entrees are also nicely done: Grilled Filet Mignon on Buttered Toast Rounds topped with Seared Foie Gras, and Roasted Airline Chicken with Foie Gras.
Yes, I asked Pascal why it is called "airline chicken."
"It's a cut of chicken that American Airlines served many years ago," he explained. "It's a chicken breast with the wing bone attached. If you ask a butcher for the airline cut, that's what they give you."
"I thought maybe the chickens were flown in," I joked as a healthy portion of Raspberry Bread Pudding topped with a Foie Gras Chantilly arrived at the table. Like the other items, it was soon devoured.
"So Pascal, what happens after July 1?" I wondered. "Will it be like prohibition in the 1920s, with illicit foie gras parlors and bathtub foie farms?"
"Maybe," laughed Pascal.
"Can you make some sort of faux foie with another ingredient, or is this really a farewell to foie?"
"Well, we'll have to see what happens," said Pascal.
"At least for a few weeks, we can still have fun with foie gras," I stated.
For more information on Pascal's foie gras menu, visit PascalNPB.com.
***
What would you have for your last meal?
If you were a passenger on the Titanic, which struck an iceberg and sank 100 years ago – in the pre-dawn hours of April 15, 1912 – your choices varied depending on which class you booked your passage.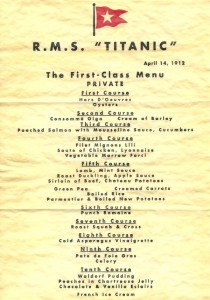 I recently came across a replica of the final First Class menu served a few hours before the Titanic sank. The 10-course menu is a fascinating glimpse into the palate pleasing dishes prepared for upscale passengers.
Among the many dishes are Poached Salmon with Mousseline Sauce, Filet Mignon Lili, Roast Duckling, Roast Squab, and Pate de Foie Gras.
Because the Titanic cruise originated in Europe, much of the menu has a distinct French flair, so I asked Chef Pascal to look it over and tell me how some of the dishes were prepared, and if this menu could be replicated today.
"The menu is not hard to replicate, you just need the right ingredients," he told me. "Also, when you are on a cruise, they show you the menu and you pick from it, so you might only have five or six courses, but you can also try everything.
"But if the passengers ate everything on this menu, it might have been their last meal anyway. These are very rich dishes."
"Some sound familiar, but a few have unusual names. What is Filet Mignon Lili?" I asked him.
"It is sauce with grand veal. The filet is stuffed with foie gras and artichoke."
"What about the Consomme Olga, or the Salmon with Mousseline Sauce? Those sound very exotic."
"Consomme Olga is a light veal broth with thin slices of scallops and julienne celery root. The Poached Salmon is a classic recipe with a sauce that's similar to béarnaise without herbs. To make it mousseline, you add whipped cream and serve with sliced cucumber marinated in lemon salted water."
"And the Roast Squab?"
"Pigeon."
"And that's why I never see squab on a menu," I laughed.
Various restaurants around the world are recreating the menu to commemorate the Titanic anniversary; none in OC, unfortunately. Still, it's fun to consider the cuisine enjoyed by those of a bygone era.