By Christopher Trela and Catherine Del Casale | NB Indy
"When's the last time you had dinner on Balboa Island" I asked Catherine last week.
"Probably when we sampled the menu at Village Inn earlier this year," she replied.
"Since thousands of people will descend on the island this month to view the annual home decorating competition, not to mention this weekend's Balboa Island home tour, we should go back and check out another restaurant," I suggested. "And you can bring your dog—many of the restaurants are dog friendly."
"I love that idea," she replied.
Tuesday evening, Catherine and Lexi and I set out to walk Marine Avenue, peruse the menus and discuss our dining options.
"Here's Amelia's, which has been on the Island since 1961," I said. "They specialize in Italian and seafood.
"The menu looks awesome," noted Catherine. "They don't overdo it with a lot of pastas, but they have a lot of sauce and meat choices for each one."
A few doors down was another Italian restaurant, Barolo by the Sea.
"I ate here last year," I told Catherine. "Terrific bruschetta, and I loved their pear and gorgonzola ravioli with pancetta and walnuts."
"They have polenta with wild mushrooms," said Catherine, reading the menu. "I had that when I was in Italy. You don't see that at a lot of Italian restaurants here. They also have vodka sauces, and gnocchi. I approve."
We walked on past the Balboa Candy Store and stopped to read the menu at Ciao.
"I didn't know there were so many Italian places in this little area," said Catherine. "This looks more family style, some place you can take your kids. It has a different ambiance than the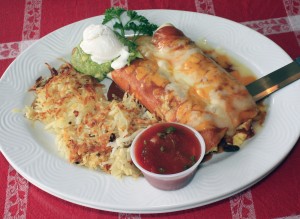 other two—and they have tables on the sidewalk."
"Perfect for dining with your dog," I noted.
Next came Basilic, renowned for Swiss-French cuisine.
"This is reasonably priced, as were all the other menus," said Catherine. "The onion soup with croutons and gruyere cheese sounds delicious. And they have seafood risotto, duck, lamb…and the French are always great with their sauces."
As we walked on, Catherine said "I'd expect an American grill here, maybe an Asian restaurant and a burger place, but I would not expect a fancy French or Italian restaurant here."
"That's what makes Balboa Island so special," I said. "And here's Wilma's Patio, which also makes the island special. They're famous for their breakfast menu, and lunch menu, and family dining. Look—they have pumpkin pancakes! We need to come back here for breakfast. I haven't been here for a few months, and I need my Wilma's fix."
We crossed the street and stopped in front of Village Inn.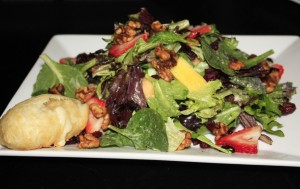 "I'm still talking about the brie salad we had here back in June—it was amazing," recalled Catherine.
"And I loved the short ribs that came in the skillet," I said.
"How are you two this evening. Can I pet your dog?" asked a young lady (we learned her name was Shannon) who came around from behind the Village Inn hostess stand to greet us.
"Have you eaten here before? The menu is really good now," she said.
"Yes, we were just talking about that."
"I had the pulled pork sandwich yesterday, it was amazing," she gushed. "I've also had the French dip, which is prime rib, it's so good. Our chef is awesome."
Shannon's descriptions nearly coaxed us to stay for dinner, but with Lexi in tow, we pressed on past Hershey's market and paused at Trattoria, a Mediterranean restaurant.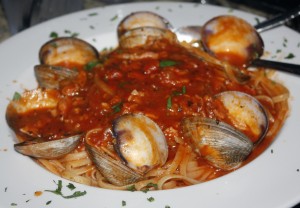 "The food is great here," a customer told us as she walked into the restaurant.
"I love the look of the restaurant, it's like walking into a villa where someone is going to cook for you," said Catherine.
We passed Starbucks and stopped in front of Shanghai Pine Garden.
"You know Wing Lam, one of the founders of Wahoo's Fish Taco? His parents opened this restaurant many years ago," I told Catherine. "Wing and his brothers used to work in the restaurant."
We continued on past Sugar and Spice, and Dad's, both decades old dessert boutiques specializing in frozen bananas and Balboa bars.
"Here's Picante Martin's Mexican Restaurant, which I've heard is superb. But I'm in the mood for Italian, and since Ciao had those sidewalk tables, they get my vote."
"Sounds good," agreed Catherine.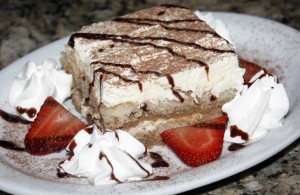 After sitting down (with Lexi patiently lying under the table), we ordered two glasses of Italian wine, garlic bread ($4.50), gnocchi with pesto cream sauce ($14.95), and linguini vongole in a red wine sauce ($16.95). And, for dessert, Tiramisu made with Bailey's Irish Cream.
The linguini disappeared from my plate, while Catherine dubbed the gnocchi "excellent."
"I also liked the service—they were not hovering but came by when we needed them too," said Catherine. "And I liked being able to dine with Lexi, and it's nice to sit outside."
"We'll have to do this more often, with or without Lexi," I said. "We have a lot more Balboa Island restaurants to try."
For a list of Balboa Island restaurants, visit NewportBeachDining.com. For more information on Balboa Island, visit BalboaIsland.com.