By Christopher Trela and Catherine Del Casale | NB Indy
Beachcomber Café
It's easy to feel like you're on vacation when dining at Beachcomber Cafe, located just a few feet from the sand in the Crystal Cove Historic District, a collection of classic cottages including one that was the set for the movie "Beaches."
The restaurant is open for breakfast, lunch and dinner, which makes sense since they have a built in audience of cottage renters. However, locals flock to this restaurant, especially on weekends, despite it being a bit off the beaten path.
We were invited to sample new fall menu items from Executive Chef Carlos Olivera, so on a recent Tuesday night we parked in the Crystal Cove parking lot on Coast Highway across from the entrance to Crystal Cove and took a short shuttle bus ride that dropped us off in the middle of the Historic District. It's a short stroll from there to Beachcomber, which combines a casual ambiance with upscale cuisine.
Chef Carlos has launched a fall menu that includes such items as sesame crusted seared Ahi with a soy chili sauce on bed of brocolini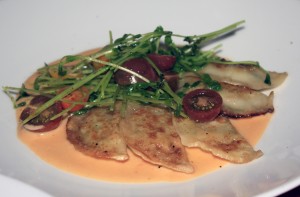 and mashed potatoes, and crab stuffed Scottish salmon with sauteed rainbow Swiss, potato puree, and caper beurre blanc.
We tried several items, including Roasted Lemon Chicken ($23.95) with a tasty sherry sauce, potato puree and roasted root vegetables, and Lobster Pot Stickers ($16.95) with lobster lemon coral sauce.
Catherine particularly enjoyed the Tamarind Glazed Shrimp appetizer ($15.95), which came skewered and grilled with tropical salsa and daikon salad.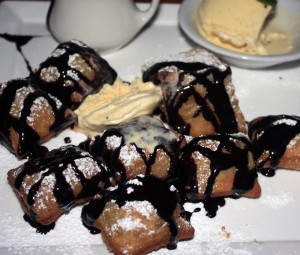 "The shrimp had a great smoky flavor to it that I don't taste often with other shrimp, but I loved it," she said. "The smoky flavor was complemented by the sweet flavor from the mango and creamy texture of the avocado in the tropical salad."
Naturally, we had to have their signature dessert: beignets, served warm with vanilla bean ice cream, with powdered sugar and chocolate drizzled on top.
Every day at 5 p.m., Beachcomber raises the martini flag, which means it's time for creative cocktails. Two featured this fall: A classic Hurricane with light and dark rums, passion fruit rum, galliano, rock candy syrup, bitters, fresh juices, and grenadine, and the big bad bloody Mary with homemade bloody mary mix, Tito's vodka, crab claw, jumbo shrimp, and vegetable garden.
"If you are looking for a fruity cocktail I would try their signature Pimm's Cup, which has Bombay Sapphire, lemonade, sparkling soda, lemon lime, strawberries, cucumber and orange," recommended Catherine. "Not only is the presentation great but it tastes great too, best described as a beach vacation in a cup."
For more information, visit TheBeachcomberCafe.com.
Wild Strawberry Café
Three years ago, Natasha Kazic (a native of Montenegro), had an idea to open a small café that would combine her passion for health and fitness with healthy cuisine. She found a spot in the Design Center building at Fashion Island, and told her broker, who advised against that location because it had no visibility and no foot traffic.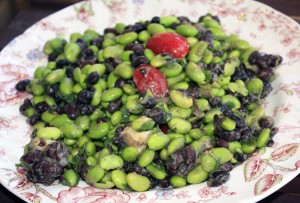 Kazic listened to her heart, signed the lease, and opened Wild Strawberry Café, which has become a successful and popular breakfast and lunch dining spot.
"When we started, I only had a few things on the menu," recalled Kazic. "We slowly increased the items as I listened to customers and added as we grew. I also went to the top places I loved to dine in LA and San Diego and talked to the owners. I asked them what they had done, what should I do and not do."
Kazic obviously listened well, because she has a loyal following of customers who love everything from her kale wraps and salads to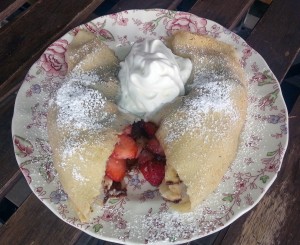 sweet and savory crepes. Everything is made fresh daily, and it shows.
We've been several times and have loved everything we've tried. We recently had a terrific chicken and kale pizza, edamame salad, and several crepes.
"My favorite of their crepes was the Nutella, banana and strawberry crepe, which was well balanced with its Nutella to fruit ratio and also gave the illusion of being healthy," said Catherine.
For more information, visit WildStrawberryCafé.com.