By Christopher Trela & Catherine Del Casale
The wait is over: CUCINA enoteca at Fashion Island is now officially open.
The California-inspired Italian kitchen (how's that for a morphing of cuisines) and wine shop is Tracy Borkum's second restaurant in OC (she has a CUCINA enoteca in the Irvine Spectrum), and the fourth location of the Urban Kitchen Group's CUCINA brand.
We dined in Borkum's flagship CUCINA urbana restaurant in San Diego recently and thoroughly enjoyed the experience, from the clever cuisine (the stuffed fried squash blossoms with herb ricotta and purple basil pesto are insanely delicious) to the friendly staff.
The new CUCINA enoteca boasts an 8,300-square-foot restaurant and wine shop, which sounds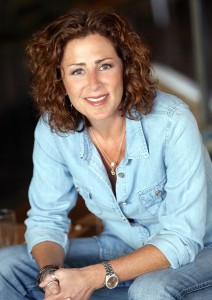 perfect for those of us in Newport looking for a fun, upbeat restaurant that blends novel Italian cuisine with a coastal ambiance.
According to the press material we received, Urban Kitchen Group's Executive Chef Joe Magnanelli (Lespinasse, Bistrot Lepic, El Bizcocho, Laurel) and Orange County native and Chef de Cuisine Brent Omeste (Alessá, Charlie Palmer) take the lead in the kitchen, putting a fresh, California spin on rustic Italian fare.
CUCINA enoteca's menu features pastas, antipasti, pizzas, crudos and Chef's whim seasonal specials.
The restaurant has communal seating and a large bar. The ambiance is reported to draw inspiration from a bohemian garden, which makes sense since the restaurant has an alfresco patio with a fireplace.
We recently asked Borkum if she was doing anything special with the menu or décor at the Newport Beach location to make it fit into the culinary landscape in Newport Beach.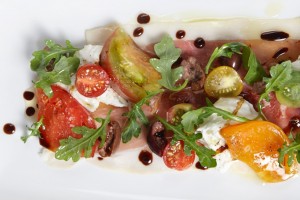 "While all of the restaurants under our CUCINA name share a common theme, design, menu and the Urban Kitchen Group ethos, each restaurant is unique to its own location," Borkum told us. "Whenever we open a new restaurant, we keep in mind that we are also joining a new community and neighborhood, and it's very important to us to try to cater to the locals as much as possible."
We love the wine shop concept at her other restaurants, and wondered if the new location will continue the concept of having wine flights and special wine nights.
"Another commonality with all of our restaurants is that they are both equal parts restaurant and wine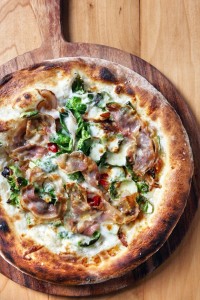 shop; it's all a part of our 'restaurant to retail' environment. Just about everything within our walls is for sale, from lighting to furnishings and of course, wine! You can come in for dinner, hand-select a bottle of wine from our menu and also grab one from our shop to-go. We tend to focus on wines from the America and Europe, with an emphasis on Italian varietals. We also partner with wineries often to do pairings and tasting dinners, so there's always something fun in cue."
CUCINA restaurants started a Sip Support charity endeavor, which sounds like a great way to give back to the community. Will they do that at the Newport location?
"Giving back is a significant part of our brand, and we will definitely continue our Sip Support program in Newport Beach. As I mentioned before, when we open up a new location, we become part of that community. With Sip Support, we are able to handpick local charities that could really use a helping hand. Guests can dine in and enjoy their experience while giving back at the same time — it's a win-win."
Naturally, we had to ask Borkum if she has a favorite item on the CUCINA enoteca menu.
"I don't have an absolute favorite, however, my preference usually leans toward daily specials or seasonal dishes that change often. We have an amazing nightly 'chefs whim' crudo, that is spectacular. House favorites are the stuffed squash blossoms, short rib pappardelle and of course the mascarpone polenta boards."
For more information, visit CUCINAenoteca.com or call (949) 706-1416.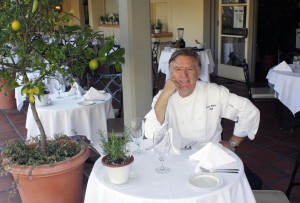 Garden Fusion at Café Jardin
Earlier this year, Sherman Library & Gardens launched a Garden Fusions dinner series that combined the floral décor of the gardens with the incredible cuisine of Chef Pascal's Café Jardin, located at Sherman Gardens.
The fifth installment of the Garden Fusions dinner series, "A Succulent Affair," featuring South American cuisine with a French twist, will be held Thursday, August 28.
According to Sherman Gardens, succulents encompass a large group of plants from soft and fleshy to the spiny cactus and agave. Succulents are easy to grow yet complex and challenging when used to create a beautiful design.
Ditto for South American cuisine, which includes a variety of foods and cooking styles. This Garden Fusions evening will combine the succulent design and knowledge of Matt Maggio, Curator and Designer of Sherman Gardens Succulent Garden, and the culinary prowess of Chef Pascal.
The evening begins with hors d' oeuvres under the pepper tree, a native to the Peruvian Andes.
Maggio will talk about the succulent garden and offer tips on how to grow and care for them, followed by a French & South American fused dinner.
Chef Pascal will offer a special tableside cooking demo as he explains how to incorporate succulents into a menu.
A signature drink will be included during the hors d'oeuvres hour. Friends members of Sherman Library & Gardens can purchase tickets for $50 per person, non-members are $60 per person. Based on our experience at the last Garden Fusion dinner, it's well worth the ticket price.
Call (949) 673-0033, or visit slgardens.org.