By Christopher Trela and Catherine Del Casale | NB Indy
Theater season is upon us, which means it's time to bring back a well-known phrase: dinner and a show.
Segerstrom Center for the Arts and South Coast Repertory have launched their 2013-2014 seasons, and what better way to enhance your theater-going experience than to enjoy pre-performance dinner and drinks.
While we'd love to stay local, we've found it's easier to dine near the Segerstrom Center before a show. Not only are there a handful of nearby restaurants that are a short walk to the theaters, but even if you don't pay your check until 10 minutes before curtain, you can still make it to your seat before the lights go down.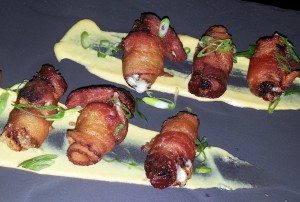 Earlier this week, we caught a performance of the musical "Anything Goes" in Segerstrom Hall, and debated on three options: having drinks and appetizers at Pinot Provence (adjacent to the Westin and a three minute walk to the performance), enjoying the special "Anything Goes" themed menu at Leatherby's Cafe Rouge (inside the Segerstrom Concert Hall and less than a minute from the show), and grabbing drinks and nibbles inside Segerstrom Hall. Ironically, all three options are part of the Patina Group.
Last week, we were invited to sample the new fall bar menu available 3 to 6 p.m. at Pinot Provence (the regular menu is available after 6 p.m.), so we knew what to expect for pre-theater dining.
We started with tater tots ($6) and French fries ($3), both of which we found sinfully addicting. We also sampled asparagus gratin with fried egg and brown butter ($9), which was a delicious and novel twist over simple asparagus.
Neither of us likes bleu cheese, so we were reluctant to try the dates stuffed with bleu cheese and wrapped with bacon ($9), but were pleasantly surprised to find that the
bleu cheese was very mild and perfectly balanced with the bacon and dates. Another winner was the grilled shrimp with chipotle aioli ($9), plump and perfectly cooked. The lamb sliders with tzatziki sauce and feta ($9) also disappeared fast.
Pinot Provence also has specialty cocktails–Catherine tried the Kir Royal made with Grey Goose cherry noir, St. Germain liqueur, lemon juice, pomegranate juice and champagne, while Christopher had the Don Felipe Goes to Paris with tequila, Chambord, pomegranate and lime juice. Both were perfectly blended and flavorful.
More info: PatinaGroup.com/PinotProvence.
Leatherby's Cafe Rouge usually has a themed menu to coincide with each show. Their "Anything Goes" prix fixe menu is a three-course dinner that includes choice of the "Anything Goes" starter (roasted eggplant soup, pita croutons, honey essence) or the "Gypsy in Me" appetizer of charred octopus, chorizo, cannellini bean puree, fried quail egg, and pistou. For the main course, choose between the "You'd Be So Easy to Love" entree of olive oil poached sea bream, potato puree, zucchini, and tomato confit, or the "Take Me Back to Manhattan" chicken parmesan new way, spinach & ricotta, spaghetti with tomato and basil sauce. Dessert is the Ritz Quartette of plum sorbet with balsamic gelee, market fruit with sweet mascarpone and candied oats, chocolate fondant with salted caramel, and milk & cookie. Cost is $45 per person, or $64 with wine pairings.
They suggest ordering at least 70 minutes prior to show time, but we were running late. However, we've dined at Cafe Rouge several times and have always been impressed with Chef Ross Pangilinan's cuisine, so we have no doubt his "Anything Goes" menu is terrific.
More info: PatinaGroup.com.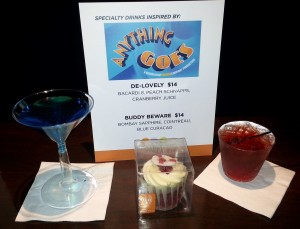 So what to do if time is an issue? You can't get a full dinner at Segerstrom Center, but they do have a variety of snacks including a small cheese plate, hot pretzel, sandwiches, cupcakes, and other assorted nibbles.
And for "Anything Goes," they had colorful themed drinks. We ordered the De-Lovely (Bacardi 8, peach Schnapps and cranberry juice) and the Buddy Beware (Bombay sapphire, cointreau and blue curacao). The drinks are $14 each–a little pricy, but very tasty and potent.
Oh–and what of "Anything Goes?" We thoroughly enjoyed the show. It's an old-fashioned musical comedy, a throwback to the golden age of musicals with plenty of singing and dancing, and humor. The audience agreed with our assessment–the show received a hearty standing ovation.
More info: SCFTA.org.