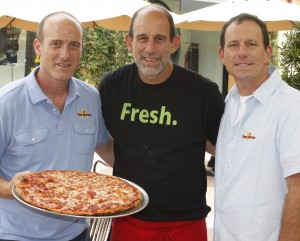 By Christopher Trela & Catherine Del Casale | NB Indy
How popular is pizza?
More than three billion pizzas are sold in the U.S. every year, making pizza one of the most popular food items in the country.
Catherine agrees—she admits to eating more than her share of pepperoni pizzas, while Christopher prefers more exotic combinations that involve mushrooms and truffle oil.
However you slice it, pizza is also popular in Newport Beach. A handful of pizza purveyors – from pizzerias to Italian bistros featuring pizza – have opened in town over the past year, each with their own unique spin on how to make a pizza.
 Fresh Brothers
The popular family-owned L.A. pizza empire (a dozen restaurants and counting) came to Newport Beach a few months ago and has become an ultra-popular neighborhood pizza store.
"They have it all," noted Catherine. "Deep dish, thin crust, skinny crust, wings, salads—and like the name says, everything is fresh. If you are craving some American style pizza look no further. They also have the best gluten-free crust I've ever had—it doesn't taste like a thick piece of cardboard."
"I'm impressed with the vegan and gluten-free options at Fresh Brothers," agreed Christopher. "It's rare to find a restaurant that has a separate and extensive gluten-free menu. Even the Vegan cheese pizza that's dairy-free, soy-free and casein-free tastes good. And I love the vegan tenders more than the regular kind."
Fresh Brothers is in the Harbor View Center, 1616 San Miguel Dr. (949) 759-1212 or FreshBrothers.com.
Sgt. Pepperoni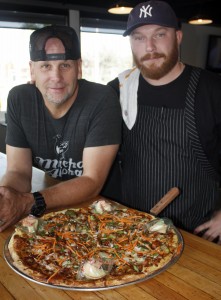 The new Sgt. Pepperoni's Pizza Store celebrated its one-year anniversary this week, and what a year it's been. Co-owner Stan Frazier (drummer/songwriter for Sugar Ray and winner of the TV show "Chef Race") told us they just had their busiest day ever, they've been partnering with more schools to hold fundraisers, and they're adding more special events to their schedule (including karaoke and live music).
Chef Trevor Kotchek has been experimenting with new pizza recipes (the All-American hamburger pizza is a winner, as is the kung pao chicken pizza), but as much as we love their pizza, we love something else more: the pinwheels.
"The pepperoni pinwheels are a must-try," stated Catherine. "They're pepperoni and cheese between spiral rolled dough and cooked to perfection."
"But they also have the spinach pinwheels, and when you dip those in the warm marinara sauce, wow!" said Christopher.
2300 S.E. Bristol. Call (949) 852-9500, or visit facebook.com/originalsgtpepperonis.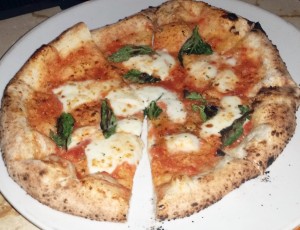 Pirozzi
Alessandro Pirozzi's Mare Culinary Lounge in Laguna Beach was recently named Best Italian Restaurant at the Golden Foodie Awards, but his newest culinary endeavor, Pirozzi in Corona del Mar, has been getting rave reviews from customers and is consistently packed every night.
Pizza at Pirozzi is cooked in a large pizza oven that Pirozzi ordered from Italy. It maintains an even 900 degree temperature, and cooks pizzas in under a minute.
The menu includes a variety of other Italian dishes, but people are coming for the pizza.
"Pair the pizza with a nice Italian wine, and you'll feel like you're in Italy," noted Catherine.
Pirozzi Corona del Mar is located at 2929 E Coast Hwy. Call (949) 675-2932 or visit pirozzicoronadelmar.com.
Cruisers Pizza
"I now know where the term "pie" for pizza came from," said Catherine after our visit to Cruisers, which opened several months ago in Balboa Village. "Their Chicago style deep-dish pizza really is a pie. The crust is flaky and almost pastry like and it's filled with cheese and the toppings of your choice. I've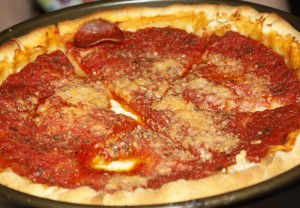 never had anything quite like it. It's amazing!"
Other amazing attributes of Cruisers: a London-trained chef, more big screen TVs for sports viewing than any place around, and open until 2 a.m. every night.
801 Balboa Blvd. (949) 220-9414 or visit cruiserspizzabargrill.com.
Il Barone
Like father, like son: Franco Barone opened his acclaimed Newport Beach restaurant, Il Barone, in 2010 after serving as the chef at Antonello. Earlier this year, he and his son, Jonathan, opened Il Barone Pizza in Balboa Village. It's a small store with a handful of tables, but Jonathan is doing big things with his recipes.
"Cooking is definitely something that has been passed down from father to son," said Catherine. "Not only are his pizzas delicious but he has fresh made pastas and desserts too (including his dad's famous Limoncello Tiramisu). The presentation of each dish has you happily eating with your eyes first as everything is beautifully plated."
Il Barone is at 705 E Balboa Blvd. (949) 673-1029 or facebook.com/ilbaronepastaepizza.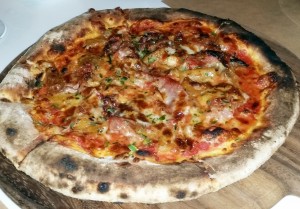 Settebello
"If you are looking for an authentic Napoleon style pizza, this is the place for you," said Catherine. "The pizza has a thin middle and a nice crisp outer crust."
Settebello adheres to the traditional restrictions set by the Associazione Vera Pizza Napoletana, which may explain why we were so impressed with the pizza that's baked in a traditional wood-fired oven.
"The Settebello pizza had crushed tomatoes, pancetta, sausage, roasted mushrooms, toasted pine nuts, mozzarella, basil and extra virgin olive oil. I loved how the pine nuts created another texture on the pizza," said Catherine.
Settebello is in the Crystal Cove Shopping Center, 7864 E. Coast Highway in Newport Coast. Call (949) 715-2072 or visit settebello.net.
Cucina enoteca
Restaurateur Tracy Borkum's latest CUCINA enoteca opened a couple of months ago in Fashion Island, and as expected it's been busy from day one.
Her impressive menu is a twist on Italian cuisine, which means the pizza is a twist on your typical version.
"I'm not usually a fruit-on-my-pizza type of girl, but the prosciutto and pineapple looked interesting and bolder than the normal Hawaiian style pizza," said Catherine when we dined there last month. "The smoky flavor of the prosciutto was the perfect complement to the sweetness from the pineapple. The pizza also had serrano chiles and tarragon, which added a little spice but was not overly done since the acidity of the pineapple as well as the mozzarella cheese cut through it."
Among the other toppings available: figs, pecans, eggplant, and salmon.
CUCINA enoteca is at 951 Newport Center Dr. Call (949) 706-1416 or visit CUCINAenoteca.com.
Pizza Nova
Pizza Nova has been serving wood-fired pizzas, plus an assortment of pastas, salads and other goodies, at three locations in San Diego for more than 20 years, and now in Newport since August.
The restaurant specializes in gourmet pizzas that are hand stretched, then baked in a wood-burning oven. The pastas are made fresh daily and all the sauces and recipes are made onsite.
"The pizza here isn't your everyday slice that you would find anywhere," Catherine said. "The blend of cheeses that they use and the quality of dough elevates the taste and texture of the pizza. The thin crust that puffs up around the edges gives it a nice light crunch without an excess of bread for your last bite. This one has large slices of Portobello mushrooms a light drizzle of black truffle oil, crispy pieces of pancetta, thinly sliced caramelized onions and Fontina and Parmesan cheese. The sweetness from the caramelized onions with the saltiness from the pancetta worked well together."
Pizza Nova is at 2601 West Coast Highway. Call (949) 574-4099 or visit PizzaNova.net.
Cucina Sophia
After several friends raved about the pizza at Cucina Sophia, we agreed to leave Newport Beach and travel a few miles to Fountain Valley.
After our experience at this little local bistro, we understood what all the fuss was about.
Owner/Chef Henry moved from Denmark to Westminster in 1995 and opened Capone's Pasta & Pizza. He then opened Capone's Cucina in Huntington Beach. He sold those restaurants in 2004 and moved back to Europe to hone his culinary skills.
He opened Cucina Sophia (named after his daughter) several years ago, and locals flock to this place, which offers live music and undeniably authentic cuisine.
"With limited space, this local Italian favorite is able to make some great pizza," said Catherine. "The pear gorgonzola is my new favorite; the sweet and savory combination works perfectly. Be warned that there is limited supply and the pizza goes fast so if you want to try one get there early or order ahead."
17900 Magnolia (look for the Italian flags). Call (714) 963-5300 or visit cucinasophia.com.