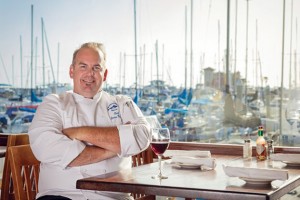 By Christopher Trela & Catherine Del Casale | NB Indy
It's always news when a new chef comes to town, but this week two new chefs have taken over the kitchens at a pair of well-known waterfront restaurants: Bluewater Grill and Back Bay Bistro.
Bluewater Grill
We were stunned and saddened earlier this year when Brian Hirsty, Bluewater Grill's beloved founding executive chef, passed away in March after battling a rare bone marrow disease. He helped open the first Bluewater Grill in Newport Beach's Cannery Village in 1996, and went on to open other Bluewater Grill restaurant locations.
We always enjoyed talking to Hirsty, whether in the restaurant or at one of the many special events he attended to ladle out his signature clam chowder and other seafood concoctions.
Bluewater Grill has officially appointed Jason Mazur as executive chef for Bluewater Grill to replace Hirsty. Mazur, who was trained by Hirsty, had been the acting executive chef since earlier this year.
"We are beyond grateful to Brian for creating Bluewater Grill's rich culinary tradition and commitment to menu excellence, hospitality and introducing the joy of seafood to tens of thousands of first-time customers,"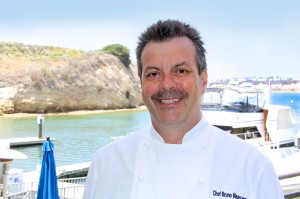 said Jimmy Ulcickas. Bluewater Grill co-founder. "His spirit most definitely lives on – not only in the recipes and specialty dishes we serve every day, but in the many chefs like Jason that trained under him. I do believe that Brian would wholeheartedly approve of Jason taking the helm in the Bluewater kitchen."
Mazur managed the kitchen at Bluewater Grill's Redondo Beach location, and will be responsible for expanding the culinary program at all six Bluewater restaurants and a seventh location opening this fall in Temecula.
"I am honored to continue what Chef Brian started," said Mazur. "My goal is nothing short of making Bluewater Grill the most innovative sustainable seafood restaurant in America. Our goal at Bluewater is to show just how delicious and culinary-focused seafood sustainability can be."
Mazur has worked for a variety of noted local restaurants including Neiman-Marcus in Newport Beach, Original Fish Co., in Los Alamitos, McCormick & Schmidt's in Anaheim, French 75 in Irvine, Aubergine, Troquet, Morry's of Naples and Le Quai.
For more info, go to bluewatergrill.com.
Back Bay Bistro
Meanwhile, Bruno Massuger – a French native and former Center Club chef – has been appointed executive chef of Back Bay Bistro at Newport Dunes Waterfront Resort.
In addition to overseeing the 199-seat restaurant, he will be responsible for the Dunes' catering division.
"We are delighted to welcome aboard Chef Bruno to our team and look forward to transforming the Back Bay Bistro," said Andrew Theodorou, vice president and general manager of the Dunes. "His vast global experience, sterling reputation and enthusiasm for the task that lies ahead make him the ideal person for his new position."
Massuger was trained at the Ecole Hoteliere in Rouen, France, and later at the Culinary Institute of America (CIA). He is a member of Masters of French Gastronomy, Les Toques Blanches, ACF member of Escoffier Society, and a touring chef for the prestigious James Beard House.
For more information call (949) 729-1144 or visit newportdunes.com/back-bay-bistro.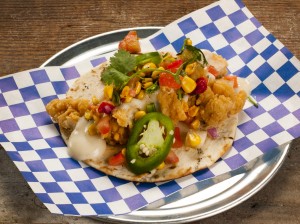 New Restaurants
We strayed out of our normal Newport Beach culinary comfort zone to attend the opening of two local restaurants: US Taco Co. in downtown Huntington Beach, and La Vida Cantina in The Triangle in Costa Mesa. Both offer novel cuisine in novel settings.
 U.S. Taco Co., the much anticipated craft taco fast casual concept from Taco Bell Corp., is completely unlike a fast food eatery. Located at 150 5th Street a block from the beach in Huntington Beach, U.S. Taco Co. started with "a team of entrepreneur-minded food lovers steeped in fusion food culture," said Jeff Jenkins, who led the opening of the first U.S. Taco Co. restaurant.
"Fast casual is growing quickly, so we looked at consumer segment break downs and came up with an idea," he said. "There is a proliferation of the foodie—this is the golden age of food exploration. People's expectations have changed, so we went around the country and looked at Texas brisket, Maine lobster roles, and had an idea to do the best of America in tacos. Tacos, fries and shakes. Classic American dishes, done with a twist, a remix, with Mexican flavors and spices."
"The menu started with our travels," said Executive Chef, Rene Pisciotti. "We knew we had to get the best of America in a taco. We narrowed it down and now we have 10 tacos that best represent America. It's Americana served in a taco, with surprising Mexican and Latin elements that make it fun and interesting."
We tried (and loved) the Southern Squealer (pulled pork with peach jalapeno BBQ sauce), Not My First Rodeo (smoked brisket), and Winner Winner (chicken dinner—crispy chicken with Jalapeno southern gravy and roasted corn).
The papas fritas are cut big with bold flavors and sauces for dipping, while the trio of shakes on the menu are so good you might order two.
The restaurant itself is a blend of surf city and Day of the Dead, and fits perfectly with the downtown HB atmosphere.
U.S. Taco Co. officially opens Aug. 11. For more information, visit ustacos.com.
La Vida Cantina replaced El Corazon Restaurant and has only been open for a couple of weeks but is already garnering rave reviews for its new outdoor bar and patio, and authentic menu.
La Vida's spacious patio has a large pentagon-shaped bar and ample lounge seating. So far, we've sampled several cocktails, chips and salsa, and the La Vida Burrito: choice of grilled chicken or steak in a flour tortilla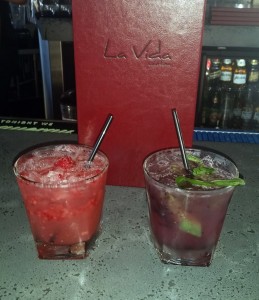 filled with refried black beans, cheese and Pico de Gallo, topped with red and green enchilada sauce, cotija cheese, avocado and drizzled with Mexican cream.
The restaurant offers Taco Tuesday with $3 Coronas, $3 domestic draft beers, $4 imported draft beers, $4 house premium Margaritas with Maestro Dobel Tequila, $3 crispy tacos with chicken or beef, and $5 mahi mahi tacos.
For more info, visit lavidacantina.com and facebook.com/lavidacantina.