By Christopher Trela and Catherine Del Casale | NB Indy 
First we had Newport Beach Restaurant Week, then OC Restaurant Week, which ends March 1.
Now comes OC Cocktail Week, running March 2 – 8. Nearly 50 restaurants throughout OC are participating, including seven in Newport Beach. Most of the restaurants are offering cocktail and food pairings for $20.14, but these aren't your daddy's cocktails!
Cocktails have come a long way from the traditional rum and coke or Seagram's and seven combos. Modern cocktail concoctions often include items seldom found in mixed drinks. Flowers, fruits and even savory items are now being muddled into exotic libations.
Here's a look at what our local restaurants are serving for OC Cocktail Week:
BLUEWATER
Our favorite seafood restaurant with larger-than-life cocktails has a great deal: a signature cocktail plus two happy hour food items for $20.14. Choose from 13 different cocktails (our favorites are the Captain's mai tai with Cruzan coconut rum and Captain Morgan spiced rum, the cucumber mojito, the pomegranate martini, and the strawberry smash with Blue Ice vodka and fresh strawberries). Among the 14 happy hour food items are Bluewater garlic fries, grilled fish tacos, oyster shooters, salt & pepper shrimp, and baked crab artichoke dip.
LARK CREEK
Lark Creek in Fashion Island has a trio of cocktail and food pairings: "Rain in Spain" (dry acidic and smoky apertif made with dry vermouth, mezcal, pear liqueur, sea salt and paprika) paired with manila clams in a white wine sauce with garlic, "Private Dancer" (strawberry infused Hendricks gin, lillet blanc and lemon juice all topped off with brut champagne) paired with lamb carpaccio with sweet raddish and pickled baby beets, or "Way of the Gaucho" (Bullet bourbon, malbec infused simple syrup, and classic bitters) paired with steak tartar filet mignon with dijon capers, Maldon sea salt, raw egg yolk and crostini.
RED O
Newport's newest restaurant with a Mexican twist is offering a Topolo margarita (El Agave Silver Tequila, JDK & Sons O3 Orange Liqueur, and house made Limonada) paired with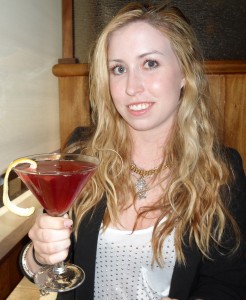 Yucatecan shrimp and calamari ceviche, an Alacran margarita (Hornitos Reposado, JDK & Sons O3 Orange Liqueur, VeeV Acai spirit, house made Limonada and Serrano Chile syrup) paired with sweet plantain sopes and thick cream with queso añejo, or El Chamuco (Maestro Dobel Diamond tequila, house made grenadine, fresh lime juice, and Angostura Bitters) paired with dungeness crab tostaditas.
SOL COCINA
Instead of a cocktail, SOL offers a snifter of Partida Elegante, which is normally $42. This tequila is harvested by hand, then aged in American oak barrels. It's paired with a side of housemade warm tostadas and fresh housemade salsas.
TAMARIND
Newport's famous Indian restaurants has some fun pairings. You can order the Aviation (gin, maraschino, lemon, crème de violette) paired with Lahori fish and Chips, Kali's Kiss (vodka, elderflower, lemon, pineapple) paired with Bihar tandoori steak, or 1850s Sazeric (cognac, peychaud's bitters, raw sugar) paired with smoked garlic chicken.
TOMMY BAHAMA
Tommy Bahama has a knack for combining the traditional with the not-so-traditional. Among the offerings: The "Tried & True" (Grey Goose cherry noir, lemon, simple syrup, grapefruit juice, cherry & grapefruit bitters) paired with burrata bruschetta, "Raspberries & Rye" (old Overholdt, raspberries, orange juice, lime, simple syrup, and orange bitters) paired with herb and  goat cheese dip, and "Rum Babalu" with Kirk & Sweeney 12 year, lime, maple syrup, and ginger beer) paired with filet mignon chimichurri.
WILDFISH
Wildfish has two fun cocktail pairings: The Vesper (Grey Goose & Bombay sapphire gin, M&R Bianco) paired with steak and lobster tartare with shaved truffles, and The Modern Margarita (Corzo reposado tequila, Cointreau, ruby red Grapefruit juice and fresh lime) paired with two jumbo scallops with brown butter.
For more info on OC Cocktail week, visit www.OCCocktailWeek.com.