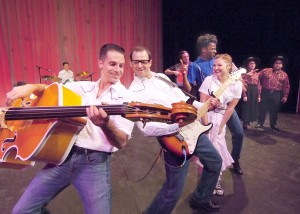 Brilliant and powerful as a meteor hurtling through space, Buddy Holly forever changed the landscape of popular music.
The rock and roll visionary's influence not only impacted The Beatles' early works but remains forever imprinted in our collective consciousness with bam!-pop!-wow! tunes like "Peggy Sue," "Oh Boy," and "That'll Be the Day."
The starlit trajectory leading up to the tragic plane crash in 1959 that took the lives of Holly and fellow musicians Ritchie Valens and J.P. Richardson, a.k.a. "The Big Bopper," is vividly chronicled in the musical "Buddy – The Buddy Holly Story" that launches the 2014-2015 season this weekend at the Laguna Playhouse.
Reveling in a typically gorgeous – albeit sultry – afternoon in Laguna Beach last week, I joined "Buddy" director Steve Steiner and Buddy himself, New York actor/musician Todd Marshall, on the Playhouse's outside patio for a lively "he said-he said" chat about the challenges of staging and performing in this original jukebox musical.
The first production of the long-running show premiered 25 years ago in London's West End; an American version opened on Broadway in 1990, with Steiner as one of its original cast members.
"It was kind of ahead of its time when it opened in New York," reflected Steiner, a veteran East Coast actor and director known locally for his take on "Ring of Fire," the Playhouse's hit musical which ran this past January.
"Jukebox songs that were written as pop songs were telling the story. This was 20 years before 'Jersey Boys;' it worked brilliantly in England, but it took awhile for audiences to get ready for it here and to embrace it. We were the first show after 'A Chorus Line' in the Shubert Theatre, and I remember every night you could actually see the balconies bouncing!"
"As a performer, you love to see that," enthused Marshall, now in his 15th production playing Buddy Holly. "The more energetic they are, the more it helps us to give the best performance possible."
"There are two things you have to do as a director: tell the story and find actors that can really do that and also play the music. That's the real trick to this show," said Steiner, who worked with nine of the 14 current cast members when directing last fall's national touring company of "Buddy."
"This is the A team; these are the best that I think would do this show anywhere in America, and we have them captured here in Laguna Beach," he stated.
"I always get asked if we're really playing, and we are," said Marshall, pointing out that he had to learn how to do lead licks on the electric guitar for the role. "The music's just so fun; I wouldn't keep doing the show if it wasn't. I throw a lot of myself into the character."
"You watch Buddy grow over the course of three years, from a certain gawkiness in the beginning to a polish at the end," added Steiner. "It's both a challenge and a task for the actor."
"He was very set in his ways, so it would be easy to make him come across bratty or arrogant. The more likeable I can make him, the more powerful the ending," concluded Marshall. "What amazed me is that so much happens to him in a year and a half. It's like he almost knew he didn't have much time on this planet and wanted to get in as much as he can."
"Buddy – The Buddy Holly Story" runs July 12 through August 10 at The Laguna Playhouse in Laguna Beach. For tickets and information go to lagunaplayhouse.com or call (949) 497-ARTS (2787).