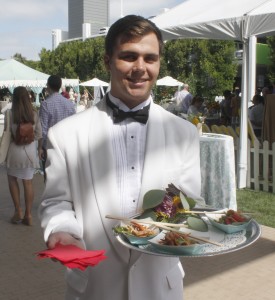 Several hundred foodies and wine aficionados descended on the Newport Beach Civic Center Green on Saturday to enjoy a day of wine tasting and delicious cuisine at the inaugural Newport Beach Wine & Food Festival.
Among the highlights: a guided blind tasting of six wines led by an expert panel of sommeliers; cooking demos from noted chefs such as Richard Blais, Jamie Gwen, Pascal Olhats and Alan Greeley; cuisine from nearly two dozen restaurants including Oak Grill, Studio at the Montage, and Golden Truffle; mixology lessons; dozens of wines to sample; and live entertainment.
The event continues on Sunday from 11 a.m. to 5 p.m. with another wine tasting seminar, more food and wine, and live entertainment.
Tickets are $195 for the day and are all inclusive. A separate closing night party at Café Jardin at Sherman Gardens is $95.
For more details, including a complete schedule, visit www.NewportWineandFood.com.