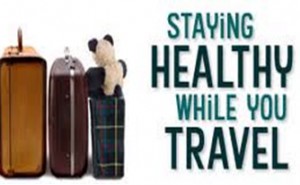 It is happening all over the United States: people setting out into the wild world of holiday travel.
Starting with Thanksgiving week, an abundance of families will embark on a mission to land at a table and eat turkey. Each will find themselves neck to neck at airports, bumper to bumper on highways, or stuck at train stations.
It's an orderly chaos ready to challenge any seasoned traveler.
And as the East Coasters, West Coasters, Mid-Westerners and Southerners crisscross the United States in various directions, new sets of germs are never far behind, hijacking their way to new grounds where innocent people find themselves a potential host.
Germs to me are little warriors, and the minute they enter the body, the weak link is searched out where, I can only imagine, a germ pile begins to initiate a momentary breakdown in the body's defenses and contribute to a litany of annoying symptoms.
Whether going across the country or city for the Thanksgiving feast, there are several remedies to keep handy to help you stay standing sans sniffles, coughs and other ailments to enjoy the holiday moments.
The common cold has its easy tell-tale symptoms like fatigue, runny nose, sneezing, congestion, cough and sore throat.
At the first signs, take garlic capsules, vitamin C and astragalus to boost immune system. Add zinc as well for its antiviral effects. Elderberry in tea or tincture form helps to detoxify tissues by inducing perspiration, and helps soothe sore throats as a cough syrup. Ginger tea warms the body and loosens mucus to help eliminate congestion. And bring along peppermint tea if there is stomach upset.
There are a couple of essential oils useful for traveling and keeping germs at bay while easing symptoms. Lavender for sprinkling on a pillow for a restful sleep (not while driving!) or mix 6-8 drops in a 2 oz spring water to spritz air and face for headaches, tension relief and antibacterial effects.
Eucalyptus oil helps relieve sinus and bronchial congestion. Mix one drop with comfrey salve and spread on chest and a little on upper lip to clear the sinus and lungs while asleep at night. (Use that same salve and drops of lavender oil for any burns that occur preparing the holiday meals.)
Though it sounds cumbersome, I always travel with a small bottle of raw Manuka (16+ to 24+) honey. Take a spoonful with a little squeeze of lemon and let it slide down to relieve a sore throat. And use it in teas for its immune boosting properties since it is antimicrobrial, antiviral and antibacterial.
Probiotics are always a good travel buddy, keeping good flora intact in the intestinal tract so diarrhea doesn't rear its ugly presence.
And for those who find traveling a sure trigger for motion sickness, here is a remedy that can alleviate the sensations of dizziness, fatigue and nausea. Grate three fourths of an inch of fresh ginger root into a heat-resistant glass or stainless steel pot. Add a dash of ground cayenne pepper. Pour 2 cups of boiling water and steep for around five minutes, then strain off the liquid. Sip a cup half an hour before the onset of travel and continue sipping the rest along the way.
Though most people flying on an airplane rarely complain of motion sickness anymore, jetlag still prevails, so here are a couple of tips. Be sure to get 15 minutes extra sleep the last few nights before the trip. On the day of the trip keep meals light or fast for that day. And drink water to keep hydrated, avoiding alcohol which dehydrates the body.
Gina can be reached at [email protected]