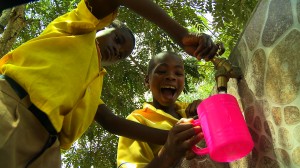 Water is the most beautiful substance on Earth.
We cannot live without water, for life on this planet flows with H2O in every one of its cells.
Yet our lives continue forth without a thought when a slight of the hand brings water bursting forth from a faucet, the amazing moment lost to our modern times.
But in countries where looking for clean potable water is a laborious task and at times an impossible task, clean water that is available by simply turning a knob is a miracle.
The documentary "Slingshot" takes the viewer on an expedition lead by Dean Kamen through the lens of director/producer Paul Lazarus ("Seven Girlfriends," "Pretty Little Liars," "The Middle") and producer Barry Opper.
Kamen is the inventor of the Segway, the first drug infusion pump, an all-terrain electric wheelchair known as the iBOT, and he founded FIRST (For Inspiration and Recognition of Science and Technology), a program to get students interested in science, technology and engineering.
The documentary opens up a lost truth about the state of clean water in this world. We forget how lucky we are, how modern and developed a country we really live in and the true power clean water has in our lives.
In the beginning of the film you hear Kamen's voice softly in the background in a measured and thoughtful tone stating, "We can empty half the beds in all the hospitals in the world by just giving people clean water."
It's a powerful statement, bringing to light that water born diseases kill 3.5 million people annually from drinking unsanitary water. There are many viable ways already out there to clean water. But his Slingshot purification device, which produces clean water from any unfit source, is different.
"I think that it is a wonderful solution to an incredibly complex problem," said Lazarus. "There are a lot of them out there and they are all important such as converting sea water in Israel, but the Slingshot is a unique silver bullet. You don't need to test the water prior or after the machine has run. There is no other potable water solution like it and that makes it phenomenal."
You see kids in Ghana, beaming with smiles, open spigots where clean water flows effortlessly from the Slingshot. Then there are children in the country of Honduras filling jugs with water, their faces radiant with joy.
Watching the film brings awareness to our own lives and how the bounty of life can trickle away if we don't take care of our own water supply. It's just a matter of time before the situation with our water shortages hits new levels and forces us to turn our full attention to this looming crisis.
You learn to see a truly viable way to tackle the issues of water through a man's quest in bringing clean potable water to countries in need. You observe the genius behind Kamen and how this focused inventor illuminates the world around him making people's lives easier and encouraging others into a science-filled world where so many problems can be solved.
Asked what he wants to bring across with this film, Lazarus responds with two things. Number one, if we do goodwill, help people such as providing clean water with the Slingshot, their lives improve and better diplomacy is initiated. People who have access to clean water are less likely to destroy our culture, concentrating more on building their own. Number two, we have our own problem right here and need to pay attention.
This film is a wake up call for us all and we should be thinking along the lines like Kamen to bring innovative ways to cleaning our water.
"Slingshot" screens at 11:45 a.m. on Sat., April 26, at Fashion Island Cinema 5, 8:15 p.m. on Sun., April 27 at South Coast Village 3, and 2:30 p.m. on Mon., Apr 28 at Fashion Island Cinema 4. Tickets are $14.
For more information, visit NewportBeachFilmFest.com.