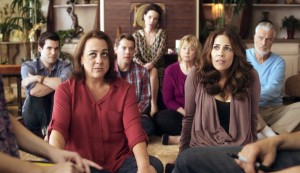 BFF's" (U.S.)
Two friends, played by Tara Karsian and Andrea Grano (who wrote, produced and stared in this comedy) end up at a "healing retreat for couples" weekend. Both decided to go to just enjoy getting away with little thought to taking it seriously, but once there found themselves questioning their friendship and…could it be more than friendship.
Each is confronted with their own intimacy issues with men, and sharing moments about their lives that they had not shared with each other before brings them closer.  While watching other couples and seeing how they had a better relationship than most made them question their friendship.
The movie ends with a twist that will leave you wondering.
Splendidly written and exquisitely acted, this film keeps you laughing as the other couples at the retreat act out the exercises given to enhance their intimacy.
I truly enjoyed the two main characters and the actors who were so well suited for the parts. There was a synchronicity and excellent collaboration between the two women.
In the real world Karsian and Grano have been best friends for more than a decade and that showed. The acting alone is worth seeing "FF's."
"BFFs" screens on Mon., April 28 at 8:30 p.m. at The Triangle 2. For tickets, visit NewportBeachFilmFestival.com.
 "The Goodbye" (Spain)
We all can relate to not wanting to have any regrets in life. "The Goodbye" will stir up a mixture of emotions and make you think about what you have and have not done in your own life. It certainly did this for me, leaving me browsing through my bucket list before going to bed that night, and making a commitment to myself that I will cross a few more items off my list this year.
"The Goodbye" is about four men in their twenties, each with a story to tell, each with a bit of quirkiness, each trying to find their own space in the world.
Their friendship is cut short by one of the young men dying of cancer. These men had talked about a trip they all wanted to take but never did. A letter left to his friends requested they take that trip through Europe, where they were to scatter his ashes while reading a personal letter addressed to each one.
The trials and tribulations of their personal lives, along with the reactions to the letters, makes this movie entertaining, emotional, funny, and even unexpected at times. It's accompanied by wonderful scenes from different parts of Europe.
Even though I am of a different generation, it was easy to relate to some of the issues these young men had to deal with while on their journey: love, anger, sadness, family, friendships, and of course, death.
There is humor, drama and even some eccentric parts to "The Goodbye," which incorporates a strong political message about Spain (where these men are from), including how difficult it is for young people today and their struggle to make a living due to the high unemployment rates.
In some ways these men are a mismatched foursome, yet their friendship has stranded the decades of their lives.
Of course the issue of love comes up within the movie, along with an honest look at how young men talk and relate to women and sex.
I found myself feeling a mix of emotions about the film, overall enjoying, as it aroused different emotions from making me laugh to making me want to cry.  It also triggered that strong desire to want to make the most of my life, as it proves that none of us are guaranteed tomorrow, so go live it, which you will see each man figure this out for himself throughout "The Goodbye."
"The Goodbye" screens on Sun., April 27 at 5:15 p.m. at Fashion Island Cinema 5. For tickets, visit NewportBeachFilmFestival.com.