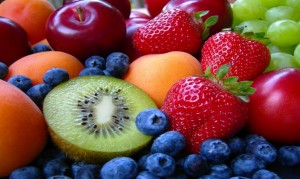 New life continues to push forth through summer with sprays of colorful flowers and beautiful green leaves everywhere.
High at its zenith, the sun sends it illuminated power to all plants, including summer fruits and vegetables.
My garden loves the blessings bestowed upon it, the warm silent rays conducting zucchini, runner bean, tomato, cucumber, eggplant and sunflower plants into a virtuoso of dazzling flowers – bright yellow, scarlet red, showy white, deep purple.
And so I wait in anticipation for the finale where those flowers transform into edible delights, gracing the inside of my belly with healthy goodness.
It's the time to cheer on summer and grab the powerful radiance of the sun by eating more fruits and vegetables.
Plants are the first conversion of sunlight into contained energy, and the reward hangs on a vine or sits happily on a branch, coveting the power of the sun under its skin. There is nothing better than grabbing a ripe peach from its tree, biting into the warm skin and allowing the juices to sweeten the mouth and delight the taste-buds, drinking in sunlight with every bite.
Right now every household should be stocked with fruit of all kind like cherries, apricots, peaches, nectarines, figs, raspberries, strawberries, blueberries, grapefruits and melons. And avocados, cucumbers, zucchinis, tomatoes, snap beans, corn and summer squash because they are all bounties of summer. Throw them in salads, mix them into sauces, or eat them straight up after a romp at the beach.
Loaded with vitamins, minerals and generally lower in calories and fats, fruits and vegetables usually take a backseat to a main dish consisting of meat, poultry or fish.
A sad fact is many people don't consume enough fruits and vegetables, eating only two and a half cups a day of both, where a minimum of two and a half cups of each should be the norm.
With health-enhancing plant compounds such as antioxidants along with all the vitamin and minerals one could need, bringing these wonderful crops front and center to the menu serves the body well.
The best way to relocate all of nature's treasures into your kitchen is to visit a local certified Farmers Market where genuine farmers sell fruits, nuts and vegetables directly to the public.
Here are three local farmer's markets worth visiting:
Corona Del Mar CFM Margarite & Pacific Coast Highway Corona del Mar  (949) 361-0735 / Saturday 9 a.m. to 1 p.m.
Newport Beach Farmers Market Lido Marina Village 3400 block Via Oporto Newport Beach / newportbeachfm.com Sundays 9 a.m. to 2 p.m.
Laguna Beach CFM Lumberyard parking lot at Forest and Ocean next to City Hall Laguna Beach  / Saturday 8 a.m.to noon
 Contact Gina at [email protected].