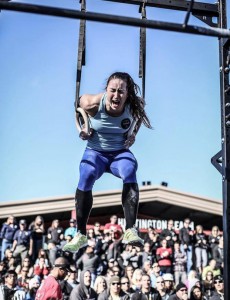 From the gathering of ancient Olympians to modern day athletes, taking the body to its limits with precision and skill continues to rock our world.
From free climbing to the tops of mountains to surfing epic waves, men and women engage the body and mind in competition of who ranks best.
And so it continues to this day with a competition that brings together a class of fitness buffs under one roof to see who is best.
Unleashed in 2010, OCT (formerly known as OC Throwdown) is a yearly competition that provides elite athletes from around the world a platform to display their supreme skills and fitness levels.
This weekend, Jan. 11-12, at the OC Fairgrounds, these athletes will show up to grunt and growl under extreme fitness WODs (workouts of the day) such as thrusters, lifting 200+ lbs weights above their head, or hanging from a pull-up bar and pulling their entire body over the bar in a move called a muscle up.
And of course there will be many other mind-boggling feats performed by these extreme athletes who have rolled up gymnastic, aerobic exercises and weightlifting skills into one big throbbing mass of muscular movements.
This competition incorporates CrossFit exercise programs that have become quite popular in the physical fitness arena. Though the term CrossFit is trademarked from CrossFit Inc, it still keeps to the originators intent with strength and conditioning goals to improve muscular strength, cardio-respiratory endurance and flexibility.
Days where Richard Simmons had everyone bouncing up and down with his antics are long gone, and in place are the CrossFit rigors found in bringing the body into extreme form through intense disciplines.
Some of the body weight exercises include air squats, box jumps, burpees, push-ups, ring-dips and rope climbs. One legged air squats are called pistols and for a quad burner it fries the glutes like no other.
Weights play big as well and here the mightiest of muscles group their owners into their best element with deadlifting weights, swinging Kettlebells around and tossing medicine balls up a wall, as well as high skill Olympic lifts such as the clean, the jerk and the snatch.
For the third year in a row, Dr. Paul Addison, a Board Certified Orthopedic Specialist and owner of Health Quest Physical Therapy, is organizing and staffing the medical team for the 2014 OCT. An avid mountain biker and rock climber, he knows the intensity these competitors are capable of injecting into each of their events.
"These athletes are traveling from across the world to compete against the best of the best," he remarks. "To even qualify is an accomplishment."
And so it is that last year's champions, Kenny Leverich and Lindsey Valenzula, are looking to reclaim the title once again this Saturday.
The event will truly pit the best in bodily fitness in a torturous forum of events that will undoubtedly showcase winners of all shapes and sizes, ready to exhibit their prowess in the fitness field.