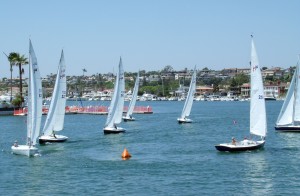 In hindsight, sailboat racing in my youth as a non-calm (the term used to identify junior sailors) at the Newport Harbor Yacht Club was my introduction to gender equality.
Beginning in kindergarten during the "Leave It To Beaver" 50s, we were continuously instructed at school (when appropriate) to form a single file line with the boys to the right and the girls line to the left. This continued into sports and recess with gender separation, except sometimes for class dodge ball. This separation continued through most of my Newport-Mesa School District education.
This was not the case when sailing as a non-calm. Boys and girls were instructed and treated cohesively. I believe, also in hindsight, that this might have given the girls a leg up in realizing a gal can, and should, be able to do anything that a guy can.
The reverse of this became apparent to me within the last six months or so. An Indy columnist (of the other gender) asked my advice about phasing into sailing in Newport Harbor. She would be considered a novice in boating circles and was raised in a different locale.
As an adult, the Newport Sea Base ages end at around 18. A close friend of our daughter spent several summers sailing in her youth, and although since college has become a successful attorney and has lived in Utah, whenever we have visited over the years, she has always mentioned her fond memories of learning sailing at the Sea Base in Newport Harbor.
Let me get back on track. Our fellow writer had a little distaste of following my recommendation of sailing lessons at Orange Coast due to crewing on their Sheilds sloops with two large men from outside our area who behaved crudely and intimidating.
What a shame!
Along those same lines, when attending Harbor High and dating the lovely Judy Belle, as a seasoned sailor I took her sailing in the harbor during a Santana, which was always fun for me, but terrifying for her! She wouldn't go sailing again with me for many years and, for that, I have regrets.
These long-winded stories and personal views are leading up to talking about the fantastic S.C.Y.A. Women's Sailing Convention on February 1, 2014.
This full day of seminars and hands-on training, administered for the last 25 years at Bahia Corinthian Yacht Club by Gail Hine, is once again upon us.
These workshops are for women by women sailors. The majority of the instructors are licensed female captains with scores of years of international sailing experience.
Attendees will be coming from six other states to join our California ladies. The event actually started up north, but as Ms. Hines moved south, she continued the program in Newport Harbor. There will be land-based and harbor-based seminars for beginners through expert sailors. They also include racing rules and advice, cruising guidelines including cuisine, and engine and boat gear instructions.
Fellow Newport youth sailor, captain and Newport Harbor High graduate Patsee Ober will conduct one of the seminars.
Additional information and registration can be obtained at www.womenssailingconvention.com.
For any ladies interested in sailing, I highly recommend it.
Sea Ya,
Skipper Steve