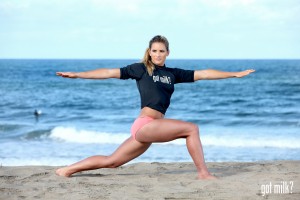 Staring out over the vast ocean from high above, it's hard to imagine this huge body of blue swirls, washes and waves its salty water all over the world and contains more than 300 million trillion gallons of water.
That's a lot of water rolling through space, yet has made our earthly home a wondrous habitat for us to live.
The ocean gives us plenty not only by way of food, but pleasure and fitness as well.
For the beach dweller where the sea has reached its final destination crashing to shore, surfers are shredding gnarly waves until the sun dips its way into the ocean's horizon. Surfing is a way of life as well as a sport, making surf fitness popular at top gyms and boot camps across the nation.
Surfing has both aerobic and anaerobic benefits to the body, making it a terrific way to get in shape. But the surf-based moves also strengthen and lengthen the core muscle groups to create better mobility.
Pro-surfer Courtney Conlogue has teamed up with the California Milk Processor Board to offer nutrition tips for all interested in getting in shape for summer.
Conlogue first hit the waves at age four and today ESPN.com has named her one of the Top 15 Female Athletes in Actions Sports.
Keeping fit is essential to good health and that requires both eating right and working the body.
"Proper diet and exercise go hand-hand," said Conlogue, USA Surf Team member and current Association of Surfing Professionals world tour athlete.
She agrees that surf-influenced workouts are quickly gaining popularity this year, both on and off the sand. Her own workouts combine the elements of aerobic fat burning and lean muscle building, giving her training exercises a great way into a total body workout.
For a good core, arms, abs, glutes and legs workout, Conlogue's go-to moves include Plank Drummers with a Bosu, Lunges with Vertical Rotations, and Push-ups with Alternate Leg Raises followed with Reaching Opposites and Lunges with Rotation.
As for nutrition, she likes to keep it simple, and offers the following five nutrition tips for a strong body this summer.
Fuel Up: Energy reserves are important for maintaining stamina during high endurance workouts. Start your day right. Steel cut oats with milk, dry fruit and nuts are a great way to energize. Snacks and small meals can also help rev up your metabolism during the day.
Keep it Balanced: On your surf board and your plate, balance is key. Your diet should be made up of fresh and wholesome foods like fruits, vegetables, dairy, lean meats and healthy fats like avocado or olive oil. Try a grilled cheese sandwich with tomato; add an apple and a tall glass of milk for a balanced meal on the go.
Protein Rich: Proteins, made up of amino acids, are an essential building block of life. Protein helps the body build and repair muscle, grow, and helps organs and cells work properly. Power up with rich proteins such as lean meats, beans, lentils, nuts or a good old-fashioned protein shake. A smoothie a day can provide you with a convenient dose of protein before or after your workout.
Resist Junk Food: Junk food does not contain any useful nutrients. Instead of stopping for French fries, pick up some carrot sticks, a handful of almonds or a multigrain bar with milk to keep you going.
Avoid Dehydration: Drink plenty of fluids to hydrate before, during and after workouts (Conlogue's go-to beverage is milk). Outdoor exercises under the hot summer sun will deplete your stores faster.
Contact Gina at [email protected].