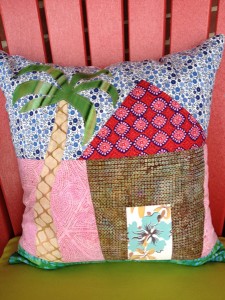 Newport Beach mom Brenda Ziegler, owner of BrendaKristine, relocated to Indiana last year to be closer to her husband Greg's family. She had to leave behind her family, friends, and a home. But she brought a loyal customer following with her. Which, despite the miles, is still growing.
BrendaKristine hand-sewn pillow slipcovers are so deliciously cute, I almost want to nibble the edges of them. No matter who's on your holiday list this year, a BrendaKristine pillow will undoubtedly be the favorite gift – the one that sparks the most conversation.
Brenda told me, "I love making pillows that have a fun, whimsical feel to them by mixing colors and patterns that would not usually be put together."
She makes it sound so easy, but the reality is, it takes the eye of a highly gifted artist, and the hand of a skilled seamstress to produce these one of kind pillows that people of all ages love.
Brenda began sewing the summer before 6th grade, and her passion for fabrics, style and design never waned. She went on to attend the prestigious Fashion Institute in LA.
"Somewhere along the way I got more into interior than clothing," explained Brenda.  She realized that her pattern making skills could be transferred to a variety of fun projects.
Brenda describes herself as a "family girl who loves having everyone over and just hanging out." She is the mother of three: Jessica (26), Emily (11), and Ross (9).
Each BrendaKristine pillow is handmade in her home sewing room. Best of all, she takes custom orders and is passionate about meeting the needs of her customers.
The changing of the seasons, natural beauty and slower paced life in the Midwest coupled with Brenda's love of the ocean, childhood summers spent in Catalina, and too many Newport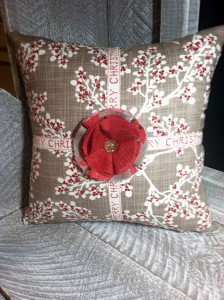 Beach sunsets to count, make for life rich with varied colors, textures, and moods. The richness of her personal life is indeed reflected in the eclectic patterns and fabrics Brenda chooses to work with.
One of her pillows can be simultaneously daring, elegant, and fun, while another may be at once bold, girly, and delicate. And still, the next one simple and zany.
For those who prefer, Brenda has many designs that are also of the traditional variety. My favorites are the ones with the patchwork feel – reminiscent of a quilt, with a warm and folksy tilt.
Brenda is humble and downplays her artistic brilliance and impeccable craftsmanship. She will always see herself as a mom above all else, believing her kids are her biggest accomplishment, telling me, "They make me proud every day."
As you begin your holiday shopping, don't forget to support a mom in the process. To browse or order BrendaKristine pillows covers go to www.etsy.com/shop/brendakristine
While there, check out her handmade bags and jewelry too!
Note: you are purchasing the pillow cover; pillows are bought separately and are available at IKEA or JoAnn Fabrics for only $8. All together you can plan on spending $50 for the pillow and cover.