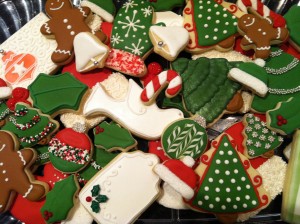 If Martha Stewart had a grounded, more humble and nurturing sister, warmer and quicker with a laugh, yet equally talented, it would be Victoria Roach.
She's the perfect homegrown blend of talent, creativity, and much more than a pinch of salt of the Earth.
And, I finally nailed that one rare ingredient that makes Victoria stand out among the multitude of talented bakers. It's an essence, which seems familiar but takes a moment to place.
Nostalgia.
Victoria's business, Coast 2 Coast Cookies, is more than just impeccable and delectable creations made from scratch. Placing an order with Victoria is like doing business in an era gone by. The same era when icy milk was left in glass bottles on the doorstep before the sunrise.
Victoria, who holds a degree in business, baked cookies for church functions and her daughters' sailing regattas. Her friends encouraged her to go into business after baking cookies for several of their parties. Husband, Brad came up with the name Coast 2 Coast Cookies because they live in Maine in the summers.
"I bake in both places and ship anywhere in between," Victoria said.
Coast 2 Coast cookies come in fifteen flavors such as chocolate, vanilla, almond, banana, raspberry, and red velvet, but any of those can be combined. For example, you can order chocolate banana, coconut banana, or chocolate raspberry.
A recent favorite has been the pumpkin spice cookie, which has a little cinnamon and nutmeg in the recipe, then frosted with vanilla, or cream cheese icing.
The newest flavor for this Christmas season is chocolate peppermint: a chocolate cookie laced with pieces of broken candy cane with a peppermint icing.
Victoria fulfills orders for a plethora of occasions: sports cookies for teams as well as tailgating parties, themed birthday parties, college care packages, sorority functions, and corporate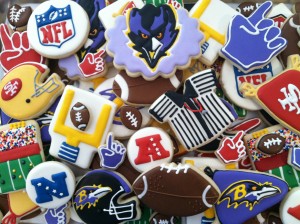 events. She is able to make exact logos on cookies with a projector called a Kopyake.
In addition to traditional sugar cookies, Victoria makes French macarons, chocolate covered Oreos, chocolate oatmeal, snickerdoodles, monster cookies, (a little bit of everything in them), double choc espresso, and rice crispy cookie pops.
Victoria is in the process of becoming licensed under the new Cottage Food Operations law, allowing individuals to prepare and/or package food in private home kitchens to sell.
Her kitchen has been dubbed by her daughters' sailing teammates as "where the magic happens."
And one can't leave the walk-in pantry out of the magical equation. In the pantry, more cookie cutters than the population of Rhode Island are stacked on shelves in small see-through labeled containers. Adorable aprons hang on hooks and other tools of the trade are stored.
For Victoria's creativity she credits her mom.
"We grew up poor. We were the ones who got the hand me down clothes. But Mom could take seemingly nothing and make something beautiful from it. The butcher would give her bones and she could make a meal from just the bones. Or she would take an old table that was being thrown away, take it home and fix it, repaint it and make it look beautiful."
Coast 2 Coast Cookies always look beautiful. They come in a cute bakery box with a see through lid, but can be done on platters, in party favor bags or in decorated jars.
"It just comes down to working with the customer to get them what they want, or show them ideas that they may not have considered."
Victoria refers to Coast 2 Coast Cookies as her jobby (part job, part hobby).
"It's really my creative outlet that keeps me sane."
She says her very supportive family is one way she can juggle motherhood and a business. Her daughters, Megan (17) and Kiley (14), both students at Newport Harbor High School, help with everything from bringing in new business to dishwashing.
Something else uniquely Victoria: She is happy to share her recipes and teach others her secrets. She offers classes for baking and decorating techniques. Each student brings home the cookies they have decorated and a bakery box with a few of the necessities to get started.
Follow Victoria's cookies on Instagram at coast2coastcookies. She can be reached for orders or information about classes at [email protected].