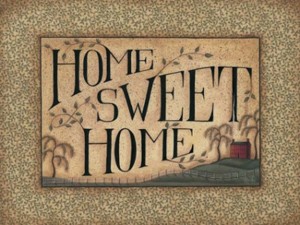 The packing, purging and pandemonium that accompany a move, especially a move with kids, is exhausting. However, as tiring and disruptive as moving can be, there is also an element of excitement and exhilaration. A sense of adventure and a newness, of which I love the feeling.
Part of the excitement is exploring a new microcosm, a different world within a world.  Meeting new people, discovering places to eat or paths to walk on. The part of moving I actually enjoy is the challenge of building a new life and figuring out the little things, like which switch turns on what lights in the kitchen, and the big things, like how to get home.
The first day, I went out to get food, found a great taco place, but then realized I needed to use navigation to find my way back.
I still have no idea what my zip code is or what day trash day is.
The second day, I met our next-door neighbor. He was leaving for work, casually walking out to his car. At the exact same moment, I too was walking out to my car to take Payton to school. We were in a tremendous rush and I had resigned to take a shower at our old house, where much work still awaited me.
My rumpled pony tail bun hybrid hung unevenly from some part of the back of my head, while the hair that had shaken loose of the elastic band shot in different directions framing my yet-to-be-washed face.
The neck down was equally impressive for a first time neighbor meet and greet. I was sporting brightly colored Kermit the Frog pajama bottoms, which were too short, bare feet, and a t-shirt. In my arms I carried my clean jeans, shirt, underwear, and bra (in anticipation of the shower at my old house), my laptop, purse and cell phone. A dangling tangle of computer and phone chargers hung from me like tentacles.
We chatted about the ages of our kids, and other niceties as if everything was perfectly normal. I give Jim, the new neighbor, a lot of credit. He did a great job pretending like he wasn't wondering if I had just moved in from Bellevue.
Moving also brings hope. Hope that a new house, means we can start fresh with a new terms and conditions for the kids. I find myself saying things like, "In this house, we are all going to leave our shoes by the front door and keep the floors clean."
Or, "In this house, we are not going to eat in the bedrooms."
Or, "Only use one cup the whole day to drink out of so we don't have a million cups all over the house everyday."
Last night, after I washed and collected a million cups and put them in the sink, I opened Sally's door to tell her goodnight. She was eating trail-mix in bed.
All hope was not lost though. There was a pile of shoes by the front door that made me smile.
The last thought I had when I went to bed was this: Having everyone together under one roof, regardless of where that roof may be, is the sweet between two homes.