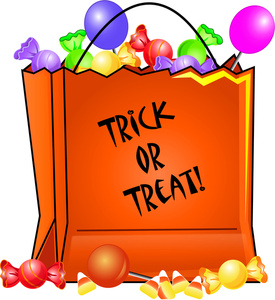 Halloween is creeping up and the kids are counting down. Using a sharp object to cut up a vegetable without having to eat it and getting candy from strangers are only a couple reasons why October 31 ranks among one the best days of the year when you're a kid.
In our family, my husband, Matt, has always taken the kids trick-or-treating, and I have always stayed home to pass out candy. Together, we have honed our trick-or-treating to an art form. Here's our list of Do's and Don'ts that may make your Halloween just a bit sweeter.
DO: Wow your trick-or-treaters. We like to pass out full size candy bars. For starters, it is fun to see the reaction of the kids. Since they've been collecting mini candy, the full size bar you'll pass out actually will look enormous to them. It's like an optical illusion and their expressions are worth the nominal increase of your Halloween budget. Consider the higher cost of candy a Neighborhood Watch fee of sorts. Imagine months after Halloween is over–a group of slumber party rabble-rousers are out late at night, sneaking through the neighborhood for a house to Toilet paper or egg. Sure as Sugar Babies, one of them will say, "No, don't do that house, (pointing to yours) they give out full size candy bars on Halloween. Instant protection.
DON'T be a party pooper. If you won't be home on Halloween, ask a neighbor to pass out your candy for you. Put a note explaining your candy is with the neighbors. While I agree that leaving a bowl of candy at your house with a sign that says, "Just take one please" is too risky and every year, one greedy Gus, one little sociopath, ruins it for the rest of the kids. Don't throw out the sugar babies with the bath water.
DO bring a wagon, if you have one. For many years, Matt would pack a wagon full of water bottles, flashlights, and a pillow for the littlest sugar baby of the bunch to rest. A wagon is also the perfect place for all the little swords, devil pitchforks, magic wands, and any costume malfunction pieces to be kept safe.
DON'T: Dilly-dally. Nothing is more annoying when you are a kid than wanting to hit the streets to start Trick-or-Treating and having to wait for mom or dad. Have a set departure time and stick like a sugar babies–Sugar Daddy to it.
DO check the trick-or-treat bag. Mainly a once over for anything suspicious. There are places that you can have your candy x-rayed. But that is overkill and I would bet could cause some emotional issues. Statistically speaking, the guy that put the razor blades in the mini Snickers bars lives in another town anyway.
DON'T worry about nutrition on Halloween. The cornerstone of this holiday is malnutrition. This, of all days is not the day to monitor sugar intake. It's a fools errand to ask, "How many pieces have you had?" But if you fall into bad habits and do ask, take the number your child gives you and multiply is by 12 to get the real answer, then add two Sugar Babies.