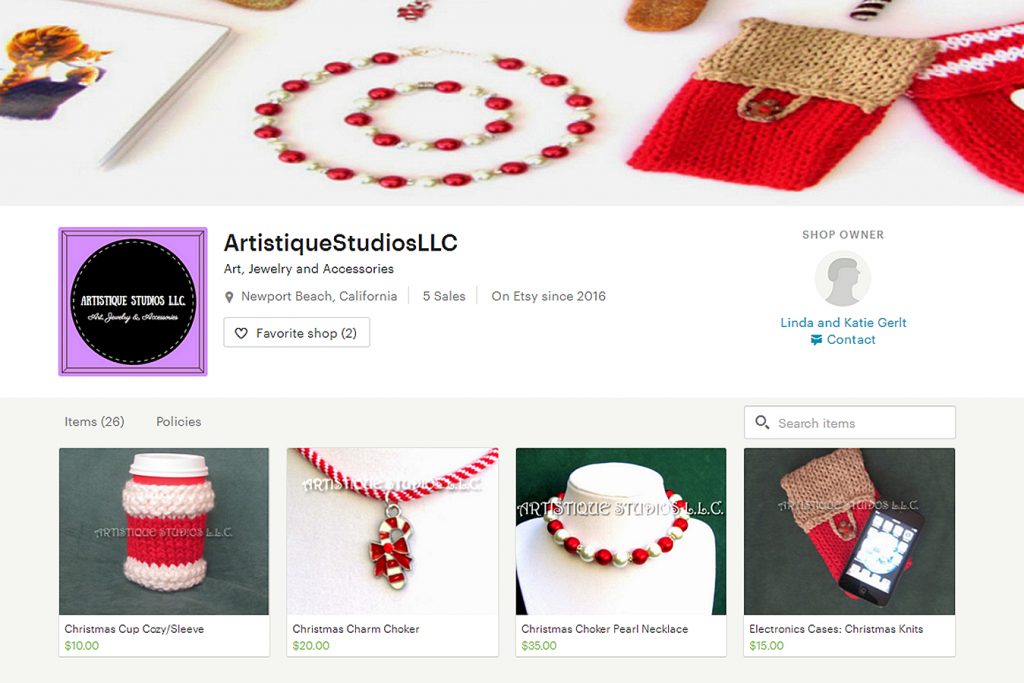 A local mother and daughter duo has put their creative sides to work, while supporting local nonprofits at the same time.
Linda and Katie Gerlt have opened Artistique Studios, LLC, on etsy.com, an online marketplace of individual sellers/creators of handmade or vintage items, art, and supplies.
The shop features creative, handmade jewelry and hand-knit accessories by Linda Gerlt, and fine art note cards and prints by her daughter, Katie.
Items like a candy cane choker necklace, knitted cell phone case and a colorful acrylic painting of a sea lion on a note card.
The pair selected two local nonprofits to support during the grand opening of their online business: The Pacific Marine Mammal Center in Laguna Beach and the Environmental Nature Center in Newport Beach.
"We are so excited that our dream of an online shop is now a reality and we hope to make a difference for the Pacific Marine Mammal Center and the Environmental Nature Center," said Katie Gerlt.
The 18-year-old, currently a senior at Corona del Mar High School, has been studying art since the age of 6 and has won a number of local and regional awards.
"Katie's art celebrates the beauty of nature and animals," Linda Gerlt, who manages the business, explained in an email, so they chose to help raise funds and awareness for two related charitable organizations.
As part of the effort to raise funds for the PMMC, the young artist has created the "Sea Life Collection" of note cards, which feature her paintings of a sea lion, dolphin, sea otter and an "amazingly photo-realistic" orca.
Customers may choose one design or all four designs, with two of each design in the variety pack of Sea Life note cards.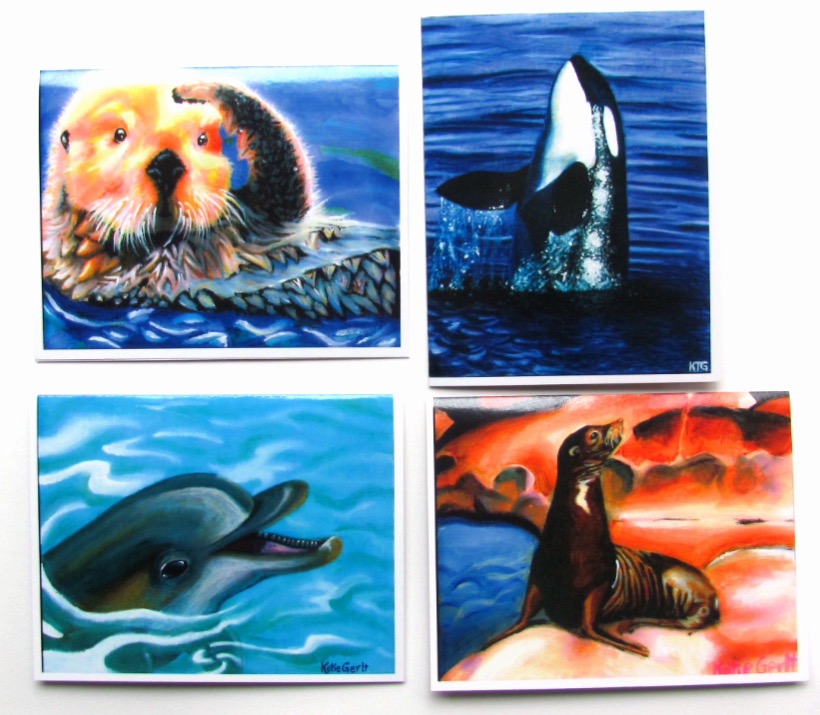 The Marine Center will receive $6 from each sale of the special cards. The Gerlts hope to sell all 83 boxes of the Sea Life note cards in order to donate $500 to the PMMC.
PMMC's mission is to rescue, rehabilitate and release marine mammals, while inspiring ocean stewardship through research, education and collaboration. The Laguna-based organization rescued about 600 marine mammals in 2015 – more than any other year in their 45-year history.
Artistique Studios will also have a booth at the Environmental Nature Center's Artisan Marketplace from 11 a.m. to 4 p.m. on Dec. 3. A percentage of sales will be donated to the ENC.
The Nature Center aims to provide quality education through hands-on experience with nature.
The vision for the ENC is to inspire all generations to protect the natural world by serving as the community's foremost authority on ecological responsibility, sustainable practices and environmental education.
The ENC is currently raising funds to build a preschool.
Katie Gerlt noted that she has enjoyed participating in ENC nature camps, programs and events through the years and has won some of their children's art contests. Her chalk pastel of a hawk was printed on postcards that are now for sale in the ENC gift shop.
"I am so happy to be helping the place where I spent so many fun-filled hours learning about nature and hope many more children will have the opportunity to experience the beauty of the natural world on a daily basis at their new nature preschool," Katie Gerlt commented in an email.
In the future, the teen is looking forward to doing some pet portraits for gifts. She and her mother hope to add new items to the shop, plan to do some children's books, and to explore licensing their designs.
The young artist's work won first place in the PTA Reflections Student Art Contest in 2014 and is still on display in the administration offices at Corona del Mar High School. In 2015, Katie was one of the top five winners in the Imagination Celebration's poster art contest and won first place among California's entries for her conservation message and honorable mention for her art in the Federal Junior Duck Stamp Competition. Most recently in 2016, she was the winner of the Newport Beach Public Library's Logo Design Contest, for which her pet rabbit, Scout, served as inspiration for the logo on all the promotional materials for their Bunnies and Books for Kids Festival.  
For more information, visit etsy.com/shop/ArtistiqueStudiosLLC or email [email protected], www.pacificmmc.org, and encenter.org.
Newport Beach Independent readers may enjoy a special 10 percent discount in Artistique Studios' shop by using the promotional code NBINDY10.