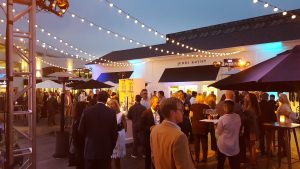 Have you been to the new Lido Marina Village?
Well, it's not exactly new—Lido Marina Village has been around for more than three decades, but it's undergone a remarkable transformation and now boasts nearly two dozen trendy boutiques and several restaurants, with more on the way.
More than 300 local celebs and tastemakers commemorated the "new" Lido Marina Village at the official grand opening celebration on Thursday, Oct. 27.
Hosted on the Main Deck overlooking Newport Harbor, guests enjoyed live music, bites from Lido's signature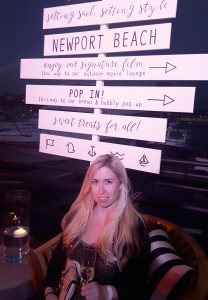 restaurants, Nobu (opening early next year) and zinquè, and cocktails from Desmadre Tequila, served at a large wrap-around bar.
Mayor Diane Dixon commended Lido Marina Village developer DJM Capital Partners' artful restoration and revival of this shopping and dining destination. DJM Capital's Lindsay Parton and D. John Miller thanked the City and the community for their support. A highlight of the evening was the premiere of a Lido Marina Village original film that showcased the style setters and tastemakers that have chosen Lido as their new home, including Elyse Walker, Bailey44, Serena & Lily, Alchemy Works Harbor House, Black Optical, Clare V, TReSs, and more.
Lido Bottle Works provided champagne and craft beer, while French Pharmacy Ice Cream provided desserts.
This was my first time at Lido Marina Village, but it certainly won't be my last. So many shops, so little time. It's a charming area with unique boutiques available nowhere else in the OC except here. There's even a cute bookstore, Lido Books, that I intend to explore next time I'm in the area.
Same with Charlie & Me, an upscale pet store dubbed "a boutique for the hip dog" with a variety of stylish doggie products and accessories that my two pampered pooches will love.
For more information on Lido Marina Village, visit LidoMarinaVillage.com.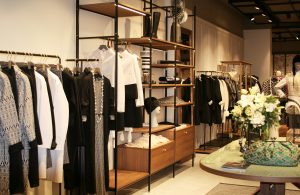 Weekend Max Mara at South Coast Plaza
Formal informality.
That's a phrase I had not heard before, but it describes Weekend Max Mara, the lifestyle line by Max Mara Group.
It was originally a casual, outdoor collection ideal for weekends, but it's evolved over the years into more than just leisurewear.
Next week, Weekend Max Mara is opening the first freestanding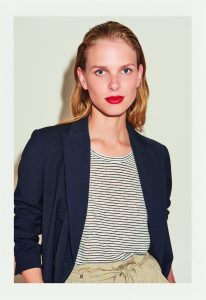 Weekend Max Mara boutique within North America at South Costa Plaza in Costa Mesa—just in time for holiday shopping.
I've been told that the Weekend Max Mara boutique will carry the collection's full range of products, including the brand's accessories and shoes.
The "official" description alone provided by Max Mara makes me want to go check it out, and photos I've seen of the store's interior back it up: "The boutique's architectural elements and design components highlight the brand's classic yet contemporary concepts with natural materials, neutral palettes, and sleek linear forms, all while embodying a pure spirit."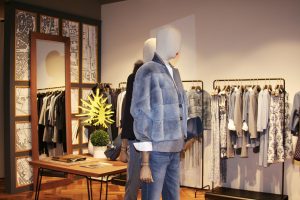 Translation: the store stimulates the senses with rustic, industrial and chic design details and furnishings.
I also learned that Weekend Max Mara's newest bag, the Pasticcino, will be exclusively available at the new boutique. The Pasticcino bag (Italian for "small pastry") is a clutch that's available in a variety of colors and patterns.
For more information visit weekendmaxmara.com.