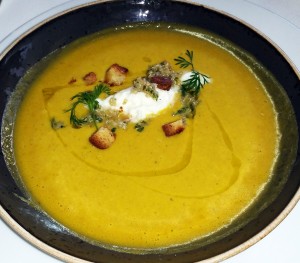 By Christopher Trela & Catherine Del Casale | NB Indy
We've been asked by friends and readers for suggestions on where to dine prior to seeing a show or concert at Segerstrom Center or South Coast Rep.
Over the past several years we've tried different options. We've dined at our favorite Newport restaurants, but the challenge is trying to time your meal just right to ensure you leave the restaurant with enough time to drive to The Center, park, and get to the performance before the lights go down.
We've also dined at restaurants within walking distance of The Center, including Scott's, Pinot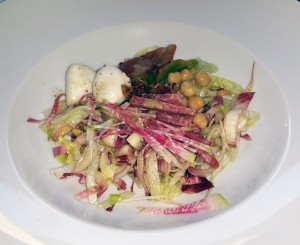 Provence and Pizzeria Ortica. We found that was a better solution—we could park, dine, and walk to the show with time to spare.
Then we discovered the creative and amusing prix fixe themed menus that Chef Ross Pangilinan creates at Leatherby's Café Rouge for each Broadway musical that comes to town.
Leatherby's is the closest restaurant to the larger Segerstrom Hall, and is adjacent to the concert hall. This means you can finish your meal at 7:25 p.m. and still make it to your seat on time.
We chose this option last Tuesday evening when we went to see "Motown: The Musical" at Segerstrom Center.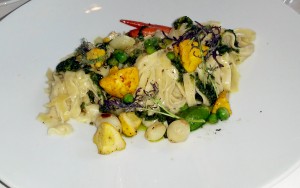 The show is about Motown founder Berry Gordy and his struggles to make a name for his record company, and Motown's talented roster of singers that included Diana Ross, Michael Jackson, Stevie Wonder, Smokey Robinson, Marvin Gaye and many others (all of whom play important parts in the show).
With that in mind, we shared the two first course options: a hearty chopped salad, dubbed "The Supremes," and the "ABC" farmer's market vegetable soup, which changes nightly (ours was a gazpacho with a flavor that virtually danced in our mouths).
The man courses were a "Motown Sound" smoked and grilled port porterhouse with lobster mac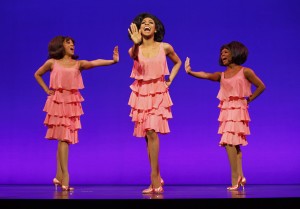 and cheese, an unusual combination that worked well together (although the pork was a little overdone), and "I Second That Emotion" house made fettuccine with spring vegetables that we agreed was the hit of the meal.
We quickly ate our dessert courses, including the "Berry Gordy" chilled berry soup with pistachio panna cotta (unique and delicious) , finished the elegant bottle of 2009 HammerSky zinfandel we brought (the Paso Robles winery is owned by Doug Hauck, a Newport Beach dental surgeon), and made our way to our seats.
"I was blown away by 'Motown the Musical,'" said Catherine after the show. "All of the actors had unique voices that matched their famous characters. I kept getting chills throughout the show when they sang. This is a must-see musical! It's historic, engaging and fun for the whole family."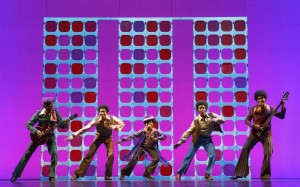 "I agree, this is not just a showcase of Motown hits, although there are dozens of classic songs in the show," stated Christopher. "Over the span of three hours, we're taken on a musical joyride that covers 25 years in the life of Motown records, and the life of our country. You really get a sense of how the Motown sound fit into the music and mood of its time. Never a dull moment, always fascinating to watch and a joy to hear. Kudos to a terrific cast featuring Julius Thomas III as Berry Gordy, Allison Semmes as Diana Ross, Jesse Nager as Smokey Robinson, and Jarran Muse as Marvin Gaye."
For information on Leatherby's Café Rouge and the themed menus ($45 per person), visit PatinaGroup.com. Leatherby's has no wine corkage fee.
For tickets to Motown the Musical, which runs through June 28, call (714) 556-2787, or visit SCFTA.org.