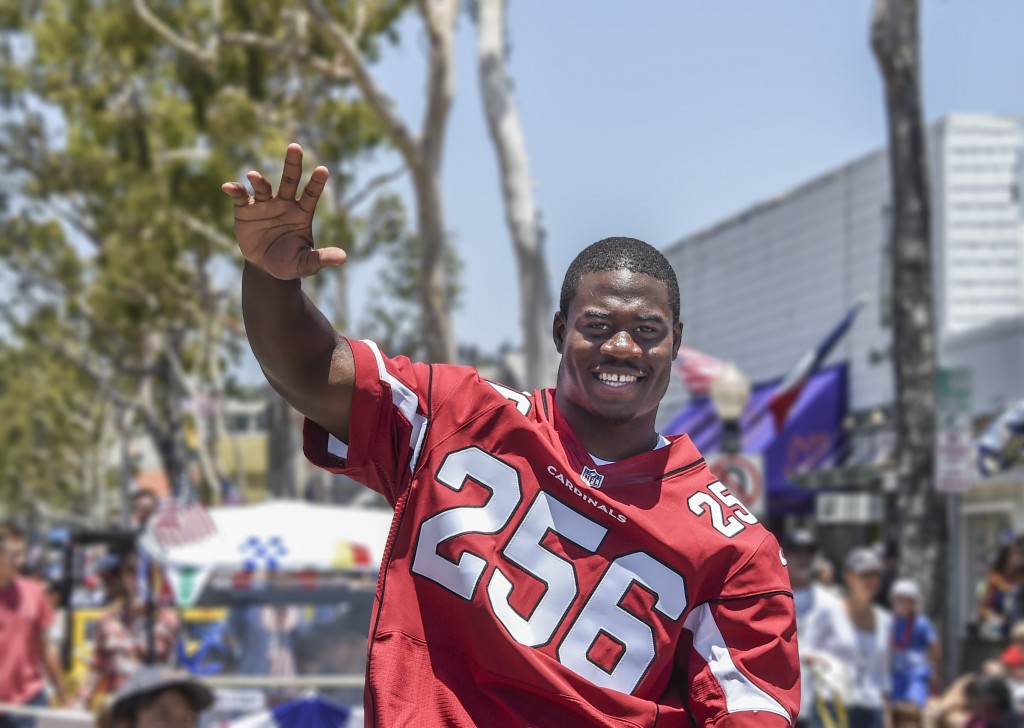 Ever feel like you're irrelevant?
Gerald Christian does, but that's a good thing — the University of Louisville tight end was selected as this year's final NFL draft pick by the Arizona Cardinals, which means Christian was named Mr. Irrelevant 2015.
As Mr. Irrelevant, Christian will come to Newport Beach next week during the Foundation for the Undefeated's 40th Irrelevant Week, an annual celebration that honors the last draft pick of the NFL.
According to press material, Irrelevant Week is the cornerstone event of The Foundation for the Undefeated, an organization that promotes stories of perseverance Christian was in town a few weeks ago to ride in the annual Balboa Island parade, but next week he'll have his entire family with him for a variety of events, including a trip to Disneyland.
The Irrelevant Week schedule:
Tuesday, July 7: Mr. Irrelevant Welcome Celebration at Balboa Bay Resort. After arriving at John Wayne Airport, Christian and his family will be transported in style to the Balboa Bay Resort, which will host the family for the duration of their stay. At 5:30 p.m., Christian and his family will enjoy a beach party where cheerleaders, local high school athletes, football enthusiasts and community members will gather to help Christian celebrate.
Wednesday, July 8: GRIT Cycle's Karma Ride with Gerald Christian. Christian will participate in a GRIT Cycle spin ride from 9:30 to 10:15 a.m., with 100 percent of ride's proceeds benefitting the Special Olympics Southern California.
Friday, July 10: Irrelevant Week Annual All-Star Banquet. Held at the Balboa Bay Resort, the evening features past and present celebrity athletes and previous Mr. Irrelevants, and a chance to roast and toast the newest member of this exclusive Irrelevant club. The celebration also will include the presentation of the Lowsman Trophy, and a silent and live auction benefitting Special Olympics Southern California.
Saturday, July 11: Irrelevant Week Community Field Day. The final event of Irrelevant Week is the annual Community Field Day and Unified Flag Football Game from 10 a.m. to 2 p.m. at Jim Scott Stadium at Estancia High School in Costa Mesa. The afternoon will feature NFL's Punt, Pass, and Kick program and Play 60 Experience where the public can learn how to play like the pros as Mr. Irrelevant and local football teams demonstrate football drills, proper stretching and other football activities. Then, Mr. Irrelevant and other NFL players will compete in a flag football game with the Foundation's charitable partner, Special Olympics Southern California.
And if that's not enough irrelevant activities, the Balboa Bay Resort's A&O Kitchen + Bar has created a new cocktail called "The Mr. Irrelevant," a combination of Bourbon, Triple Sec, and Red Bull. It's available now through the end of Irrelevant Week for $10.
For more information, visit irrelevantweek.com.