News from the community.
By Gina Dostler & Chris Trela | NB Indy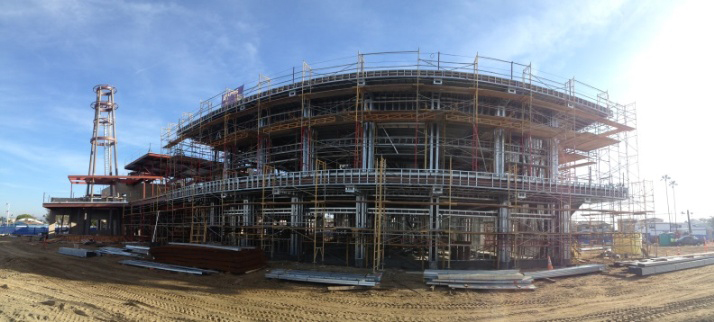 Marina Park On Track for December Opening
According to the city's Marina Park Project spring/fall newsletter, Marina Park continues to progress rapidly. Notable milestones achieved include completion and opening of the 19th Street restroom to the public; completion of interior and exterior metal framing; completion of rough electrical, plumbing, and air conditioning for the interior of the buildings; start installing insulation and drywall; start installing standing seam metal roofing; started installing exterior lath and waterproofing systems; completion of grading in anticipation of planting of grass areas; completion of irrigation system installation; started installing storefront windows and doors; started plastering at the Lighthouse; started installing tension cable handrail system; started the on-site compass rose.
When the new Marina Park opens in December 2015, Newport Beach residents will be able to enjoy the Community Center and Sailing Center that will feature a variety of programs to fit the community's needs.
From preschool to seniors, the promotion of health and wellness will be available through programmed activities. Activities will include music, dance, art, yoga, pilates, fitness, enrichment and educational classes.
Outdoor features include picnic areas, an imaginative playground, an outdoor fitness circuit, and walking trails.
To make a suggestion for a class to be offered at Marina Park email [email protected]
CdM BID Renews Chamber Contract
At the Corona del Mar Business Improvement District meeting last week, the BID approved a proposal submitted by Linda Leonhard, consultant with the Corona del Mar Chamber of Commerce, to renew the Chamber's contract to provide marketing and administrative services. The contract, which totals $59,200, is for the fiscal year 2015-2016 that runs July 1 through June 30, 2016.
The proposal includes a new website to be constructed at a cost of $6,000 and includes consulting, management and content development services. The current website will continue to be hosted under the renewed services until further developments.
Marketing ad campaigns make up approximately 61 percent of the cost which includes the CdM BID holiday newspaper ad campaign and other new marketing programs.
One of the benefits included in this proposal is continuation of the membership directory. It lists all BID members along with contact information and is mailed to more than 10,0000 households in CdM as well as portions of Newport Coast. Referred to as "The Directory," it is circulated throughout the year at community events and distributed at strategic points throughout the city.
Other programs such as the Business Beautification Award, Coast Highway Dolphin Topiary program and CdM's signature events (Scenic 5K, Corona del Mar Christmas Walk, and the Annual Town Meeting) will continue, along with conducting administrative duties for meetings and acting as liaison between BID administrative staff and board members.
Jack's Surfboards Rides a Wave to Seasonal Sales
At the city's Zoning Administrator meeting last week, Jack's Surfboards on the Balboa Peninsula, owned by Abdelmuti Development, was approved for a Limited Term permit for parking lot seasonal sales through 2016.
The permit limits Jack's Surfboards to nine sales over a 12-month period beginning with the first sale this August. Sales can last up to four consecutive days.
Three pop-up canopies will utilize three parking spaces in front of both Jack's Surfboards and Jack's Girl with water-filled barricades to protect customers from drive lane traffic.
Similar outdoor sales for Jack's Surfboards at this location have been conducted in the past with approval of the city and have not proven detrimental.