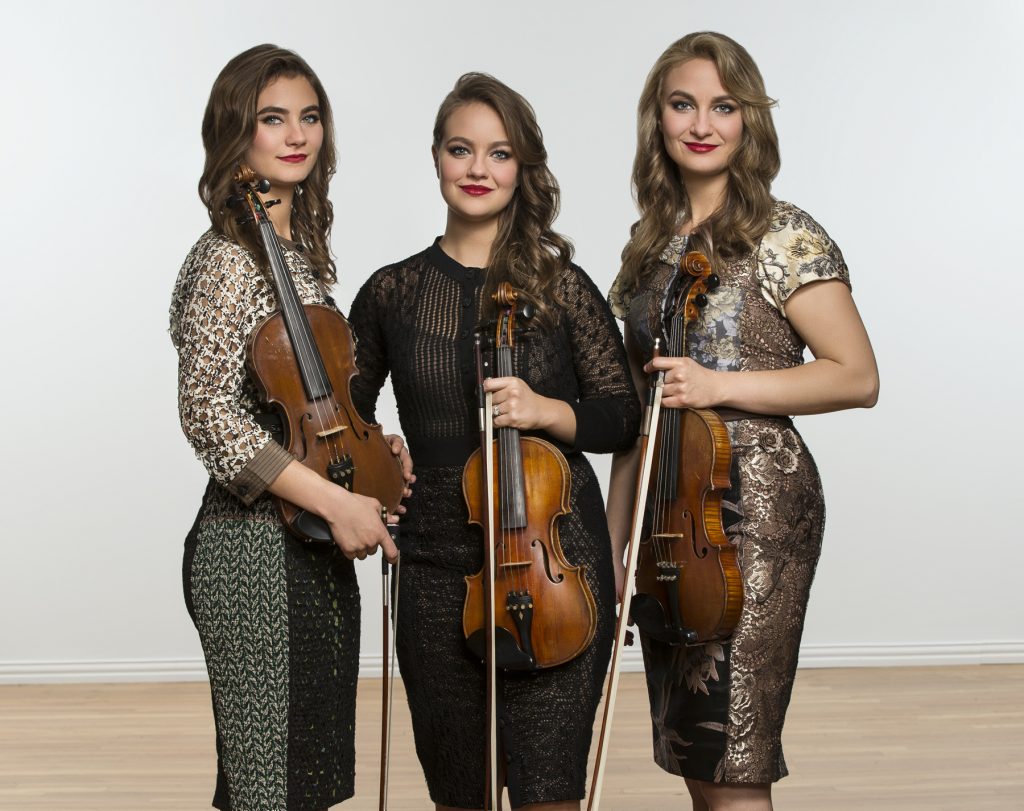 They say good things come in threes, but in the case of the Quebe Sisters, the musical trio is more than just good—they are astoundingly talented.
All three Quebe Sisters –  Hulda, Sophia and Grace – play violin, which itself is unusual. But then they open their mouths and out comes perfect three-part harmony reminiscent of the Andrews Sisters.
The Quebe (rhymes with "maybe") Sisters hail from Burleson, a suburb of Fort Worth, Texas, and have been performing together since they were pre-teens in 2000. Their sound, which they call Texas fiddle music, is a combination of bluegrass, country, and even jazz, and as authentically American as apple pie.
The girls have won state and national championships in their respective age groups in 1999, 2000, 2001 and 2002, and have gone on to record three albums and tour the country. Along with headlining their own shows, they've shared the stage with such legends as Willie Nelson, George Strait, Merle Haggard, Ricky Skaggs, Ray Price, Marty Stuart, Asleep at the Wheel, and many others.
The Quebe Sisters bring their dynamic sound and stage show to Don the Beachcomber in Huntington Beach on Thursday, Nov. 30.
As a violin player myself (I played throughout grade school and high school, and in an 80s-era rock band), I know how much hard work, skill and talent it takes to play the instrument. So, when I had the opportunity to talk recently with Sophia, I had to ask—why the violin?
"Our mom always loved the violin and thought it would be a nice thing to try," explained Sophia. "We picked it up at the same time and really got into it. We were on the same trajectory. It kind of happened organically. We started as an instrumental group, but did not set out wanting to form a band. One day several musicians, including Ricky Skaggs, said we should open our mouths and sing. We thought we'd give it a try—we were teenagers at the time. Thankfully it kind of worked out—it was a good suggestion."
Make that a great suggestion. Not only do the sisters play violin and sing, they do their own arranging.
"Sometimes one person has a great vision and we don't really need to change it so much," she said. "We add different characteristics to the arrangement because we have different personalities."
Sophia noted that the Texas-style fiddling they play has its own dialect, but they incorporate other styles including Western swing. The music has universal appeal—the Quebe sisters have played throughout the U.S. and Europe.
"Some audiences are more familiar with the music than others, but they all enjoy it—that has been a cool thing to witness," she said.
For their concert at Don the Beachcomber, Sophia said they'll play songs from their three albums and a lot of new material not yet recorded.
"We're excited to play for people and hear their response," said Sophia.
"One thing is for sure, you don't see a group like The Quebe Sisters come along every day," famed Opry announcer Eddie Stubbs told listeners on his WSM Nashville show. "Give them your undivided attention, and if you're not already, you too, will become a fan."
Stubbs is right—one listen to their music, or a view of one of their popular YouTube videos, and you too will become a Quebe fan.
Tickets for the Quebe Sisters start at $15. For more information, visit donthebeachcomber.com. 
Visit the Quebe Sisters website at QuebeSisters.com.