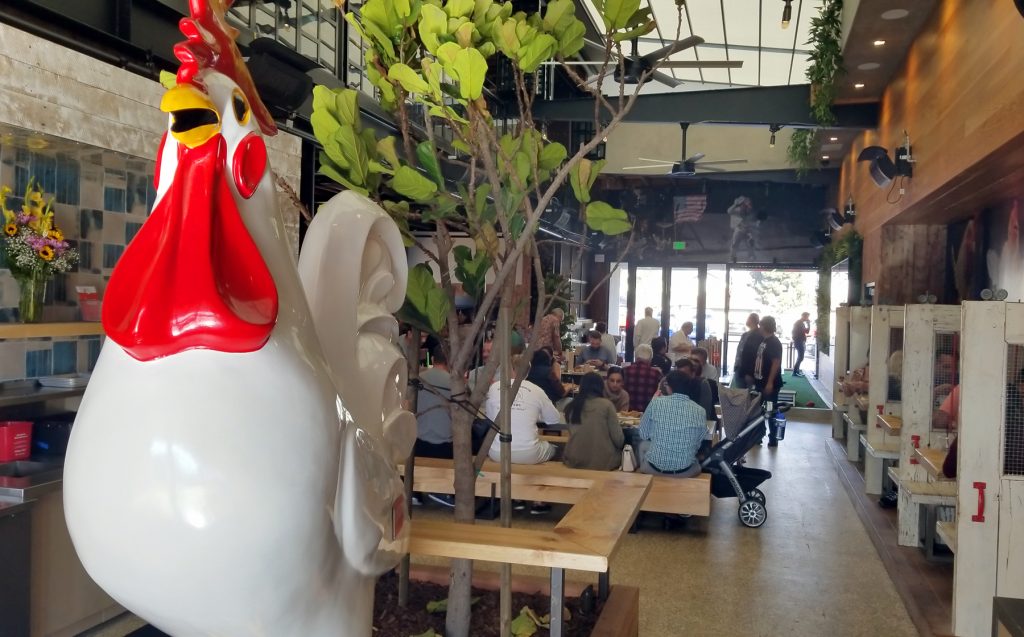 What came first, the chicken or the egg?
In the case of The Crack Shack, the answer is both!
The Crack Shack on 17th Street in Costa Mesa is the latest restaurant from celebrity chef Richard Blais, whom we last encountered at the Newport Beach Wine & Food Festival.
Blais has teamed up with CEO Michael Rosen, who we are told loves chicken, and breakfast for dinner (sounds good to us!).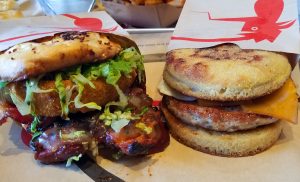 The Crack Shack is indeed a chicken lover's paradise. The name comes from the restaurant's proprietary "crack spice" blend, although one meal at The Crack Shack and you'll understand how addicting the food can be.
The Crack Shack opened last Monday, and we were there for lunch. We arrived a little after 1 p.m. and apparently missed the lunch rush, because it only took about five minutes to order at the window, stroll inside to find a table, and maybe another 10 minutes to get our food.
The menu is as simple as the ambiance: eight sandwiches (most with chicken), several salads, small and large orders of fried chicken, and "other cluck" including chicken oysters, Mexican poutine, deviled eggs, mini biscuits, and schmaltz fries.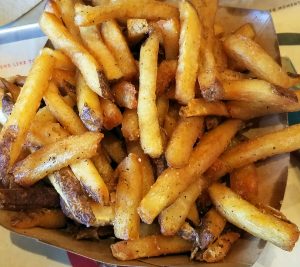 We ordered the Royale sandwich ($9) with savory chicken sausage, sunny side egg, smoked cheddar, on an English muffin bun, and the Malibu Barbie Q ($11) with barbecued chicken, cornmeal onion rings, smoky bacon, Swiss cheese, pineapple, mustard, on a potato roll.
We added a side of the schmaltz fries ($5) and biscuits ($5) served with miso-maple butter.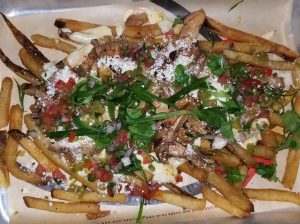 "I am indeed impressed—everything was egg-celent," joked Christopher. "The Royale is like an Egg McMuffin on steroids. The chicken sausage is tender and perfectly seasoned. The Malibu Barbie Q is hearty, and a lovely mess to eat. But these fries are like crack—so addicting, and a generous portion. The mini biscuits with the miso-maple butter are also a winner. I want to come back and keep eating my way through the menu."
Christopher did just that—he returned two days later and had the Mexican poutine: a glorious combination of pollo asado, pico de gallo, and jalapeno cheese whiz heaped atop a generous portion of schmaltz fries.  
The Crack Shack is open for breakfast, lunch and dinner. Complimentary valet parking is available behind the restaurant. Visit CrackShack.com.