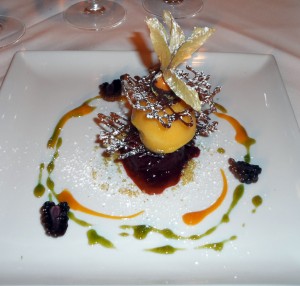 So many restaurants, so little time!
That's the dilemma diners encounter during Newport Beach Restaurant Week, which started January 18 and runs through January 27.
Some 70 restaurants throughout the city are participating this year (a record number), a good indication that Newport Beach has indeed become a culinary Mecca.
During Restaurant Week, local chefs roll out special prix fixe menus: $10, $15 or $20 for lunch, and $20, $30 or $40 for dinner.
My editorial assistant, Catherine, and I were debating on which restaurants to try when we received an invite from Chef Josef Lageder at the Balboa Bay Club & Resort to come to his First Cabin restaurant and submit our palates to a sneak preview of his Restaurant Week dishes. How could we say no to that?
We found First Cabin to be unpretentious yet glamorous, with an understated elegance that told us we were in for a delightful evening. Upon being escorted to our table, we perused the Restaurant Week menus.
The $20 lunch menu started with Lobster Bisque, followed by a choice of Hearts of Romaine Salad with Boursin Baked Chicken or Almond Crusted Rainbow Trout, ending with Mango Sorbet with Basil Mint Syrup and California Berries.
The $40 dinner menu offered a first course of Little Gem Lettuce with Frisee and Roasted Beets, or Tuna Tartar with Avocados and Mangos, followed by a choice of entree: Skuna Bay
Salmon or Free Range Chicken and Prawns. It ended with Cabernet Black Berry Sorbet and Mango Relish, or Mascarpone Coconut Mousse Torte with an Almond Crisp.
Catherine and I tried items from both menus (paired with wines), and were impressed with the presentation, flavors, and textures.
"This Little Gem is delicious!" declared Catherine. "I really enjoy the earthiness of the goat cheese with the beets, and the sweet tang of the tangerine dressing."
"Now we know why it's called a little gem," I said between bites.
"The Ahi Tuna Tartar has a great mix of textures," observed Catherine. "The smoothness of the avocado, mango and Ahi tuna with the crisp taro root is perfect. It's both spicy and sweet, and has a refreshing Italian style to it. The Riesling pairs well with this dish."
"I'm loving this Almond Crusted Rainbow Trout," I countered. "The textures and flavors are balanced, and the Riesling is perfect with this dish too."
"Have you tried the Skuna Bay Salmon?" asked Catherine. "The griddled sundried tomato polenta is sweet and savory at the same time. The salmon has a unique combination of spices that really makes the dish stand out from other salmon dishes I've had."
Despite our tasting-sized portions, we were getting full, but could not pass up dessert. Chef Josef himself delivered the Cabernet Black Berry Sorbet to our table. The presentation was exquisite, with the ingredients stacked atop one another with a chocolate-drizzled crisp separating the layers.
"These flavors are amazing, and it's not too sweet," said an obviously pleased Catherine.
"Chef, you've created some simple yet sensational dishes for Restaurant Week," I told him with a smile. "I need to come back after restaurant week and see what else you have on the menu!"
After dinner, Catherine and I perused other Restaurant Week menus, and found a few we thought offered a great value–although we had to admit, each restaurant menu we read had its merits.
For lunch, we both agreed the $15 lunch menu at Chef Pascal Olhats' Café Jardin inside Sherman Library & Gardens in Corona del Mar sounded terrific: First course of Tomato Basil Soup, Country Pate or Warm Goat Cheese Salad, followed by a choice of Beef Bourguignon, Sauteed Trout Fillet or Pan Roasted Chicken Breast for entree. Dessert offers three choices: Thin Apple Tart, Lemon Tart, or Creme Caramel.
Other lunch favorites: Tommy Bahama ($15), Wilma's Patio ($15), The Ritz ($20), and JACKShrimp ($10).
Dinner favorites include Pescadou ($30), Landmark ($40), The Counter ($15), Brasserie Pascal ($30), and Muldoon's ($20), with their signature Irish Soda Bread served with every meal.
We'll be visiting Tamarind of London, The Bungalow, Tommy Bahama, and a few other restaurants during Restaurant Week. Look for our report in the January 25 issue of the NB Indy.
For a complete list of participating restaurants, and menus, visit NewportBeachDining.com.