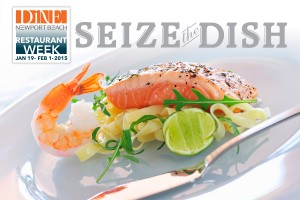 Instead of seizing the day, the Newport Beach Restaurant Association wants diners to "Seize the Dish."
That's the new marketing campaign for Newport Beach Restaurant Week (Jan. 19 – Feb. 1, 2015) that was unveiled at last week's Newport Beach Restaurant Association Business Improvement District meeting.
"We're going to be doing a TV spot and street banners" using that branding campaign, said Polly Peak, director of Dine Newport Beach, a strategic marketing initiative cooperatively created and managed by the Newport Beach Restaurant Association and Newport Beach & Company.
Peak presented the marketing plan to the Restaurant Association BID board members, who include representatives from various local restaurants, and told them the budget for restaurant week marketing is the amount they collect from restaurants to participate, and funds contributed by the city.
"It's a fluid amount," noted Peak. "Last year we spend over $65,000, this year it will be closer to $45,000 to $50,000. But we're going to do more with less."
As part of the "Seize the Dish" branding, diners during restaurant week will be encouraged to "Snap the Dish" and post their food photos. Peak said they will have some sort of food photo contest with restaurant gift cards going to the winner.
Restaurant Association BID President Jim Walker of The Bungalow Restaurant told the board that so far they had 35 restaurants registered for restaurant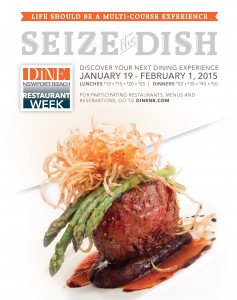 week, which meant they were on track to reach their goal of 70 restaurants. And because they increased the maximum amounts that restaurants could charge for prix fixe meals during restaurant week (lunch pricing is $10 to $25 while dinner is $20 to $50), higher end restaurants are agreeing to participate.
Peak said that the Dine Newport Beach website will have a list of participating restaurants that can be sorted by cuisine and price point. That list will be available on the website starting Dec. 15.
Walker reminded the board that the Restaurant BID's primary purpose is to market and draw people into the local restaurants.
"We are the second biggest tax revenue source in the city," said Walker. "We have 350 restaurants that are sit-down restaurants, so we have to draw from outside Newport Beach."
During the meeting, the board discussed the annual BID assessments and whether they should change the way they assess fees from number of employees a restaurant has to restaurant occupancy. That discussion will be continued at the next meeting in mid-January.
Looking ahead to 2015, Peak said the Taste of Balboa will return in April, the Newport Beach Wine & Food Festival will be back the first weekend in October, and they're looking at doing a fried chicken festival and a sriracha festival.
It was also noted that local promoter and Newport Beach resident Steve Bender would like to bring an event called International Wine Festival to Newport Beach on May 11, and is coordinating Newport's first Kansas City Barbecue competition in June, which is a national contest that has never been this far west.
For more information, visit DineNB.com.