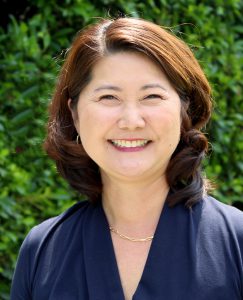 By Grace Leung, Newport Beach City Manager
Last week's ribbon cutting made it official: Newport Beach has its first permanent, City-run animal shelter. The new shelter, which replaces a temporary, rented facility, was made possible by the unwavering support and generous contributions of private donors to the Friends of Newport Beach Animal Shelter (FONBAS).
FONBAS was founded in 2017 by a group of local community leaders, who formed a public-private partnership with the City of Newport Beach with a mission to support lost and displaced animals in our community. The City's Police Department oversees the shelter, which is managed by Supervisor Valerie Schomburg with the support of City staff and 25 volunteers.
The new shelter provides upgraded amenities and medical care in a single story, 1,600-square-foot building with 750 square feet of kennel space to house dogs. The facility includes parking, two front yard greeting areas, and a secure, rear-yard exercise space. The facility will house dogs, cats and other small animals in a safe and nurturing environment while they wait for their forever homes.
FONBAS has played a pivotal role in bringing this vision to life, and we extend our deepest gratitude to the organization for its dedication to animal welfare. FONBAS' efforts will make a lasting impact on the lives of animals in our community.
The new shelter will open to the public in July. For more information on FONBAS, visit www.fonbas.org. To reach the shelter, call (949) 718-3454.
Newport Navigator Lists Summer Camps, Events, Family Fun
Read all about the City's full summer program, events and activities in the latest edition of our quarterly Newport Navigator recreation guide at https://trendmag2.trendoffset.com/publication/?i=791759.
Residents receive the guide directly in the mail, and copies are available at City Hall, community centers, the Central Library, and at hotels throughout Newport Beach.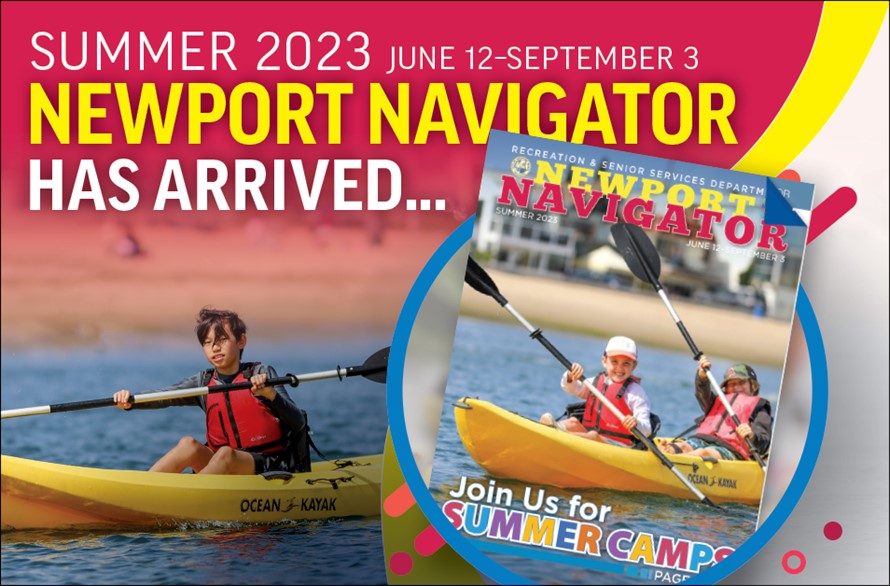 Opening day of summer camps is just a few weeks away and spots are still available in various camps during the first week of summer!
Learn to play beach volleyball from a professional volleyball player with Volley OC. Get your kids active and moving with Fitfirst BootCamp where they will learn a mix of popular sports geared toward strength training in a fun and exciting way.
There are also free family fun activities planned for this summer which include a Fourth of July event on the Balboa Peninsula and a series of Movies in the Park at multiple locations.
Fitch Reaffirms City's AAA Credit Rating
Fitch Ratings has reaffirmed the City of Newport Beach's AAA credit rating, reflecting the City's strong financial position, prudent fiscal management, and robust local economy.
The AAA rating is the top level of creditworthiness issued by Fitch and demonstrates the highest degree of confidence in the City's ability to meet its financial obligations.
Fitch Ratings' report cited the City's recent history of budget surpluses and a "very solid level of budget management," along with relatively low long-term debt and a strong, stable tax base.
The AAA rating underscores the City's solid financial standing and budgeting approach. Newport Beach is committed to responsible financial management and will continue to implement sound policies to maintain its strong credit rating.
Fitch's credit rating was released in connection with Newport Beach's outstanding Certificates of Participation (COPs), issued in 2010 and 2020 to finance the construction of the Civic Center project and Fire Station No. 2. The rating assigned to the COPs is AA+, which is the highest rating for this type of financing.
Fitch Ratings is a leading provider of independent credit ratings, commentary and research. The agency provides credit opinions, financial data, and other information to investors and market participants.
Balboa Blvd. Asphalt Work Completed; Newport Coast Drive Lane Closures to Begin June 19
Asphalt paving work on Balboa Boulevard from Medina Way to G Street has been completed. Existing utilities, such as manholes and water valves, have been adjusted to the new pavement surface and traffic signal detection loops have been reinstalled. The contractor, All American Asphalt, will be finishing up the pavement striping next week.
The contractor also completed concrete improvements on Newport Coast Drive from E. Coast Highway to Ridge Park Road and is scheduled to start asphalt paving on Newport Coast Drive on Monday, June 19.
To facilitate the paving operation, lane closures on Newport Coast Drive will be in place during working hours, which are limited to 7 a.m. to 4:30 p.m., Monday through Friday.
Thank you for your continued patience throughout construction. This project is scheduled to be completed by the end of August.
Please contact project manager, Ben Davis, at (949)-644-3317 with questions.
Be Well Mobile Crisis Response Update
The Be Well mobile crisis response team operates in Newport Beach 12 hours a day, seven days a week to respond to mental and behavioral health crises. The mobile unit is staffed with mental health specialists and works closely with the City's police and fire departments.
This week, the Be Well team:
Collaborated with Orange County's Crisis Assessment Team, City Net, the Newport Beach Police Department, and the Orange County Sheriff's Department to place a person on a mental health hold to receive treatment.
Transported a person to a substance use treatment facility.
Transported a person to Huntington Beach for mental health treatment.
Transported a person experiencing a mental health crisis to a pharmacy to refill their medications.
Transported a person back to the Costa Mesa Bridge Shelter. The person was confused and anxious about the possibility of losing their shelter bed.
Transported a person to a safe location and provided treatment referrals.
Spoke to a person with suicidal thoughts after receiving an eviction notice. The team provided shelter and housing resources once the person stabilized.
Attended the Newport Beach Police Department's Mobile Café to engage with the community and discuss services.
TO REACH BE WELL: The mobile crisis team is dispatched through the Newport Beach Police Department. To request service, dial 911 or call the Police Department's non-emergency line at (949) 644-3717.
Homelessness Update
This week the City's homeless outreach and response teams:
Completed a housing packet with a client matched to a unit in Casa Paloma. Casa Paloma provides permanent supportive housing with on-site medical care.
Met with an older disabled adult to complete assisted living paperwork.
Met with a client who was recently matched to a housing voucher.
Met with a client to assist them with enrollment into Veterans' Administration services.
Referred a client to a non-congregate shelter.
Continued to shelter people. Twenty people who had been experiencing homelessness in Newport Beach are sheltered in the Costa Mesa Bridge Shelter.
Click here to view the latest homeless dashboard, which includes key monthly and yearly data on the City's homeless response: https://www.newportbeachca.gov/trending/community-issues/homelessness/monthly-homeless-count.