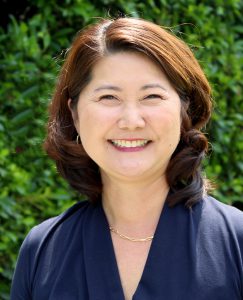 By Grace Leung, Newport Beach City Manager
This week I'd like to recognize critical, often unsung members of our City team who perform a vital service during rainstorms: the Utilities Department crews that pump storm water and operate the tide valves on Balboa Island and the Peninsula.
The valves, which were built in the 1970s to replace a system from the early 1900s, are necessary to prevent flooding in low-lying areas. They are manually operated, and need to be closed during high tides to prevent seawater from flooding the streets. Once the tide recedes, crews reopen the valves — nearly 90 in total — to allow water to flow from streets to the bay.
When high tides require the valves to be closed during a rainfall, the storm water cannot drain and must be pumped manually. In anticipation, as many as 30 Utilities team members, along with assistance from Public Works, mobilize with trucks and pumps. All of the pumps are tested, fueled, cleaned and ready to go before every rain event. In the past several weeks, the team has deployed as early as 3 a.m., including weekends and Christmas Day (yes, Christmas Day), to pump water from the drains and streets.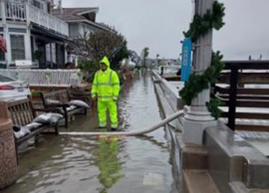 The City is developing a modern flood-control system for Balboa Island that will utilize  automatic valves and help reduce the need for manual pumping in the future. In the meantime, please join me in thanking our Utilities and Public Works team members who perform this vital service for our community.
Keeping Our Waterways Clean Before, After Storms
One of the most visible impacts of heavy rainfall is the amount of trash and debris that collects in the Back Bay, Newport Harbor and along our beaches between the Santa Ana River and Newport Pier.
Geography presents an ongoing challenge. Newport Beach sits at the terminus of two urban rivers, the Santa Ana River in West Newport, and the Bonita Creek/San Diego Creek outlet that flows into the Back Bay, Newport Harbor and ultimately the ocean. During and after a heavy rainstorm, a tremendous amount of trash and debris accumulates along miles of river channel and ends up in Newport Beach. In some years, the City removes as much as 800 tons of trash and debris from beaches.
The City, along with public and private partners, has a number of projects to capture trash before it enters the bay and ocean:
A debris boom in Upper Newport Bay collects about 80 tons of trash every year.
Forty storm drains throughout the city are equipped with a capture system called continuous deflective separators, or CDS. These units, which cost between $250,000 and $1 million each, capture 20-30 tons of trash a year collectively.
More than 400 trash screens are installed in catch basin openings throughout the city, which capture an additional 2 to 3 tons a year in all.
Newport Beach partnered with Santa Ana and other neighboring cities on a $9 million trash collection system in the Santa Ana Delhi Channel, which collects trash that would otherwise enter Upper Newport Bay.
Eight skimmers are deployed throughout Newport Harbor that, together, collect 7 to 8 tons of trash a year.
Regular street sweeping helps prevent local trash and urban runoff (oil, chemicals) from entering the waterways.
The City is working on a project to install a $3 million, solar-and water-powered trash interceptor in San Diego Creek that will collect hundreds of tons of trash a year before it enters Upper Newport Bay.
However, these preventive measures are not enough to collect all the litter and debris that washes down the rivers during a storm. The City's Public Works beach maintenance crews perform the bulk of the cleanup along the coastline, using heavy equipment for larger debris and picking up smaller pieces by hand. Our Harbor Department staff also cleans up floating debris in the bay after storm events.
Our partners at Trellis International take on cleanup projects throughout the city every month, and have focused on the beaches after the recent storms. We can also thank volunteer organizations, including Surfrider and Help Your Harbor, for organizing beach cleanup events that contribute greatly to keeping our beaches clean. If you would like to get involved in a beach cleanup, as an individual or group, please visit the City's web site at https://www.newportbeachca.gov/government/departments/public-works/ocean-water-quality/make-a-splash-pick-up-trash.
Replacement Underway for Ramp, Stairs at Lifeguard Headquarters
A project to replace the ramp and stairs connecting the Newport Pier and the Benjamin M. Carlson Lifeguard Headquarters began on January 6. The existing ramp has been closed due to deterioration.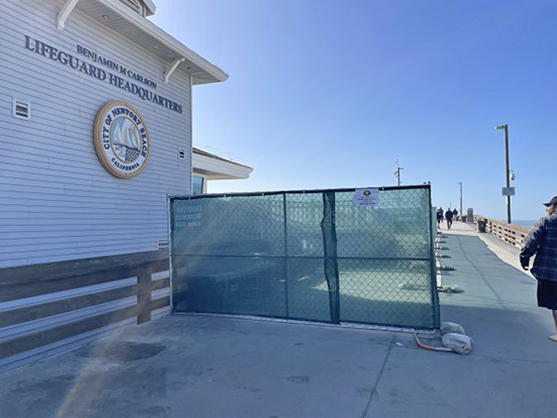 Pedestrian access along the pier will be maintained throughout construction. Protective fencing has been installed and the public is advised to exercise caution when walking near the construction area. The project is expected to be completed in April.
Signage is in place advising the public to call for lifeguard assistance from the pier at (949) 644-3047.
General Plan Committees to Hold First Joint Meeting Jan. 18
The General Plan Advisory Committee (GPAC) will conduct its first meeting alongside the General Plan Update Steering Committee on Wednesday, January 18 at 6 p.m. in the City Council Chambers.
City staff will provide an orientation for members with an overview of the General Plan and the roles of the two committees. The steering committee will select a chair and vice chair for the advisory committee. The GPAC will consider forming subcommittees to review and provide feedback on each of the remaining General Plan elements.
Please visit www.newportbeachca.gov/GPUpdate for more information and to sign up for e-notifications. The community is invited and encouraged to participate throughout the comprehensive review and update.
If you have any questions or to learn more, please email [email protected]
City Hotline Provides Updates on Sports Fields, Trail Conditions
With the rainy season upon us, City staff regularly monitors weather forecasts and tracks the impact of rain on the condition of City sports fields and hiking trails.
Staff evaluates the safety and playability to determine if temporary field closures are necessary. Updates are available by phone through the "mudline" or by text and email.
MUDLINE: Call (949) 718-1860 to hear the latest report. Email: Recreation staff at [email protected]
For more information please visit the City's web site at https://www.newportbeachca.gov/how-do-i-/learn-more-about/field-conditions-mudline.
New Year, New Classes at OASIS Senior Center
A new year is a new chance to try new things! OASIS Senior Center is offering several new classes to help with your New Year's resolutions.
Join us to reset, de-stress and replenish with our Full Moon Sound Bath class. Practice mindful movements and breathwork in Hatha Yoga. And help prepare your mind and body for a good night's sleep and release any tension from your day with a Release the Day Yoga Practice class. For more information on these classes, and a full list of classes offered at OASIS, see the OASIS Newsletter: https://www.newportbeachca.gov/home/showpublisheddocument/72725/638074012843000000.
Be Well Mobile Crisis Response Update
The Be Well mobile crisis response team operates in Newport Beach 12 hours a day, seven days a week to respond to mental and behavioral health crises. The mobile unit is staffed with mental health specialists and EMTs, and works closely with the City's police and fire departments.
This week the Be Well team:
Transported a person with suicidal ideations to a crisis stabilization unit for treatment.
Transported a person to the Costa Mesa Bridge Shelter for an intake appointment.
Transported a distraught older adult discharged from an emergency room to a motel to shelter from the rain.
Assisted a person returning to the Friendship Shelter in Laguna Beach.
Assisted a person with obtaining a new cell phone and a new EBT card.
Transported seven people to services, shelter intakes, and appointments.
Homelessness update
The City of Newport Beach provides a comprehensive response to address homelessness through a coordinated effort by City staff, contractors, partner agencies, and nonprofit groups.
Homelessness Update
This week, the City's homeless outreach and response teams:
Transported a veteran client to an intake appointment at the Veterans' Administration. The person resides at HB Oasis, a non-congregate transitional housing facility. HB Oasis was an older motel that was converted into transitional housing through the state's Project Homekey initiative.
Continued to shelter people. Nineteen people who had been experiencing homelessness in Newport Beach are now sheltered in the Costa Mesa Bridge Shelter.
Helped a person shelter at the Yale Navigation Center.
Completed housing documentation with two clients.
Click here to view the latest homeless dashboard, which includes key monthly and yearly data on the City's homeless response: https://www.newportbeachca.gov/trending/community-issues/homelessness/monthly-homeless-count.