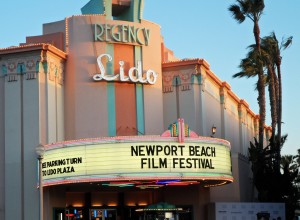 More than 50,000 film fans will descend on Newport Beach over the next seven days to watch the 325 cinematic masterpieces that make up this year's Newport Beach Film Festival.
Now in its 15th year, the Newport Beach Film Festival has come a long way from its humble beginnings.
"I look at where we started with a handful of screens and well under 100 titles, and where we are today at over 325 films on 15 or 16 screens in the area," said Festival CEO Gregg Schwenk during an interview last week in the busy Film Festival office. "I'm very proud of how far we've come, and am excited for this year's festival."
The festival began on Thurs., April 24, with the world premiere of the romantic comedy "Lovesick," and ends on Thurs., May 1 with the west coast premiere of "Chef."
"It's a great way to bookend the festival," noted Schwenk. "It's a little lighter fare. We've been to other film festivals and many of their films are very dark as far as subject matter. We are not afraid of dark, but wanted to balance it out for our 15th anniversary."
Schwenk said that even with more than 300 films, from features to documentaries to short subjects, in the festival, he expects that 80 to 85 percent of the films will have someone attending to represent the films.
"I have been to some festivals where it's a fraction of that," said Schwenk. "When you look at the number of films in the festival, to have that level of participation is a tribute to Newport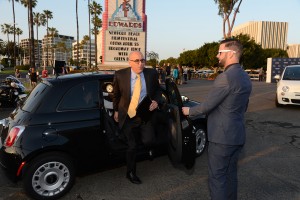 as a destination, and to the festival as one that does promote quality."
And it's that dedication and pursuit of quality that has earned the Newport Beach Film Festival a reputation as being a serious player in the film festival circuit.
"We are proud of that," stated Schwenk. "We do take it seriously. We feel that our street cred within the entertainment industry has evolved and matured over the last several years, but we also want to keep this quintessentially Newport and not lose ourselves. We want this to be a good experience for everyone."
Schwenk said a record number of industry executives, including film buyers, are attending this year's festival—great news for those independent filmmakers hoping to find a distributor for their film.
There are also a record number of filmmakers from other countries, including Ireland, Australia, South America, Canada, and Asia, attending the festival.
"We have been blown away by the number of filmmakers who are coming from far afield. I am proud and pleased," said Schwenk.
Among the many highlights this year is the increased commitment to the collegiate film programs.
"We're working with USC, UCLA, Chapman, CSU Fullerton, CSU Long Beach, OCC, and Saddleback," said Schwenk. "It's an opportunity for our community to interact with them, and it's a one-stop shop for high school students thinking about a career in film. They can see what's happening at the best schools in So Cal, meet the filmmakers and talk to professors."
Back this year is the annual salute to John Wayne (Newport's famous resident), with a screening of the classic "Rio Bravo." There is also a master class in cinematography hosted by Variety Magazine, the 50th anniversary screening of Disney's "Mary Poppins," a 50th anniversary tribute to MacGillivray Freeman Films (see related article on page XX), and spotlight films from various countries.
With so many films in the festival it's impossible to see them all, but this year it is easier to see more of them.
"We have more repeat screenings than ever before," noted Schwenk. "We try to estimate what film will play well in the time slots we can give it, and with so many great films we decided to repeat them more often."
And then there are the festival parties, attended by filmmakers, actors, and filmgoers.
"We're taking it up a notch on opening night, which should be spectacular—25 restaurants, multiple entertainment, a bar by Stella and new sponsor, Tito's Vodka," said Schwenk. "Friday we're at Landrover Jaguar for the UK Spotlight party with great restaurants and a fashion show by Ted Baker of London. Saturday we're at Room & Board at South Coast Plaza, Sunday we have Muldoon's, Monday we're back at Landrover, and then we're doing a number of events in the Lido area. We have a lot of fun stuff planned."
Schwenk paused, then added, "An interesting facet of the festival is that the filmmakers and celebrities want to be here, they want to see the crowd's reaction to their work and share the moments in Newport with our community. I think that's pretty cool."
For more information on the Newport Beach Film Festival, and a complete schedule of screenings, visit NewportBeachFilmFestival.com.