Celebrated as one of the leading lifestyle film festivals in the United States, the 15th annual Newport Beach Film Festival brings the best of classic and contemporary filmmaking from around the world to Newport Beach April 24 – May 1.
The Film Festival will showcase more than 300 films from 40 countries, and will host more than 50,000 attendees during the eight-day event.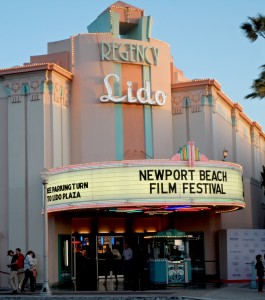 In addition, the Festival will host celebrity-studded red carpet galas, nightly special events, conversations with filmmakers, international spotlights, and filmmaking seminars.
The Newport Beach Film Festival will kick off on Thursday, April 24, with a gala opening night film (yet to be announced) starting at 7:30 p.m. at the Edwards Big Newport.
"The 15th Annual Newport Beach Film Festival will be one of the strongest film festivals yet," says Gregg Schwenk, CEO, executive director, and founder of the Newport Beach Film Festival. "We are thrilled to be the largest Festival in Southern California and to be able to spotlight international films in the world-class setting of Newport Beach."
This year's events will include a special presentation of British themed films to coincide with BritWeek Orange County on April 25 that will culminate in an after-party starting at the Jaguar/Land Rover Dealership in Newport Beach that will include a Ted Baker London Fashion Show.
In addition, other compelling film genres will "star" at the Newport Beach Film Festival this year, including action sports, environmental, family, youth, collegiate, and more.
The Newport Beach Film Festival takes place throughout Newport Beach on 15 screens at seven theaters.
Since its inception, the Newport Beach Film Festival has evolved into a prestigious event, attracting many acclaimed film such as the U.S. premiere of 'Crash" and other notable films including "(500) Days of Summer," "The Cove," "Waitress," "The Illusionist," and many more.
For more information on the Newport Beach Film Festival, visit NewportBeachFilmFest.com.