Newport Beach is showing its love for the Duke by celebrating what would have been his 110th birthday on May 26 with a variety of events.
John Wayne Fans can cruise on his old boat, The Wild Goose, get a glimpse of rare photos and behind the scenes shots, meet members of the Wayne family, and even see the legendary man himself—or at least his wax model.
It's very kind of the local community to remember him so fondly and want to pay tribute to him, said John Wayne's son, Ethan.
"It's heartwarming to us as a family that the community still thinks of him," said Ethan Wayne, who manages John Wayne Enterprises and is chairman of the John Wayne Cancer Foundation.
"My dad would be thrilled and honored with the celebrations," added John Wayne's daughter, Marisa.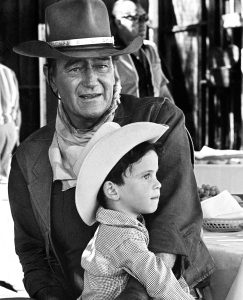 Ethan Wayne, will be making the rounds on his dad's birthday.
"That's a busy day," he said. "There are a number of things going on."
The city will be holding a ribbon cutting ceremony to rename Ensign View Park after the famed former resident at 3 p.m. City Council voted 5-2 last month to expedite the process and waive a council policy in order to rename the park after John Wayne in time for his birthday. There was some concern and opposition because it didn't  follow the proper process.
It's a beautiful park and overlooks the bay and harbor that he loved, Ethan Wayne commented.
Ethan Wayne will head to the park dedication as other family members attend some of the other various events.
The celebration won't be limited to just Newport Beach.
It's nice that a park is being named after him, added Marisa Wayne, who will be in Louisiana for a special celebration of the day. 
Also on the calendar for the Duke's birthday: Hornblower Cruises will host a fundraising voyage on Wild Goose from 6:30 p.m. to 9:30 p.m. with Wayne's granddaughter, Jennifer, and her country music band, Runway June.
For $195, guests can meet Bert Minshall, former captain of the ship, a converted WWII minesweeper, and author of book "On Board With The Duke."
Also aboard will be a wax figure of John Wayne, on loan for limited time from Madame Tussauds Hollywood. A portion of the proceeds will go to the John Wayne Cancer Foundation.
Balboa Island Museum is also opening an exhibit starring Wayne called "At Home in SoCal," which will feature a selection of curated images and memorabilia that showcase Duke's life at home from 1920-1979. Guests will see images of Wayne at his Bay Shore home, shots on his boat, Wild Goose, enjoying life around Southern California, and more.
A new Newport Beach capsule collection with 70's inspired t-shirts and hats will also be sold with proceeds benefiting the John Wayne Cancer Foundation and the Balboa Island Museum.
The event will kick off at 10 a.m. on the Duke's birthday. The exhibit will run through Labor Day weekend.
Newport Beach Public Library will showcase a selection of 12 modern archival prints of Wayne, shot by famed photographer John R. Hamilton (the photo at the beginning of this article is by Hamilton).
Fans will get a glimpse at Duke's life on set with the crew and his family. The exhibit will showcase rare and never-before-seen images from Wayne's most remembered films like The Searchers (1956), The Man Who Shot Liberty Valance (1962), El Dorado (1966), Hellfighters (1968) and more.
The exhibit, called "On Set With The Duke" will run through Labor Day weekend.
Regarding the Lady Gaga song, "John Wayne," on her latest album, Marisa Wayne is a fan.
"That song brings a new generation into awareness of who he is, the persona, what he stood for," she said. "He was a big cowboy, manly."
 She uses that song when she teaches her spin classes at Grit Cycle (named after her dad's movie "True Grit") in Costa Mesa and Monarch Beach.
 Grit's annual Gritty Up fundraiser is June 3 and 4, with proceeds benefiting the Foundation. The June 3 event in Costa Mesa is sold out, but riders are still needed for the Monarch Beach event the next day.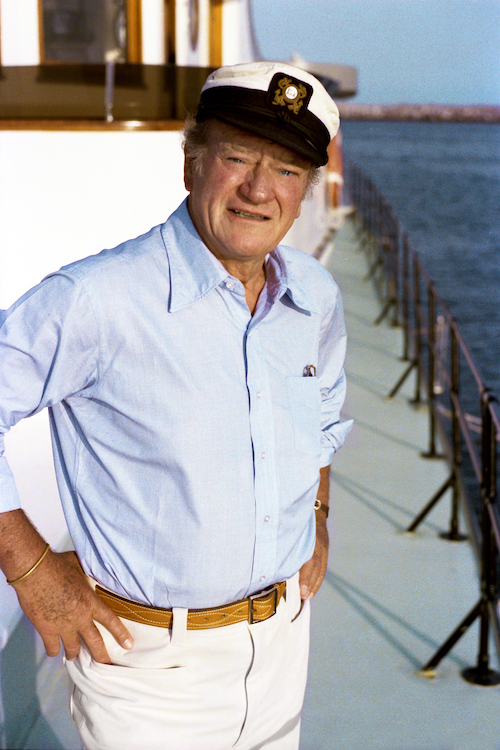 The Foundation will also be kicking off the "Show Your Grit" campaign on June 1 and runs for the whole month of June. It is an awareness campaign and supporters are encouraged to grab/wear a bandana and show support by posting on social media with #ShowYourGrit.
The celebrations are reflective of the special relationship Newport Beach has with John Wayne.
"My dad loved Newport," Ethan Wayne said. "He had a long relationship with the city and he finally made it his home."
The Wayne family moved to Mojave when John was a young boy. They tried to farm the area but were not successful. Soon they moved to Glendale, where John Wayne attended school and was a very involved student. At some point during that era he started coming down to visit Balboa Island, Ethan Wayne explained.
"Every chance he could he'd come down to play on the beach and in the surf," he said about his dad. "Balboa was a place that was near and dear to him, even when he was a young, young man."
After his acting career took off he made Newport Beach his home and docked his boat in the harbor.
"He lived in the area, he loved the community and the people here," Marisa Wayne said.
Everybody in town knew him, he continued, and they respected his privacy, allowing him to unwind, Ethan Wayne explained.
"He cold relax down there… He was always grateful that he had a close relationship with the community and they let him be a normal person," Ethan Wayne said. "He was a busy guy so to find those special places where you're comfortable and you can breathe a little, I think that's what Newport Beach gave to him."
For more information, visit JohnWayne.org, BalboaIslandMuseum.org, NewportBeachLibrary.org, and GritCycleMB.com.