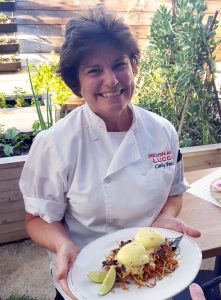 We've always considered the Newport Beach Independent a "hyper-local" publication, but that term can also apply to cuisine.
At Provenance in Eastbluff Village Center, Chef and Restaurateur Cathy Pavlos has taken the hyper-local cuisine concept a step further—she grows many of her ingredients in the restaurant's 1,300-square-foot organic raised-bed garden that is a fork's throw from patio diners.
Chef Pavlos has introduced a slew of new seasonal menu items that run the gamut from California street tacos to seared whole wild branzino.
It had been a while since we last visited Provenance, so we were pleased to be invited to a media event to sample dishes from the brunch, lunch and dinner menu. Chef Pavlos didn't hold back—we tasted 12 items, which gave us a great intro to her new menu.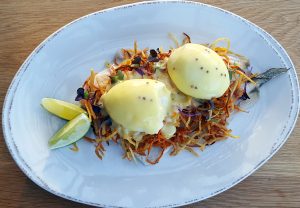 "At Provenance we use French and Italian techniques, we use local ingredients when we can get them. We call it New California Cuisine," Chef Pavlos told us. "I get apricots grown at the Great Park, I just had a load of tomatoes brought in from Anaheim, and 100 percent of our Provenance garden makes its way onto the menu."
And speaking of the menu, we found it to be extremely creative in its blending of ingredients.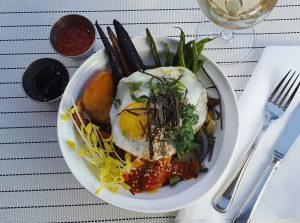 Christopher is a breakfast and brunch fan, so he relished the pan-seared Idaho Trout with slow-cooked soft cage-free eggs, potato, sweet potato, yam, hashbrowns, baby garden greens and mustard-cognac béarnaise.
He also liked the breakfast tacos with green chile roasted Snake River Farms pork carnitas, scrambled cage free local eggs, and assorted accompaniments.
We've never had anything quite like the delicious California Bibimbap Bowl with Loch Duart salmon, jasmine rice, baby carrots, garden greens, brussels sprouts, grilled red onions, butternut squash, a fried egg, plus sweet sriracha sauce and ginger soy sauce. According to Chef Pavlos, this is one of the most popular items on her menu.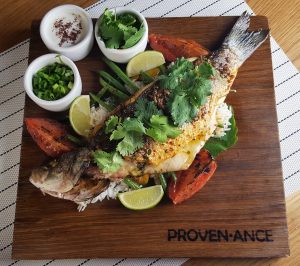 The grilled avocado and heirloom tomato platter was a refreshing palate pleaser, while the hand cut fries were some of the best we've ever had—cooked just right, slightly crisp on the outside and soft inside (Chef Pavlos uses a special vegetable peeler to get the proper consistency with the cut potatoes). 
On the dinner menu, the fried chicken and bacon-beer batter waffles with chipotle butter and maple syrup was filling but not too heavy, while the seared whole wild branzino was visually impressive.
For more information on Provenance, visit ProvenanceOC.com.
Photography by Christopher Trela