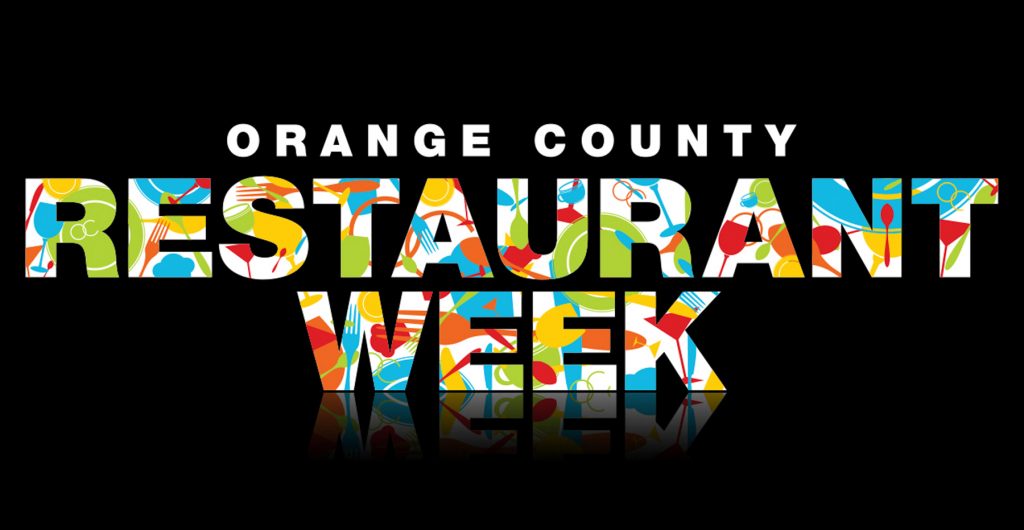 Newport Beach Restaurant Week ended a month ago, and according to the Newport Beach Restaurant Business Improvement District members, it was once again a hit with diners as well as restaurateurs.
Five dozen restaurants participated, and anecdotally the feedback at the recent Restaurant BID meeting was overwhelmingly positive, with some members stating that about a third of diners ordered the special prix fixe restaurant week menu, and everyone saw increased traffic during what is normally a slow time of year.
Restaurants hope to duplicate that success with Orange County Restaurant Week, which runs March 4 through 10.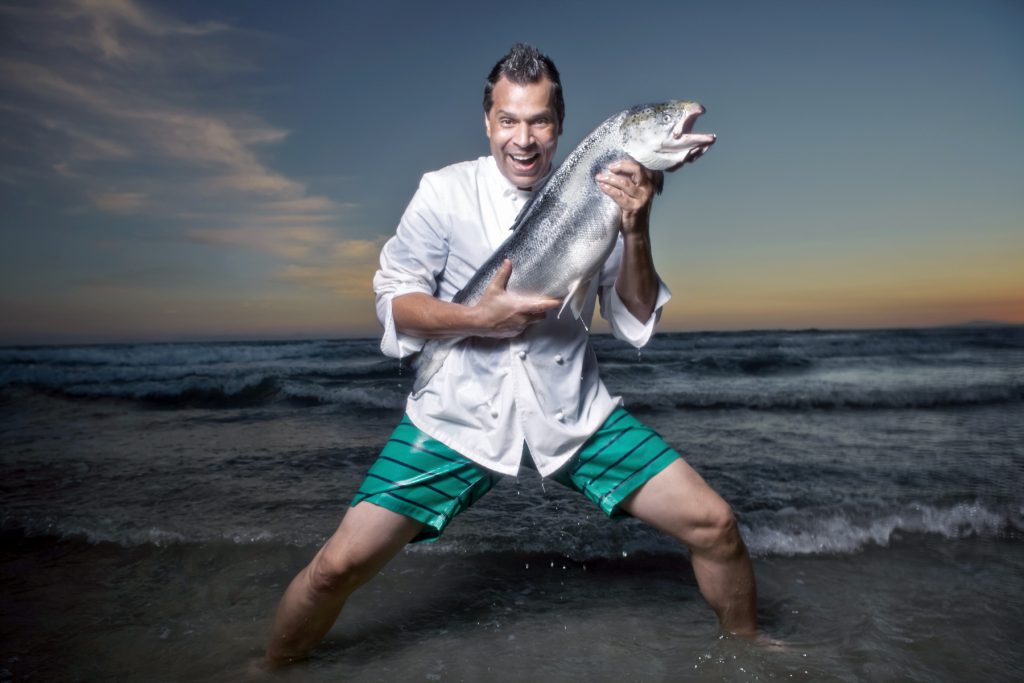 OC Restaurant Week celebrates its 10th anniversary this year with a record 150 restaurants – from casual and family friendly establishments to upscale and fine dining – offering prix-fixe menus for lunch ($10, $15 or $20) and dinner ($20, $30, $40, and $50). Several restaurants have special $80 "Luxe" menus featuring dinner with wine or cocktail pairings.
I perused the list of restaurants on the OCRestaurantWeek.com website, and noted that about a third of the restaurants are (nor surprisingly) located along the coast in Newport Beach, Corona del Mar, and Laguna Beach.
Some of the menus I intend to try: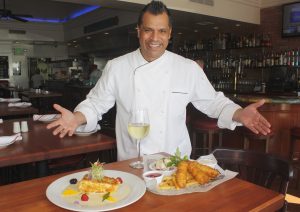 Fly 'N' Fish: Located steps from the beach and the Newport pier, Fly 'N' Fish Oyster Bar & Grill has an impressive $20 lunch menu that includes a cup of the famous clam chowder and a salad, plus a choice of fish & chips (Alaskan cod in dark Anderson Ale beer batter server with truffle parmesan French fries and
apple curry slaw), macadamia crusted Oregon sand dabs with wilted spinach, or Skuna Bay salmon with angel hair pesto and fresh asparagus. I've dined here several ties and always find the food fresh, fun and filling. The fish and chips are particularly yummy!
Bluewater Grill: This popular seafood restaurant that overlooks the Newport harbor has a nice $20 lunch that starts with the signature (and highly addicting) warm sourdough bread and butter, a choice of clam chowder or garden salad, and one of five entrees including grilled salmon sandwich, angus burger, and shrimp Louie salad. It also comes with a choice of beverage (non-alcoholic). I'm never disappointed when it comes to Bluewater Grill—but I have to force myself not to ask for a second helping of the bread!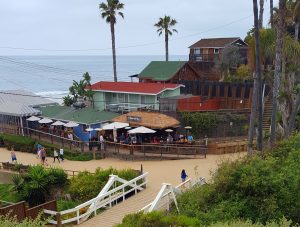 Beachcomber: Another terrific restaurant that's just steps from the ocean, Beachcomber also has a fabulous $20 lunch that starts with a choice of spring salad, lentil soup or romaine and kale salad, followed by your choice of ahi burger, fried chicken sandwich, or shrimp pasta. Excellent food, and you can't beat the view. Stroll the grounds of Crystal Cove before or after lunch.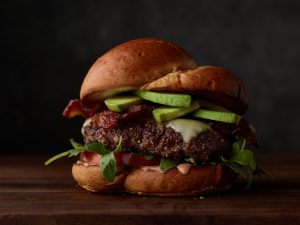 Fleming's: This newly-remodeled restaurant had a terrific Newport Beach Restaurant Week lunch menu which I loved, and they have brought it back with slight revisions for OC Restaurant Week. This $20 menu starts with a choice of seasonal soup of seasonal salad, followed by either the barbeque Glory Bay salmon fillet with beech mushrooms, the California Dinner with farro beech mushrooms, roasted butternut squash, kale, roasted Campari tomatoes, pickled onions, grilled avocado and toasted pistachios, the California Burger with prime beef, tomato, arugula, bacon,  avocado, cheddar cheese, and smoked jalapeño aioli, or (for an extra $10) the porcini-crusted filet mignon with beech mushrooms and gorgonzola cream sauce. On top of all that, you get a choice of desserts: New York cheesecake with graham cracker crust, blueberry sauce and white chocolate shavings (I had this last time—a fabulous dessert that's creamy and not dense), or a gift box of four Fleming's housemade truffles.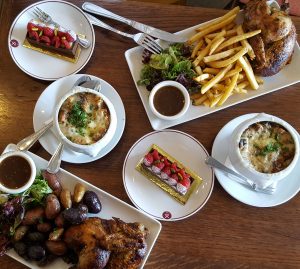 Moulin (Newport Beach and Laguna Beach): The popular Moulin bistros are as French as you can get, and both locations are offering the same amazing menu. For $20, enjoy the French onion soup topped with melting Emmental cheese, followed by Le Poulet Frites: Moulin's famous slow-cooked rotisserie half chicken with your choice of French fries, roasted potatoes or green salad. Finish with a chocolate éclair. I'm normally not a fan of French onion soup, but Moulin's version is the best I've ever had. The chicken is terrific, and I'm torn between their addicting French fries and the roasted potatoes.
Modo Mio: Crystal Cove Shopping Center has seen an influx of new restaurants over the past several years, but Modo Mio has been quietly serving authentic Italian fare for many years. Their three course $20 lunch includes soup or salad, choice of four entrees, and tiramisu or chocolate truffle. Add a featured cocktail – the Italian Royale with Canella prosecco, Chambord, and fresh berry – for $7.
Taco Rosa: Leave it to Chef Ivan Calderon to offer one of the best deals of Restaurant Week. For only $10, choose one of six different lunch combos, such as two charbroiled skirt steak tacos sautéed with mushrooms and onions and
topped with flamed brie cheese (served with Mexican rice, pinto beans and salsa), enchilada plates, fajitas, or a combo plate. If you've never dined at Taco Rosa, now's your chance to see what you've been missing.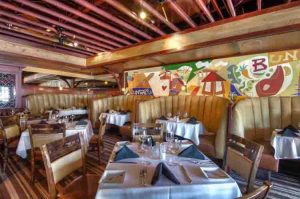 The Bungalow: This terrific $20 lunch deal starts with choice of corn chowder or Bungalow salad, followed by a choice of eight entrees, including the signature Bungalow burger, the beef dip sandwich, fish tacos, and the one I intend to order: Joanie's New Orleans grilled cheese with short rib, gruyere cheese, white and yellow cheddar, horseradish, arugula and shoestring fries. End with the chocolate mousse.
Selanne Steak Tavern: Talk about an impressive $40 dinner menu! This popular Laguna steakhouse comes courtesy of hockey legend Teemu Selanne, who obviously loves good food. First course includes a choice of Main lobster pot pie (yes please!), petitre wedge salad or scarlet beet ravioli, followed by a choice of Skuna Bay salmon, Jidori chicken or Brandt beef short ribs. End with either the warm beignets and coffee pot de crème, or a housemade ice cream trio. You can add wine pairings for an extra $20 (I'll take the Selanne barrel aged maple caramel bourbon with dessert).
Skyloft: Another Laguna restaurant that knows how to serve an attractive $20 lunch menu in an equally attractive setting. The three-course menu includes a choice of corn chowder, grilled Caesar or crawfritters, followed by a choice of four entrees (the savory puff pie with slow cooked tri tip and root vegetables caught my eye) and a choice of Tres Leches cake or chocolate decadence.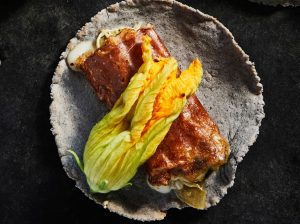 Several restaurants outside of our coastal enclave also look worth making the drive, including Cha Cha's Latin Kitchen in Irvine ($15 lunch), Andrei's Conscious Cuisine in Irvine (three-course $20 lunch), and Puesto in Irvine (three-course, $15 lunch) I've dined at Puesto several times, and am absolutely wild about their tacos, especially the filet mignon, lobster, shrimp and – believe it or not – cactus!
Oh—and Mix Mix Kitchen Bar in Santa Ana. Chef Ross Pangilinan is mixing his Filipino heritage into classic California dishes to deliver inspired cuisine worth seeking out—and his $20 lunch, and $30 to $40 dinner menus, are excellent examples of Chef Ross' creativity.
You can search the restaurants by name, location and price point at OCRestaurantWeek.com.