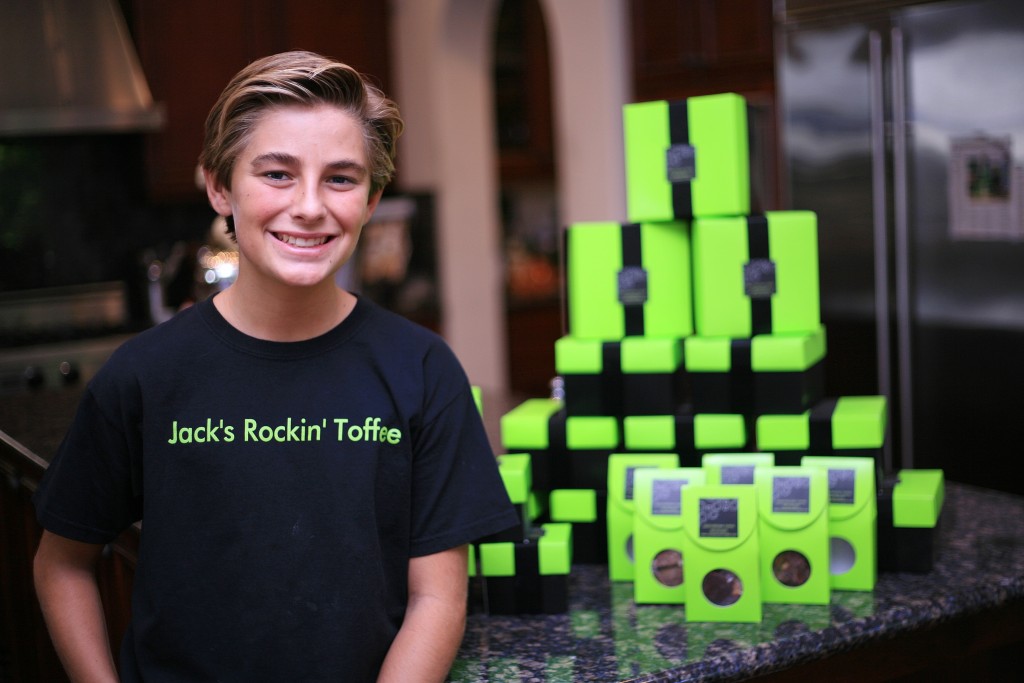 A local Newport Beach teen just made a sweet deal.
Jack McKenna, 14, was featured and earned an investment deal on the CW's show "Hatched" for his tasty treat company, Jack's Rockin' Toffee.
The new entrepreneurial show gives American inventors the chance to learn from some savvy business experts who will help educate them on what it will take to create and launch a truly viable business.
Joe Kincaid is the investor featured on the show and is joined by retail expert Freddy Cameron and finance expert Nicole Lapin.
"You've done an incredible job," and that's impressive at such a young age, Kincaid said. "You have a lot to be proud of."
The three experts also thought McKenna had a lot of personality to go with his great product. He's smart and driven, they noted.
"I would buy a piece of that kid," Lapin said. "No matter what he touches, it's going to be successful."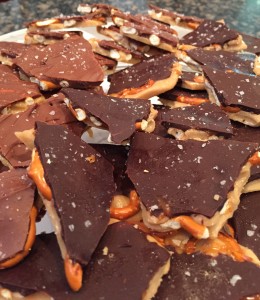 Jack's Rockin' Toffee starts with a secret recipe with pretzels mixed in, a light drizzle of caramel, topped with a layer of high quality chocolate and sprinkled with "just the right amount" of sea salt.
"It's the perfect blend of sweet and savory," McKenna said.
But the candy business is crowded and dominated by the "big guys," Lapin said as the experts discussed McKenna's toffee. It can be really hard to break through, she noted.
The business is at its "infant stage," Cameron added, but the company and McKenna have a lot of potential.
"I'm not a one trick pony," the young candy maker said on the show.
The business-savvy McKenna has plans to expand his company to include toffee popcorn, toffee coffee and more. It could reach several aisles in the grocery store, he added later. McKenna has also thought about licensing the toffee out to a big chocolate or candy company in the future.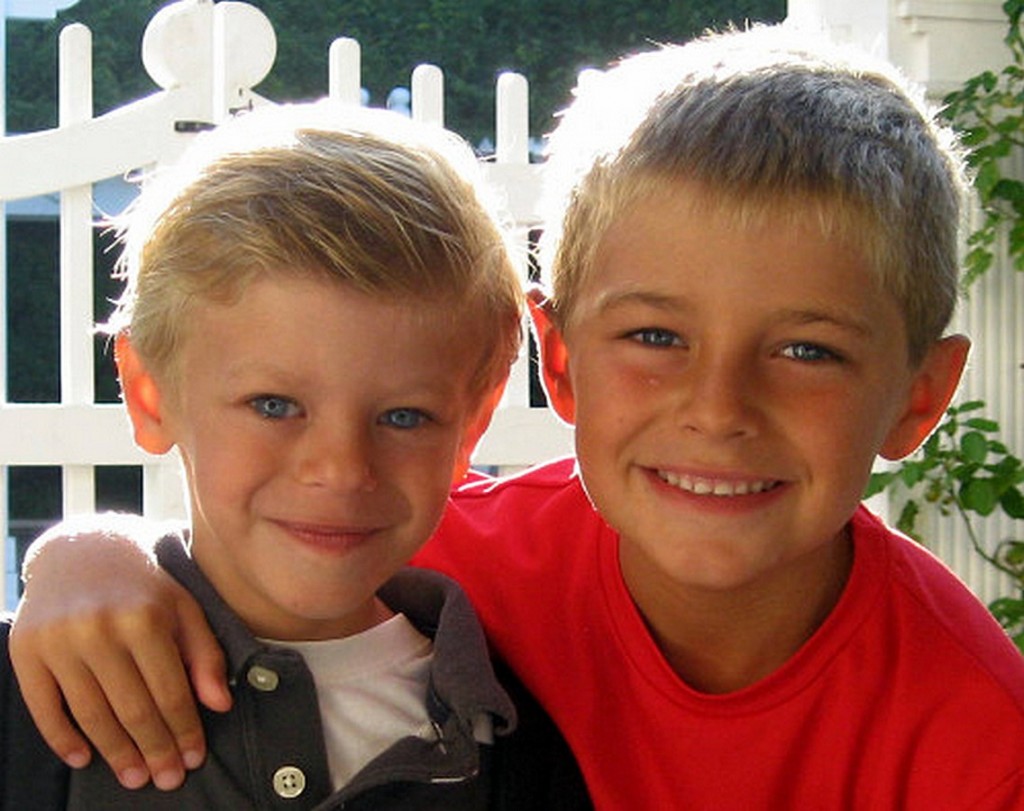 "I can see myself creating different products when I'm older," he said.
He created the toffee for his younger brother, Colin, who has Williams Syndrome and can't have any dyes, additives or preservatives. It's also gluten-free.
He donates 10 percent of all proceeds to the Williams Syndrome Association.
"I'm one tough cowboy, but Jack's story does tug at my heart strings," Kincaid said. "But he still has to have the product to back it up."
The experts reviewed his product and provided him with feedback.
Cameron complimented the packaging, but he and the other investors advised McKenna to make the story more prominent and have a visual of the toffee on the bigger bags.
"I've seen a lot of products fail because of bad packaging," Cameron said.
If customers can't see the product many will open the package to take a peek inside, which means the bag can no longer be sold, Cameron explained, and returns will eat into profits.
It was great guidance and he's taking it to heart, McKenna said.
"We can give him all the advice in the world, but if his product doesn't taste great there is nothing to work with," Lapin said.
But McKenna had nothing to worry about, all three judges loved his toffee.
"Dang it, that's good," Kincaid exclaimed.
McKenna then participated in a "Hatched" retail challenge that tested if customers liked his product, packaging and price point.
"Get out there and sell it kiddo," Kincaid encouraged him.
He and the other "Hatched" contestants set up shop in a controlled marketplace of pop-up stores. McKenna interacted with consumers one-on-one and received a lot of positive feedback.
The survey showed that 100 percent of people liked the taste of Jack's Rockin' Toffee. That's never happened at any of the show's previous retail challenges, Lapin noted.
The customers also really connected with McKenna's story. Many commented that they liked that their money is helping out a good cause.
In the end, Kincaid decided to invest in McKenna and Jack's Rockin' Toffee.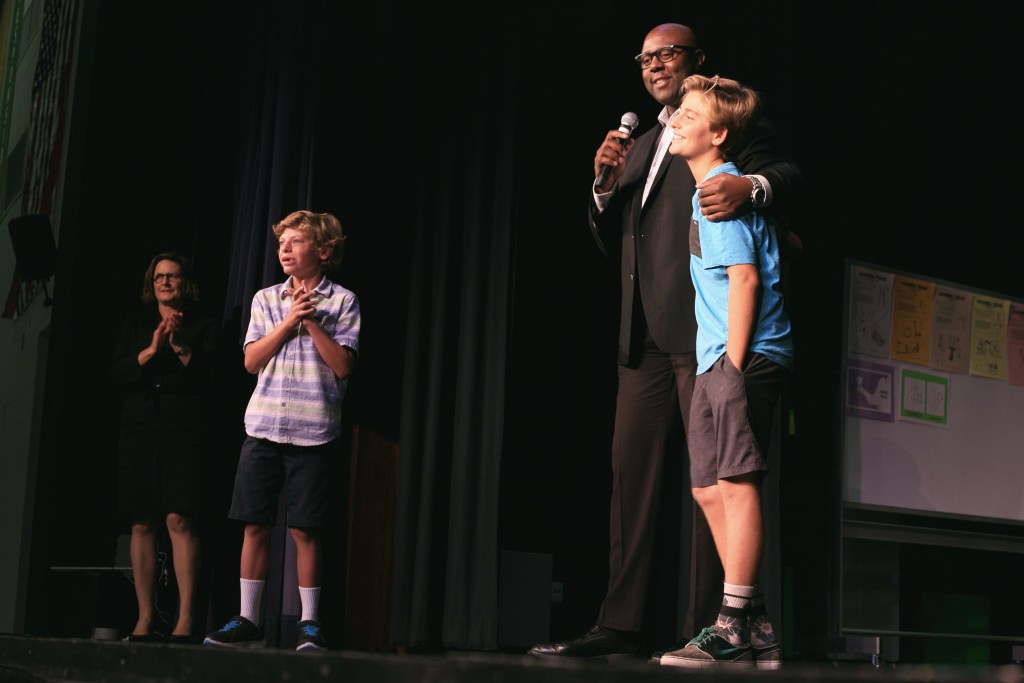 His schoolmates helped him celebrate last week with a special assembly that included a screening of the episode and Cameron as a surprise guest.
This was his favorite episode to film, Cameron said, and on top of that, he loves the toffee.
"The thing I like about Jack is his passion." Cameron said. "You have to love what you do…If you don't love what you're doing, it's not worth it."
His story is impressive and inspiring, Cameron continued. He is anticipating big things for McKenna's product. It could be a household name that stays around forever, he said.
"I'm just glad to know you," Cameron said.
It all began when the mother and son duo went out to dinner in 2010. Nine-year-old Jack McKenna, who had wanted to be an NBA star and play for the Los Angeles Lakers, asked his mom what he should do if he didn't make it as a pro basketball player. She asked him what he loved and he simply answered "candy."
"She said, 'Do what you love and success will follow,'" Jack McKenna recalled.
It always made him sad that his little brother couldn't have sweets, so he knew immediately he wanted to make a candy that Colin McKenna could enjoy as well. Along with that idea, he knew he wanted to donate a portion of the proceeds to the Williams Syndrome Association.
He started researching what kind of candy he wanted to make. His first thought was some kind of chocolate candy with pretzels. He also wanted nougat, although he wasn't positive what exactly nougat was. The he added caramel into the mix.
He first tried making taffy, but found it too difficult, McKenna explained. While looking online, he found suggestions for toffee. After testing it out, McKenna came up with his own recipe.
It wasn't perfect at first, he admitted. He made a lot of "awful" test batches, but he learned and the toffee got better and better.
His first customer was his grandma, who brought a tin of his toffee treats to her poker night with friends. They shared their thoughts with the creator of the sweets by writing several positive comments on a poster board to give to the young McKenna.
"I thought, 'Wow. This could actually be something,'" he said.
The senior ladies loved the toffee so much, they started asking to buy it and sharing with friends and family. It became a staple at their regular poker night.
He also promoted his toffee with a booth at the Corona del Mar Christmas Walk, donated to him by CdM's local candy store, B.CANDY.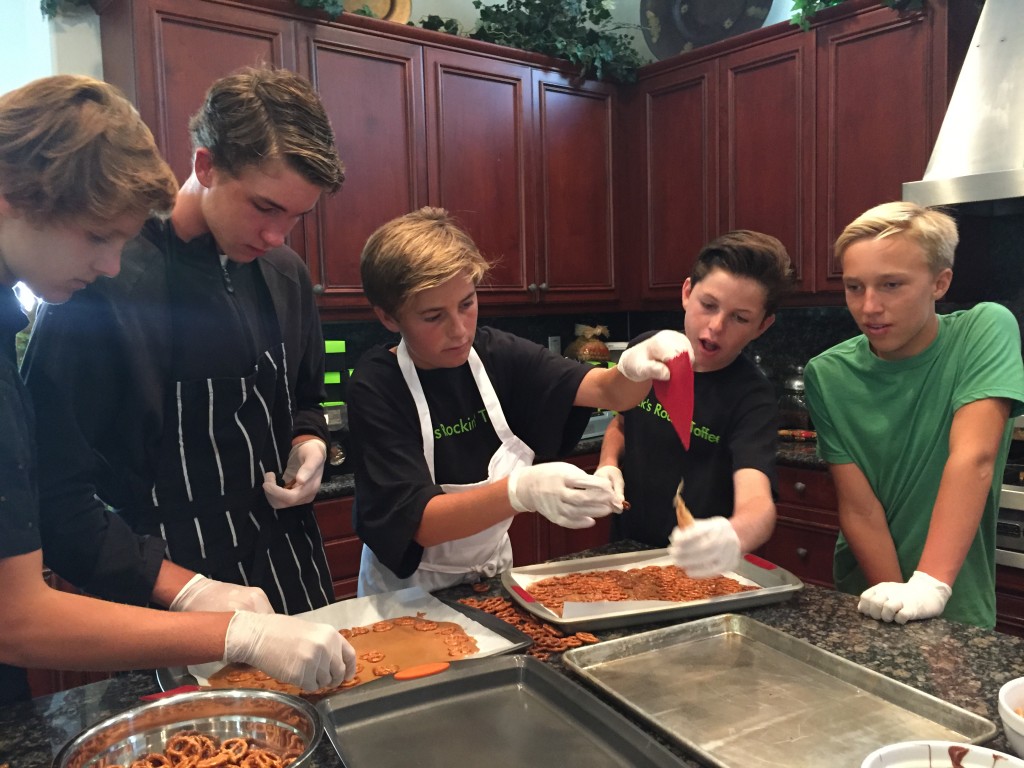 News of the tasty toffee spread and McKenna was soon selling more than he could make. He started hiring his sister and friends to help him make and sell the toffee. He pays them for their time, although the younger kids sometimes just want to be paid in toffee.  
Since then, the company has grown into a locally loved treat.
This year has been the biggest – by far – for the business. After taping "Hatched" in July, toffee making has moved out of his kitchen and into a Southern California manufacturer's. McKenna has been working with big retailers, talking to packaging experts, and just received the nutritional facts. The hits on the Jack's Rockin' Toffee website have increased exponentially since the show's Oct. 3 air date.
"We're moving fast," McKenna said.
He hopes his toffee will be on store shelves by February.
Overall, it's been a great experience, McKenna said. He's learned about business and candy and so much more.
The teenage entrepreneur has a natural knack for business and will go far, Cameron said. He has a great product, passion and a heart warming story behind his product, which also helps out a worth cause. What's not to love? he said.
"He's the unique trifecta of all of the things that work to make a product succeed," Marcy McKenna agreed. "You can't buy that."
For more information, visit jacksrockintoffee.com, onemagnificentmorning.com/programs/hatched, and williams-syndrome.org.