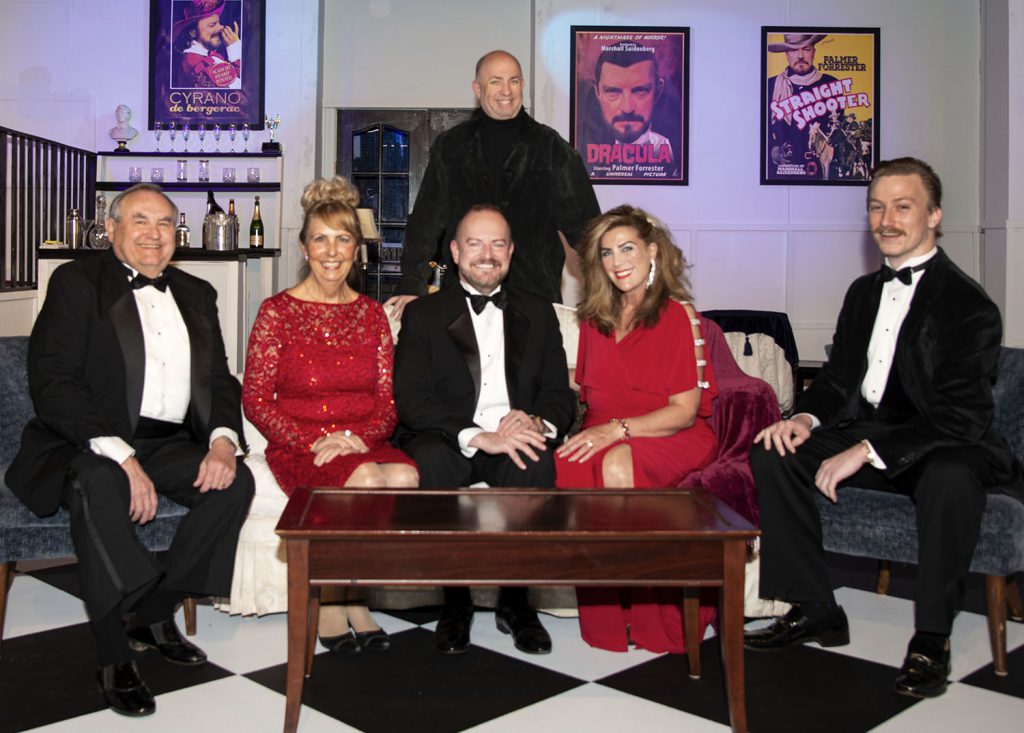 By Eric Marchese | Special to the NB Indy
When Newport Theatre Arts Center staged "Murder Among Friends" in the 1980s, F-bombs and other profanities had to be sanitized and a guy-on-guy kiss was sufficiently shocking so as to prompt some patrons to walk out.
Today's theater audiences have seen and heard it all, to the point that the current production of the same show on stage at NTAC's Rae A. Cohen Theater through February 19 will cause nary a stir.
That's a good thing, because Bob Barry's comedic murder thriller offers plenty to enjoy.
Barry wrote the 1975 play for the New York stage, and he appears to have been at least partly inspired by plays like "Sleuth" and film noir classics like "The Postman Always Rings Twice" and "Double Indemnity."
We're in New York City on New Year's Eve, 1982, at the lavish Gramercy Park apartment home of Angela Forrester (Lori Kelley), the beautiful (and wealthy) trophy wife of a now-faded Broadway star, the much older Palmer Forrester (Bill Peters).
Palmer's agent, Ted Cotton (Michael Frankeny), and Angie have become close – in fact, a lot more than close. They're lovers.
Angie isn't just tired of her blowhard husband. She's tired of him squandering her fortune, so she and Ted have devised a plan to murder him during a New Year's Eve party.
Ted has contracted with a hit man to invade the Forrester home just before midnight and, under the guise of an armed robbery, shoot and kill Palmer.
Even with another couple present, invited by Angie and Palmer to celebrate New Year's Eve, everything appears to go according to plan.
But not so fast. "Murder Among Friends" wouldn't be much fun for audiences if it didn't spring a few surprises on us.
The top of the play's second scene dishes out one of several reversals meant to complicate the seemingly straightforward plot and keep us guessing.
One of the ways the play teases us is by relating the tale of a possible murder of a young man named Steven Jessup the previous summer: Angie and Palmer blame and suspect one another of having killed him.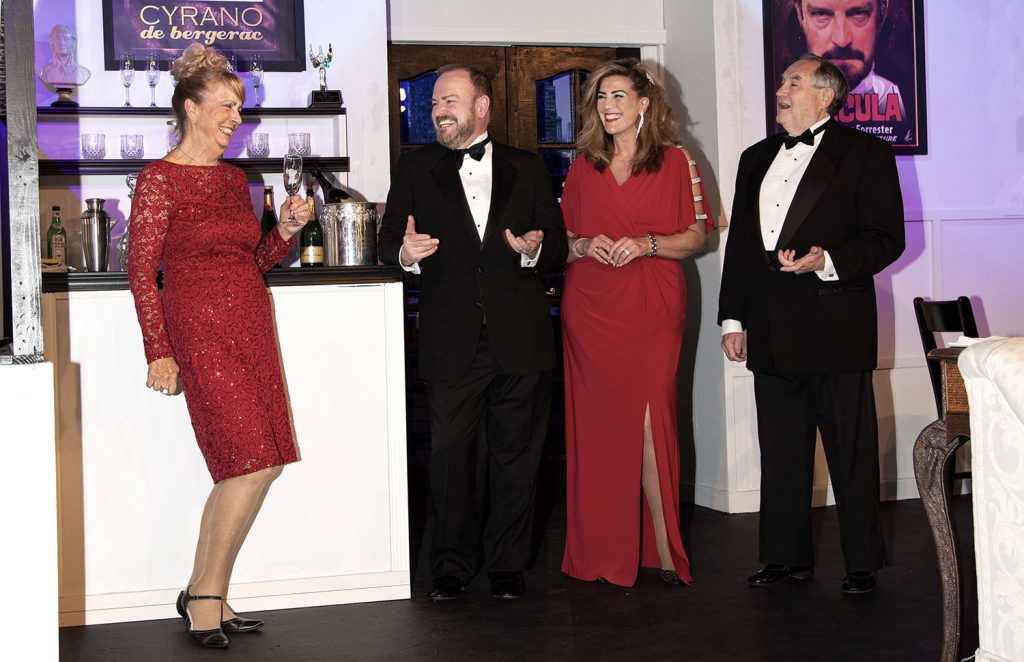 When the menacing hit man with the unlikely name of "Larry Prosciutto" (Andrew Kelley) eventually reveals that he is, in fact, Steven, we get yet another set of baffling clues dropped in our laps.
Barry has written a nifty brain-teaser, and as the milieu is the world of Broadway theater, he layers a steady stream of show-biz jokes on top of the play's foundation, the well-written and well-plotted mystery-thriller that keeps us guessing.
To his credit, Barry never cheats by withholding key information, and that makes "Murder Among Friends" satisfying in that all of the puzzle pieces do, in fact, eventually fit together.
Veteran director Mitchell Nunn, who played Palmer in NTAC's earlier (1987) production, has assembled a superb sextet of actors, then guides them through the labyrinthine script with apparent ease. The result is an enjoyable, stylish thriller that also keeps us laughing through the reactions and comments of characters who are often as much in the dark as we are.
In preparing to commit a murder, Lori Kelley's Angie is hilariously uptight, anxious she'll never be able to keep her composure. Frankeny's Ted, armed with a New York accent, is cheerfully confident that Palmer poses no threat.
Peters' Palmer is a study in pomposity and egotism, a comedically vain stuffed-shirt who we eventually realize isn't just full of himself – he's also callous, greedy and incredibly devious.
Andrew Kelley morphs from "Larry," whose mangled Spanish accent as the lethal home invader generates well-earned laughs, to Steven, who has a score to settle over the previous summer's bizarre murder-and-blackmail episode.
"Murder Among Friends" amounts to these four characters – Palmer, Angie, Ted and Larry – playing head games with each other, with murder as the endgame. All four are scheming, self-serving, ambitious opportunists. Not one of them knows who to trust – just as we have to sort out who to believe, who to suspect.
The innocent bystanders to these deadly shenanigans are the Forresters' party guests, the Saidenbergs. Yvonne Robertson garners laughs with Gert's exaggerated New Yorkese, while Frank Valdez, as Marshall, is low-key as he mutters acerbic asides about his wife.
The show's designers put the finishing touches on Barry's solid script, Nunn's direction and the cast's uniformly fine work.
Jim Huffman's set design, built and decorated by Huffman, Michael Corcoran and Leslye Walenthal, creates a gorgeous home for the Forresters in pristine white with black trim; red, grey and brown furnishings; and framed theater posters showing Peters-as-Palmer in his various starring roles (including Cyrano de Bergerac and Dracula).
Tom Phillips and Larry Watts' sumptuous costumes are equally stylish, and the production's lighting and sound design (Josh Serrano), fight coordination (David Rodriguez) and properties (Kathi Cervantes) tangibly enhance NTAC's show.
The original 1975 Broadway staging of "Murder Among Friends" starred Janet Leigh and Jack Cassidy as Angie and Palmer, while the 1982 made-for-TV British movie had Sally Kellerman and Leslie Nielsen in those roles.
But no need to track down the film version when you can see this show live – especially given the stellar job NTAC has done in resurrecting it.
Newport Theatre Arts Center, 2501 Cliff Drive, Newport Beach. Through February 19. Running time (including intermission): 1 hour, 40 minutes. 8 p.m. Thu.-Sat., 2 p.m. Sun. Tickets: $20-$25. Ticket purchase/information: 949-631-0288, ntaconline.com