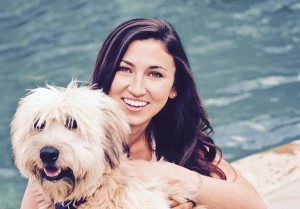 "I was doing business litigation in Newport Beach, and by the book I had the best job," explained 27 year-old Newport Beach resident Kate Schwarz. "I worked at a great firm, and I loved my bosses; they gave me such great mentorship and learning opportunities. But I couldn't ignore the fact that I was unfulfilled. I had always envied physicians because they can go anywhere in the world to help others because everybody needs medical care. But as a lawyer, you can't even leave California without having to take another Bar Exam."
"I have always wanted to use the skills and gifts I've been blessed with in the mission setting, but I didn't think I could do it," she continued. "But then I was introduced to International Justice Mission by Lucie Moore. I went to their first Orange County benefit and learned about the organization. Later I learned about a legal fellowship they had. God put on my heart that this was the mission opportunity I had been craving but hadn't thought possible. It was awesome to realize how I could serve internationally as a lawyer."
International Justice Mission (IJM) is a human rights agency that rescues victims of slavery, sexual exploitation and other forms of violent oppression, and works to enforce the rule of law in developing countries. The four categories of violence in the developing world that IJM focuses on are gender violence against girls and women, slavery, police abuse, and violent taking of land.
Their mission is "To rescue thousands, protect millions and prove that justice for the poor is possible."
Schwarz worked at Bremer Whyte Brown & O'Meara LLP in Newport Beach for two years. She received a legal fellowship with IJM to work with the legal team in Cebu, Philippines for ten months.
"IJM's mission is to work with national authorities to make sure justice systems in developing countries protect the poor from violence," Schwarz said. "It's illegal to traffic children for sex, but criminals can get away with it because they aren't punished when they commit the crime. I'll be working with local lawyers, judges and law enforcement to effectively prosecute criminals who prey on the poor, along with supporting the transformation of the public justice system so that hopefully the change is sustainable."
After training in Washington D.C., Schwarz recently began her fellowship in Cebu.
"It's incredible to finally see the front lines of the mission," Schwarz said. "From actually going to court and assisting attorneys with the prosecution to visiting young victims in the aftercare facilities, I'm seeing that the devastation is real but also that there is something we can do about it."
International Justice Mission's annual benefit is Saturday, Mar. 12 at The Balboa Bay Club where Sean Litton, who leads all of IJM's field operations, and Gary Haugen, IJM's founder, will be featured speakers.
"We are looking forward to the benefit because it is a great opportunity for people to learn about modern day slavery from an organization that is doing more than any other to stop oppression against the poor," said Lucie Moore, benefit chair. "People are shocked to discover that there are more slaves in the world today than any time in history. We want people to do more than feel bad about injustice. We want them to become part of the solution to bringing justice to the poor."
For further information, visit IJM.org.
Cindy can be reached at [email protected].