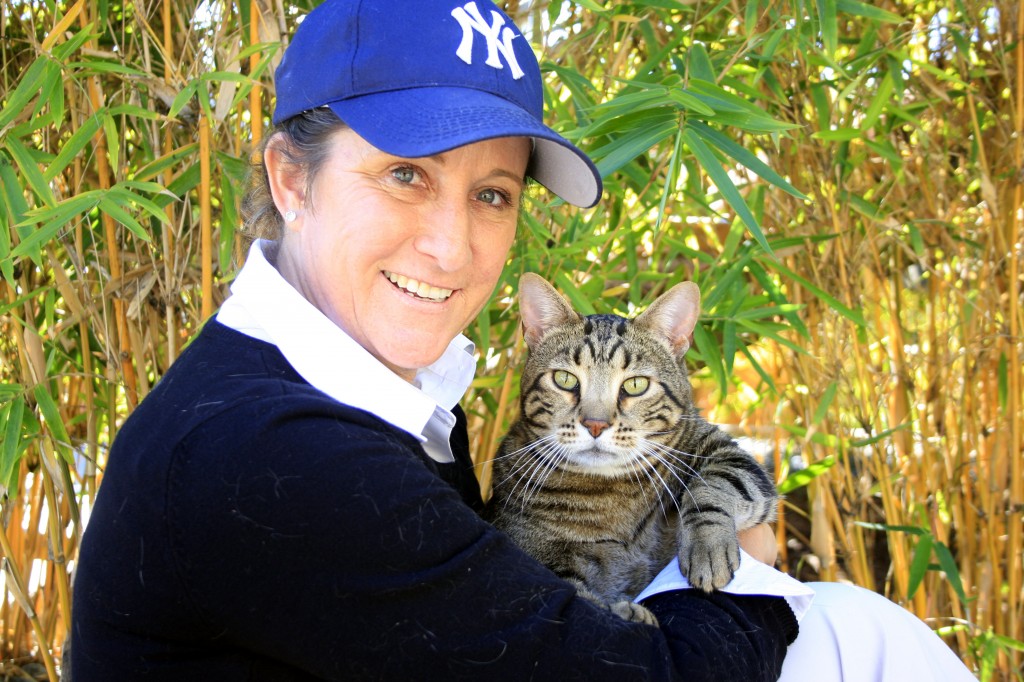 Newport Beach is home to a number of famous faces, but just one has whiskers and a long, furry tail.
Aragon the Cat, the chubby feline who plays Lord Tubbington on the hit Fox show "Glee," lives locally with his human owner, CeCe Card.
The 24-pound Bengal is an "actor, comedian, [and] social activist," according to his very own facebook page. Card is also working toward getting him certified as a therapy cat.
But he is nothing like his "Glee" character, Card said.
While on TV, the Tubbington character is known to smoke, drink, do drugs, and eats only human food, including fast food restaurants like Arby's. His occupation is listed as "Gossipmonger," and he recently joined a gang.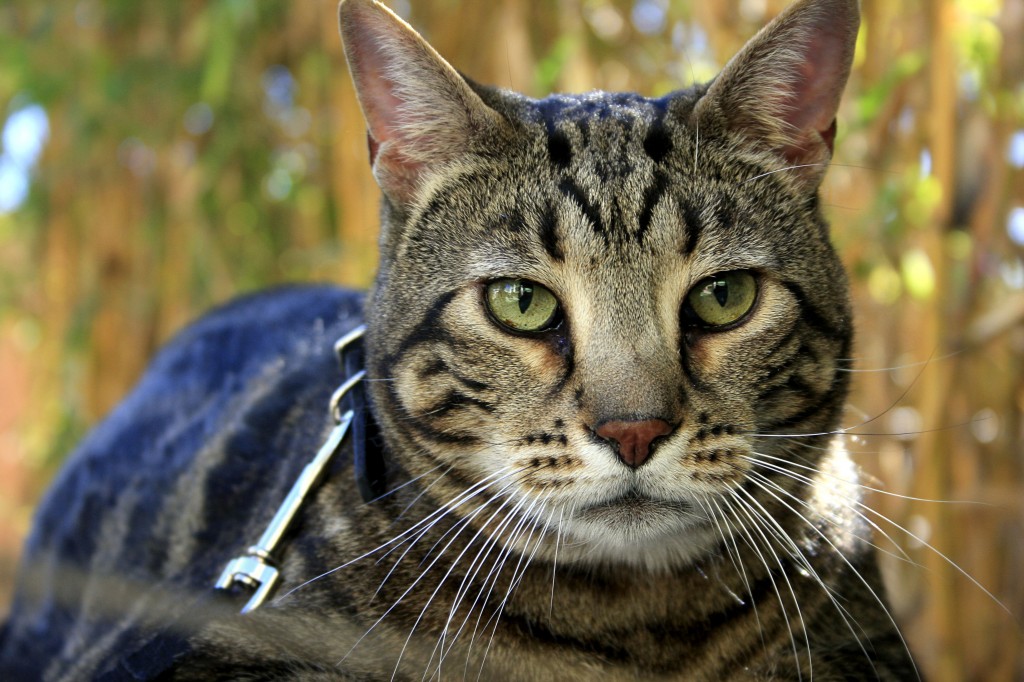 "People know Lord Tubbington, but they don't know the cat behind Lord Tubbington," Card said. "That's his role, but that's not who he is."
The cat behind the character is quite different.
Aragon is all about love, Card said. He is very friendly and affectionate. He enjoys walking around his Newport neighborhood (where Card and Aragon moved earlier this year), exploring wherever his nose takes him and visiting local shops. He's laid back, loves attention, is very curious, and the only "drug" he likes is catnip. He also enjoys fine dining.
"(It's a great) opportunity they gave this little guy, because I've been able to take the idea and create a whole personality, for good, and that's Aragon the Cat," Card said.
Card, who previously called herself more of a "dog lover" than a "cat person," adopted Aragon in 2005 when he was nearly a year old.
A friend told her of an available Bengal kitten at an East Coast rescue group, and an exotic cat intrigued her.
The group sent her a photo of "Aragorn," his name before Card modified it.
"I fell in love with him immediately," she said. "He was so big and chunky."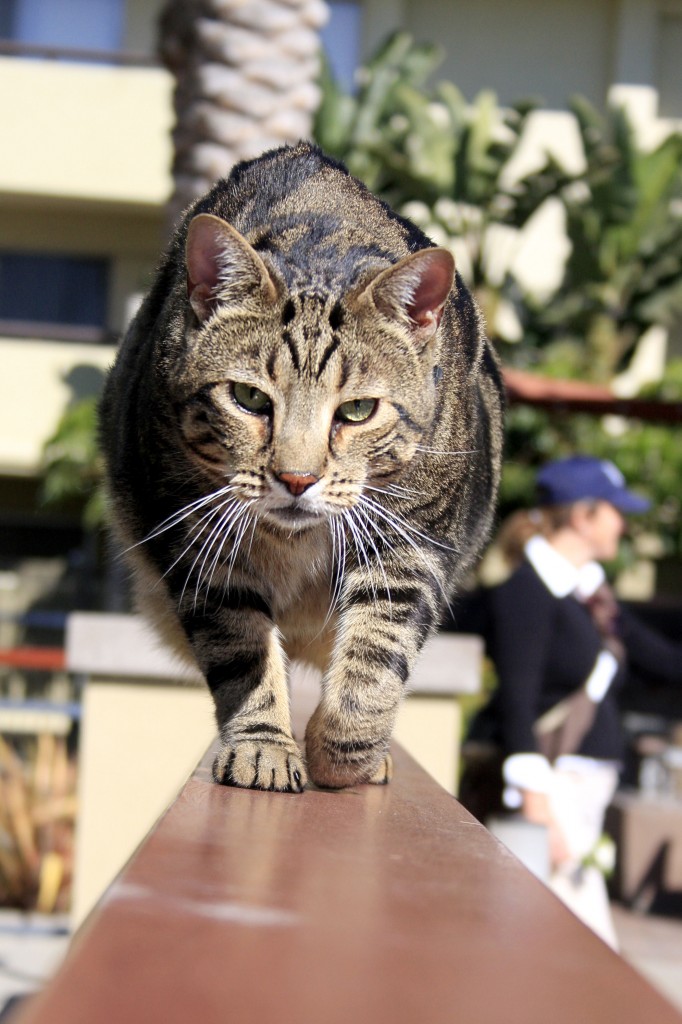 He was already about 12 pounds, Card estimated. Because of his kingly stature, he was named Aragorn, after a tall king character from J. R. R. Tolkien's "The Lord of the Rings."
The group's vet told Card he was the "king" of the litter and described his personality as friendly and sociable.
Card was spending Christmas in New York and the rescue group's headquarters was quite a distance away, so the vet agreed to meet her with Aragon at a halfway point. The meeting didn't go as well as Card had hoped though. Aragon was grumpy from the traveling and being stuck in the crate. He seemed "big and wild," she said.
She returned to NYC and spent a few days at her hotel bonding with him. She talked to him, hand-fed him steak and carried him around the hotel, all working toward building a trusting relationship with the big Bengal. By the time she had to return home, the two had established the beginning of a wonderful relationship.
"At takeoff, he was so relaxed that he was laying parallel, spread out on the tray table, kneading his paw into the palm of my hand," Card said. "I was a proud mom."
Card brought Aragon back to Laguna Beach, where he immediately made himself at home. He stepped out of his crate and into her house like he owned the place, she said.
As a young cat, he was very energetic and curious, Card said.
He got used to being carried around and being in noisy locations quickly, she said.
It was a process to teach him to walk on the leash though, Card said. She started by just following him around and then slowly added the collar and leash. Now, he's used to it.
"I let him lead me," she said. "He really looks forward to his walks. From time to time he likes to jog. He is a lot faster and in better shape than he seems."
Card has gotten some mean comments about his weight, she said, but she doesn't respond to the negative remarks.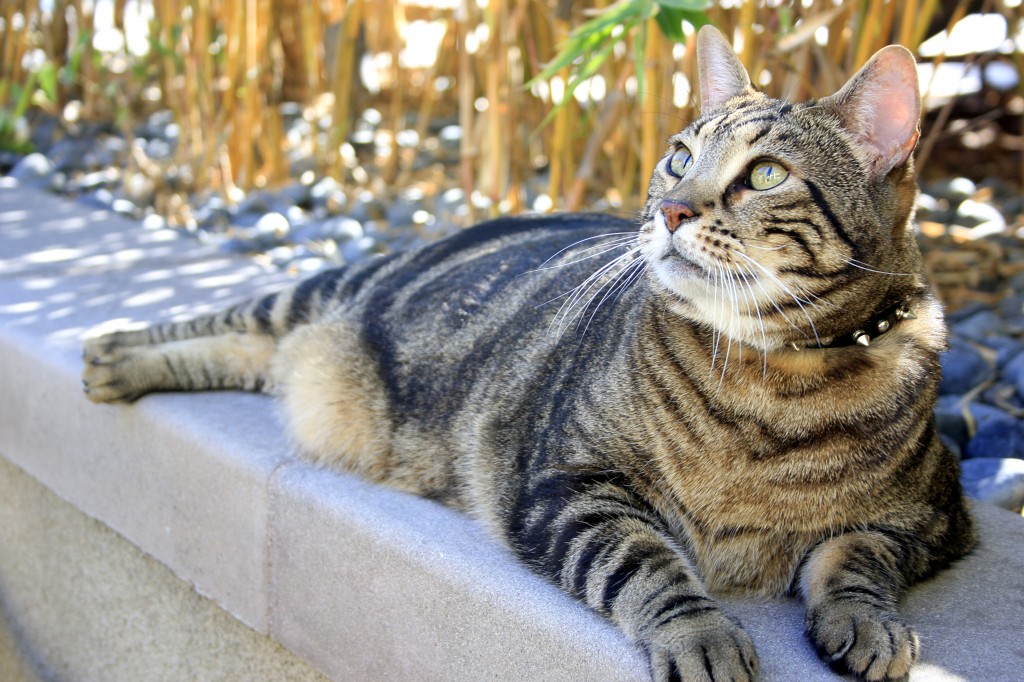 "He's the size he needs to be. He's healthy. He's been full figured since birth," Card said. "This is a message to let everybody be who they want to be."
Aragon became a feline actor after being "discovered" while on a stroll in Laguna Beach. Card was walking him on a leash with a friend, who happened to be a talent scout for Paws For Effect. Her friend, Debbie Pearl, thought he had the perfect look and demeanor, and suggested he try his paw at acting.
"She said, 'He's big, he's chunky, he's affable, I think I can get him work,'" Card explained.
Within a month, he had an audition for Glee in a group casting for the role of Lord Tubbington and was offered the part.
Since then he's appeared in an iPad Verizon commercial and in a video with the cast of Ghost Girls.
He also recently did a humorous scripted video that includes a voiceover that will soon be posted on YouTube, Card said.
In the future, Card would love to see Aragon in a Superbowl commercial.
Her main goal for Aragon is to spread a positive message of love, genuineness  and acceptance.
"As many times as we can get that message out there, whether it's a human being saying it or a cat exemplifying it," it's important, she said. "You never know who the next spokesperson is going to be."
For more information, visit www.aragonthecat.com or his facebook page here.