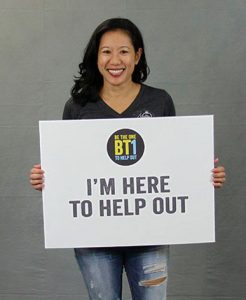 In collaboration with the Orange County Human Trafficking Task Force, Junior League of Orange County (based in Newport Beach) is marking Human Trafficking Awareness Month with a number of activities and educational events to increase awareness of human trafficking in Orange County.
One primary focus is centered on a social media campaign called "Be the One" to inspire people to be the one to drive change in Orange County.
Interested people are asked to post a photo of themselves in the month of January holding a sign that reads: BT1. BE THE ONE TO MAKE A DIFFERENCE.
Participants in this social media campaign are asked to create a tagline for their photos identifying who they are, such as "I am a mother," "I am a teacher," "I am a police officer," "I am a volunteer," etc., and then paste in the following statement into their post: Human Trafficking is modern-day slavery and involves the use of force, fraud, or coercion to obtain some type of labor or commercial sex act. I encourage you to replicate this photo at home and join the anti-trafficking movement with us. BE THE ONE to make a difference! Visit these websites, www.jlocc.org and www.ochumantrafficking.com to learn more.  #BeTheOne, #EndItMovement, #HumanTraffickingAwarenessMonth, #StopTrafficking, #JLOCC, #OCHTTF #OCTA
Junior League is also holding a drive to collect gift cards in $25 increments from Target, Walmart, and Uber, along with other items for distribution to local victims of sex trafficking.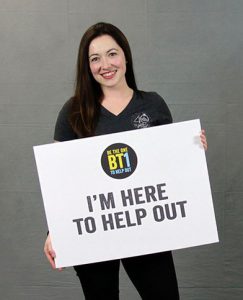 Members of the public can get involved by bringing donations during January to JLOCC's office at 5140 Campus Drive in Newport Beach. Appropriate items in their original packaging are laundry detergent, paper towels, toilet paper, trash bags, and tampons. Call (949) 261-0823 or visit JLOCC.org for more information..
According to the Orange County Human Trafficking Task Force, human trafficking is the fastest growing crime in the county involving primarily female victims as young as nine years old, who are recruited into this modern-day version of slavery, most often kept against their will and then sold repeatedly for sex.
Statistics show 241 victims of sex trafficking were assisted in Orange County in 2016 alone, with each victim on average worth potentially more than $200,000 yearly to their pimps. This statistic only indicates those who have been assisted, and does not pinpoint how many victims are actually out there. The fluidity of this crime makes is hard to know how many people are truly affected.
"Most people in Orange County are unaware that human trafficking exists here—and they would be shocked to hear that is happening in their own neighborhood. Junior League is pleased to do our part to educate the community and promote Human Trafficking Awareness Month. We believe we can make an impact by expanding existing community-based education programs about how to identify and help victims of human trafficking in Orange County," said Kathleen Neff, Junior League's Human Trafficking Awareness Manager.