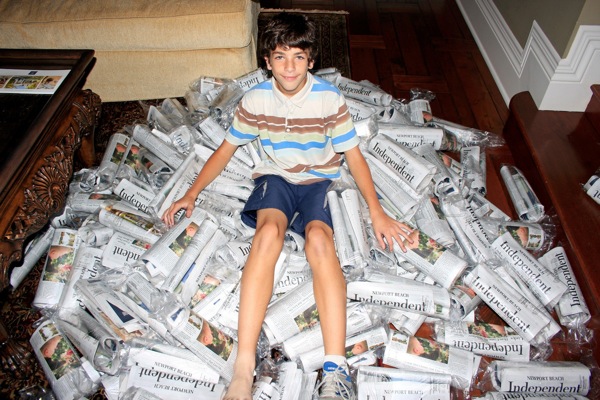 In an age where most get their news online and those who do subscribe to printed newspapers get them from "independent delivery contractors," it's rare to find a kid doing what used to be a common childhood job: Paperboy.
But one neighborhood of Newport Beach Independent readers still get their local news delivered each week, by 13-year-old Sam Roth.
Roth, an eighth grader from Corona del Mar Middle School, delivers the Indy to about 400 homes in the One Ford Road community.
"The job is pretty good," he said, and it gives him something to do, he added. "I look forward to it."
He likes the job, he said, for a lot of reasons, but "mostly the pay," he admitted.
It also "trains you to work," he said, or teaches work ethic, his dad, Dr. Ivar Roth, explained.
"He's learning that (it's important) to do the job correctly," the proud father said.
He likes being a paperboy, the younger Roth continued, and he'd encourage other kids to get a job delivering papers.
"I'd encourage them…[kids my age] or younger," to get a paperboy job, Sam said. "It teaches them work ethic and also responsibility."
Like father, like son: Ivar Roth was also a paperboy when he was a kid. Growing up, Ivar Roth delivered a local community paper around his Whittier neighborhood. He delivered papers until he was about 16 or 17, he said.
"I wanted to work from the time I was a little kid," the elder Roth said. "It really does come down to responsibility and work ethic and that really stuck with me, so I thought it'd be a good thing for Sam."
Sam started delivering papers when he was 4 years old. Their father would pull Sam and his twin sister in a wagon and they would throw OC Health into driveways in their neighborhood.
Sam liked the job and continued when the Indy debuted in June 2010.
"Right when the newspaper hit, we were delivering it," Ivar Roth said.
Ivar Roth rode his bike to get the paper out when he was a kid, but he drives Sam around the neighborhood in his car. The new Roth paperboy will soon transition over to riding his bike to deliver the papers.
He'll also soon be getting a classic-looking canvas newspaper carrier to wear on his route. That type of carrier, once a must-have paperboys, are now being sold as vintage antiques on eBay. Sam will have to have his custom made.
Custom equipment is appropriate for someone as good at their job as Sam.
"He's got it down to a science," Ivar Roth said.
The papers are dropped off at the Roth house around 9 or 10 a.m. on Friday, after Sam has gone to school. That night, he'll roll at least half of them up and insert them into plastic bags.
He can crank out all 400 papers in 30 to 45 minutes, "if I don't get distracted," he said.
Father and son couldn't agree on how fast Sam can roll and insert the paper into the plastic bags. Ivar Roth thought about 10 per minute and Sam estimated around 30. A timed test ultimately settled the dispute, with Sam's quick hands and practiced method landing him in between the two guesses at 17 per minute.
"He's got his routine down," Ivar Roth said.
His routine includes taking one shoe off so his foot can hold onto the bundle of plastic bags without them slipping all over the place as he stuffs the paper in.
"I can't hold on to the bags with my shoe on," Sam explained.
On average, the Indy plus the Coastal Real Estate Guide usually add up to about 50 pages, which is a good amount and is easy for him to roll up quickly, about one every three seconds.
How quick he is really depends on the size of the paper as well, he said, too thick or thin can really make a difference.
He's all about efficiency in his job.
He dislikes the ad inserts because, even though they take less than one second to insert into the paper, "that's like 400 half of a seconds," so it makes everything "take just a little bit longer," he said.
Neatness counts too, he said. The paper should be rolled nicely and placed evenly inside the bag, so it looks appealing to the customer and it is easy for them to take out.
He even rolls the paper up in a certain pattern so that the nameplate can be seen.
After they've all been stuffed, Sam piles them into large reusable bags and loads them into the car. He delivers them no later than 7:15 a.m. Saturday morning.
Over the years, he's also perfected his aim. He shoots for the middle of the driveway. If there is another paper or magazine already out there, he'll throw the Indy nearby so the customer can conveniently pick them all up at once.
He also delivers the Indy's sister publication, Newport Beach magazine, to the neighborhood once a month.
Even though his friends all have allowances and not actual jobs, he enjoys his work, he said.
He earns money, learns work ethic and responsibility, as well as gets to know his neighbors.
"It's also good because I'm saving up for college," said Sam, who wants to attend Stanford University.
The straight-A student also wants to follow his podiatrist's father's footsteps in other ways too.
"I want to be a foot doctor, like Dad," Sam said.
"It's a great childhood job," Ivar Roth added. "I think more kids should do it."