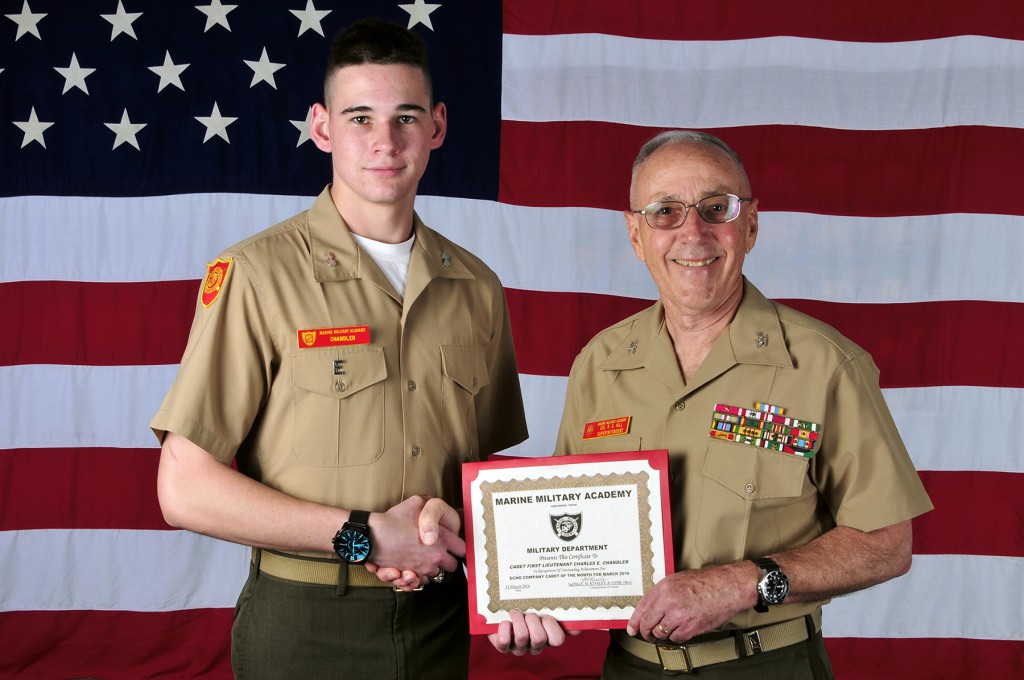 Marine Military Academy senior Charles Chandler of Newport Beach accepts the Marine Military Academy March 2016 Cadet of the Month award from Superintendent Col R. Glenn Hill.
— Photo courtesy Marine Military Academy ©
Newport Native Named Cadet of the Month
Senior Charles Chandler of Newport Beach was named the Marine Military Academy March 2016 Cadet of the Month for Echo Company.
The cadet who receives this esteemed award is nominated by his drill instructor for his exemplary attitude, conduct and leadership.
In addition to the recognition he received April 1 in front of the MMA Corps of Cadets, this young man will be treated to a special dinner hosted by the MMA superintendent and his wife.
Chandler, a second-year cadet, plans to attend Santa Barbara City College before he becomes a fireman. The 18-year-old is the son of Nancy and Robertson Chandler.
Marine Military Academy is a college-preparatory boarding school for young men in grades 8-12 with an optional post-graduate year. Since 1965, MMA is the only private school in the world based on the traditions and values of the U.S. Marine Corps. Located in Harlingen, Texas, MMA has been home to thousands of sons from across the world and is quarters to the historic Iwo Jima Monument.
For more information, visit MMA-TX.org.
Mariners Branch Library Celebrates 10 Year Anniversary
The Newport Beach Public Library invites the community to celebrate the 10th Anniversary of the Donna and John Crean Mariners Branch Library on April 16 at 2 p.m. in the Vincent Jorgensen Room, 1300 Irvine Avenue.
The festivities will mark the culmination of National Library Week (April 10 – 16), with family entertainment by magician Abbit the Average and a birthday party with cake and refreshments.
The 15,000 square-foot Donna and John Crean Mariners Branch Library opened in April 2006 as a joint-use facility serving both the school and the community.  
Designed by Thirtieth Street Architects of Newport Beach, it is more than twice the size of the original Mariners Branch Library (built in 1963).
The Children's Room connects to Mariners Elementary School, providing easy access for students to read, study, research, use computers, and enjoy special programs.
A variety of events will be held at all of the Newport Beach Public Library locations during National Library Week, including magic shows, an author visit, story times hosted by members of City Council and the Board of Library Trustees, a comic drawing workshop, and other entertaining programs.  
National Library Week events are supported by generous donations from the Friends of the Library.
For more information, visit newportbeachlibrary.org.
NB Library Hosts 'What Color the Moon' Exhibit
The Newport Beach City Arts Commission presents the art of Eva Malhotra in a special exhibit now on view through May 3 at the Central Library, 1000 Avocado Avenue.
An artist's reception will be held on April 30, 2 to 5 p.m. in the friends meeting room at the central library.
The exhibit includes 16 of Malhotra's works of art in a collection titled "What Color the Moon."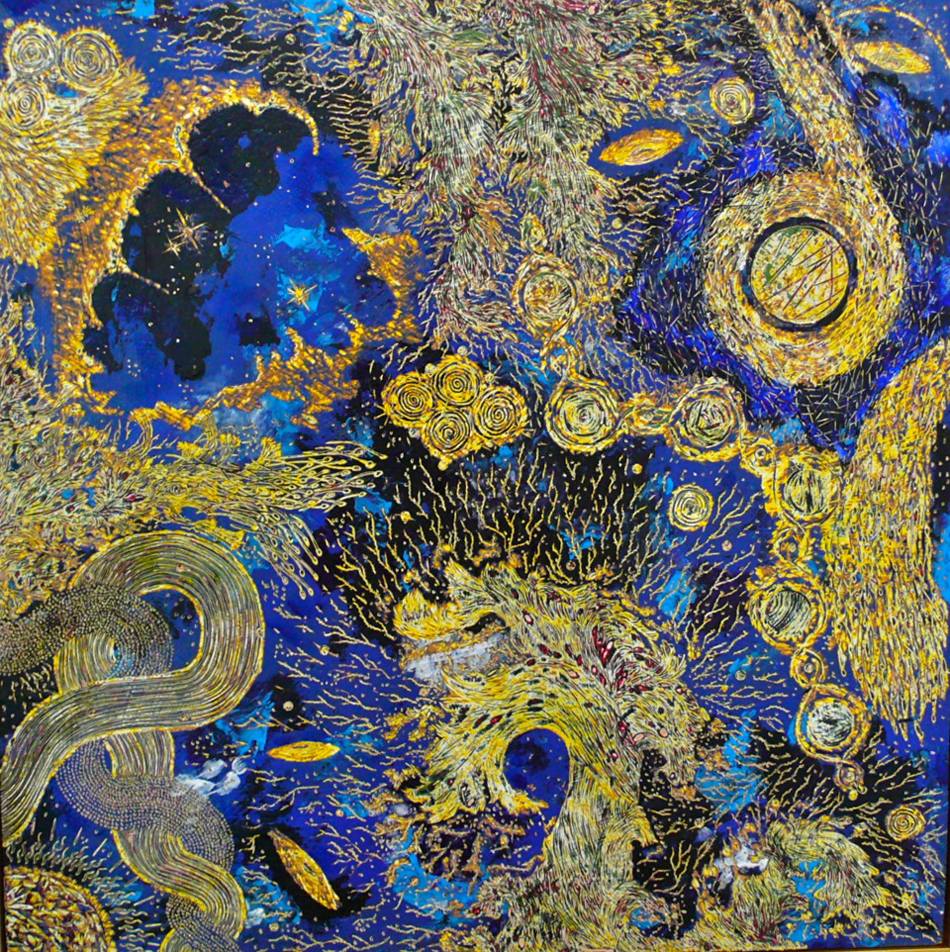 Born in Mexico, Malhotra studied at UCLA and the California Institute of the Arts under mentor John Baldessari,
Her work has evolved through various artistic forms where she intersects disciplines such as painting and sculpting. Malhotra experiments with a variety of techniques to create her art, including carving, scraping, and overlapping, and re-applying remnants of paint that has been carved and/or scraped off.  
Using wood panels as her base, Malhotra covers the panels with twelve to fifteen layers of differently colored paints. Then she takes printmaking tools – cutters, carvers, gouges, and knives – and makes marks on the surface, creating an imaginative world of color and texture.  
Her work has been exhibited at various California locations as well as in New York and Mexico City.
For more information, visit newportbeachca.gov/CulturalArts.