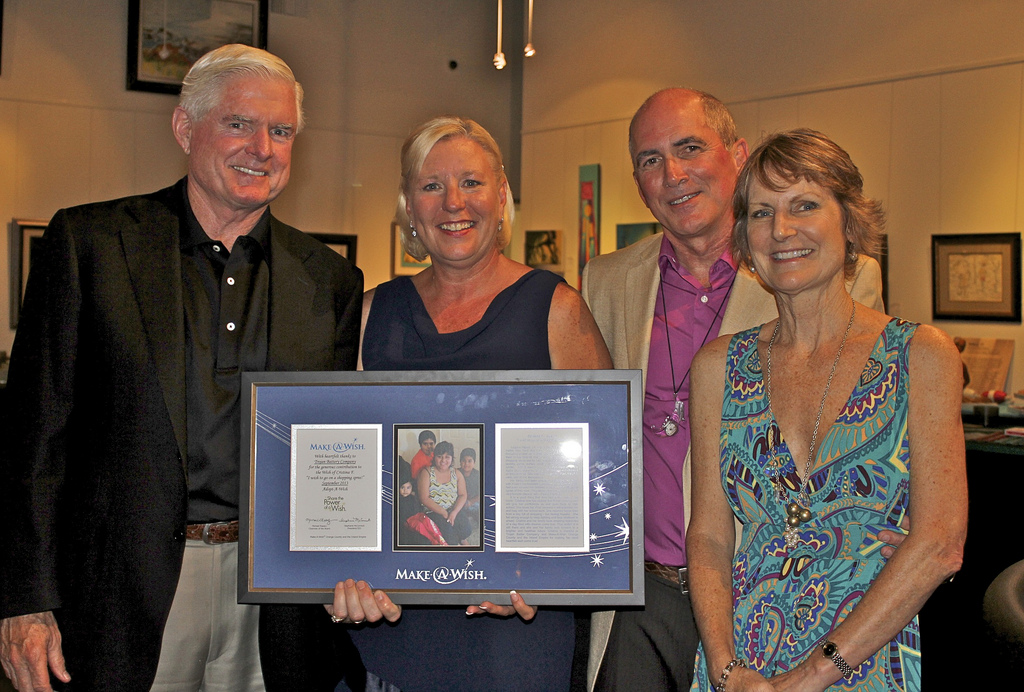 An upcoming event will allow guests to enjoy some gambling fun while granting wishes for local kids in need.
The Seventh Annual Rolling for Wishes fundraiser will be held June 13 at 6:30 p.m. at the Hyatt Regency Newport Beach. The event will benefit Make-A-Wish Orange County and the Inland Empire.
Guests can play roulette, craps, blackjack and more while supporting a worthy cause.
The soiree will feature casino action, silent auction, DJ entertainment, hors d'oeuvres and hosted beer and wine. A specialty cocktail station will be provided by Ole Smoky Tennessee Moonshine.
"It should be a fun night," said Kevin Wagner, 28, of Corona del Mar, who serves as the Signature Event Chair for the MAW Young Professionals Leadership Council, the group hosting the event.
The "Wish Kids" are going through tough times that no child should have to go through, Wagner said.
"Make-A-Wish is a great way for them to find joy and hope in a time in their lives when they really need it," Wagner said.
"I've seen the effect. I've seen it work," he said.
Wagner is also a member of Future Leaders of Our Community.
"Getting young professionals involved in philanthropy is important," Wagner said.
It's an important time in their lives as they increase their "sphere of influence," he noted.
It is mutually beneficial for them to get involved early as they climb the corporate ladder, said Wagner, who works as director of strategic planning and analysis for the Irvine Company.
Many young professionals are busy with other things and don't make philanthropy or community service a priority, Wagner pointed out. Often, they've never been involved with nonprofit work before or have had a venue to help them get involved, he added.
Wagner quoted the some numbers from the U.S. Department of Labor.
The figures are "alarmingly low," Wagner commented.
A recent report showed that the lowest engagement of volunteerism occurs between the ages of 20-24 at only 18.5 percent. It rises slightly to 21.9 percent by the age of 35.
That means that 78-82 percent of the public between 20-35 years old are not engaged in the community at all, noted Shawn Wehan, National Director for Future Leaders of Our Community.
"FLOC is working toward raising this percentage and creating a paradigm shift in community engagement," Wehan wrote in an email. "The question of 'What do you do for work?' should be as equally important as 'How do you contribute to the community?' Volunteerism should be viewed as fundamental to common citizenship. Not just a few people engaged, but everyone engaged."
Wagner officially became involved with Make-A-Wish Orange County and Inland Empire when the Young Professionals group formed about a year ago.
Sarah Pizzaruso, director of development for Make-A-Wish OC and IE, had the initative to target the younger demographic and get them involved.
An initial board was created, which included Wagner, and it grew from there. The YP group is for young leaders under the age of 40 who are interested in helping increase awareness, encourage volunteerism and raise funds for the organization.
"It's an interesting demographic," Wagner said.
The group's mission is to "provide a forum to develop and enhance professional growth, leadership skills and civic duty in a fun and social atmosphere," according to the website.
Wagner is also involved in another group that encourages philanthropy among the younger crowd, Future Leaders of Our Community.
FLOC helps build bridges between nonprofits and young professionals, he explained. The group focuses more on philanthropy than networking, he added.
"It's nice to be able to make time to give back," Wagner said, "especially to a community I really love."
Rolling for Wishes tickets are $75 for MAW Young Professionals and Women's Circle of Wishes members, $95 for general admission and $125 at the door, if still available. Guests will receive $150 worth of casino chips with purchase of a ticket. The event is cocktail attire.
For more information or to purchase tickets, visit ocie.wish.org or contact Sarah Pizzaruso at [email protected] or call 714-573-WISH (x230).
For information about the Young Professionals group, email [email protected] or visit http://ocie.wish.org/ways-to-help/fundraising/young-professionals. For more information about Future Leaders of Our Community, visit oc.flocers.org.