Beer lovers have their Tap Takeovers, so why not offer cheese lovers a Cheese Takeover?
That's exactly what SideDoor Gastropub in Corona del Mar does every month. Last month however, the popular foodie hangout (known for its award-winning cheese and charcuterie offerings) held a cheesy party on the Five Crowns Restaurant patio (adjacent to Sidedoor) featuring the ultimate celebration of fromage with a Cheese & Charcuterie Backyard Party.
We were invited to the event, which showcased the four creameries of the series including By George (April), Cowgirl (May), Cypress Grove (June), and Willamette Valley Cheese Co. (July).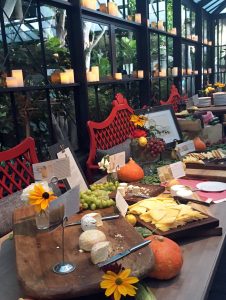 The event featured a dazzling display of cheeses plus sensational charcuterie, some passed appetizers, and signature cocktails and wines.
"There really isn't enough I can say about this wonderful event featuring one of my favorite things in the world: cheese," gushed Catherine. "If you haven't been to one of these events or at the very least tried SideDoor's cheese and charcuterie offerings, I highly recommend it—you won't be disappointed. For this party nearly a dozen different cheeses were available to sample, along with honey comb, seven different types of breads, and many different salamis and sliced meats. I was partial to the Red Wine Salami which had a robust old country flavor and the Black Truffle Salami. Some of my favorite cheeses featured included Brindisi with its flavors of brown butter and roasted hazelnuts and Truffle Tremor which has flavors of goat cheese mixed with the earthiness of the truffles."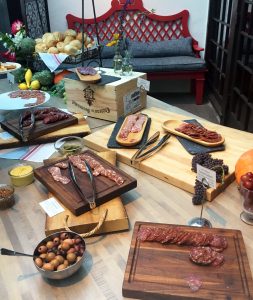 SideDoor's popular monthly Cheese Takeovers continue through the fall and winter season on the third Wednesday of every month.
Coming up September 20: Jasper Hill (Vermont); October 18: Rogue Creamery (Central Point, OR); November 15: Beehive Cheese (Uintah, UT); December 20: Cascadia Creamery (Trout Lake, WA).
Another Cheese Party will be held January 17, 2018, featuring the fall and winter creameries.
For more information, visit sidedoorcdm.com.