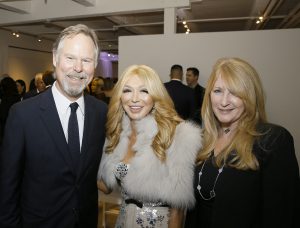 This has been a busy and exciting year for the Orange County Museum of Art.
The nonprofit organization sold its Fashion Island property and moved out of its longtime home, unveiled dazzling designs for its new facility to be build at the Segerstrom Center for the Arts, and moved into a new temporary home at South Coast Plaza Village.
Those milestones and more were celebrated at OCMA's annual Gala Dinner held on Sept. 22 inside OCMA's new temp facility.
The evening began with an elegant cocktail reception where 270 guests were tempted with a dazzling array of hors d'oeuvres, creatively presented on giant forks and via portable replicas of classic popcorn machines. A model of the planned OCMA facility was on view, allowing guests to get a sense of the scope of the project.
A highlight of the evening was the opportunity for guests to get a unique glimpse into the future and experience OCMA's Thom Mayne-designed building through state-of-the-art virtual reality technology. Through the use of a VR headset, participants could get immersive, interactive views of various points throughout the new building. I took the VR tour and got a sense of the size and grandeur of the new facility.
After the reception, guests moved into an adjacent room for dinner, where they were welcomed by OCMA Director & CEO Todd D. Smith and Gala chair Pame Schmider.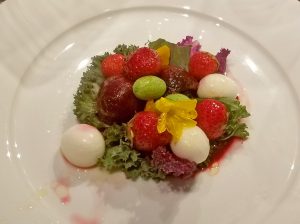 "Today is the fall equinox, a day when there is as much light as darkness," Smith told the guests. "This is about balance, and all we have accomplished in the last year. Let me recount what the institution has been able to do in the last year: Sell our property in Newport Beach, unveil our design for the new building, close down our operations in Newport Beach, make an application to the City of Costa Mesa for the new project, and in August we moved into this facility which will be our home for the next three years."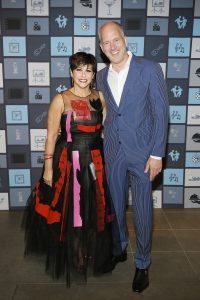 Smith also thanks Silver Sponsors Noelle and James Bergener, Lilly and Paul Merage, and Elizabeth Segerstrom.
First course was roasted sugar beets, macerated wild Harry's Berries strawberries, local goat cheese, and purple kale with aged Banyuls vinegar. This was paired with Jessup Cellars Sauvignon Blanc.
Entrée course was slow braised wagyu beef rib with peppered stone fruit, chili spiced pistachio gremolata, maitake mushrooms, garden of potted veggies and pomme souffle. This was paired with Jessup Cellars 2014 Cabernet Sauvignon from Alexander Valley.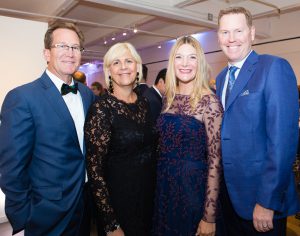 Following dinner (created by renowned restauranteur Barton G.), the party moved upstairs for desserts, and dancing courtesy of DJ Daisy O'Dell.
The event raised $372,000, which will support OCMA's exhibitions and education programs.
Visit OCMA.net for more information.