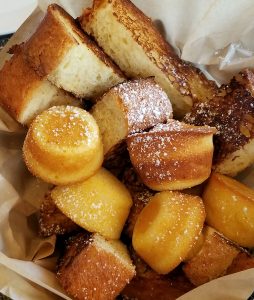 Andrei's Conscious Cuisine near John Wayne Airport recently celebrated its 8th year in business, and to mark the occasion the restaurant has launched a new Saturday a-la-carte brunch menu that is consciously creative and decidedly delicious.
We were invited to a special media tasting to sample the new brunch menu and came away full, happy, and impressed with the creativity and flavors of the dishes.
After being welcomed, we were offered a beverage from the build-your-own-mimosa cart ($11). A bacon-filled bloody Mary ($12) is also available.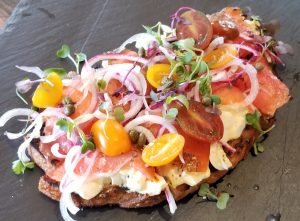 We started with a basket of bread ($7.99), but just any bread—it has a mix of French toast sticks and cornbread muffins with maple whipped cream. That alone satisfies any bread craving, but that was just a tease for the main courses.
Brunch lovers can select from a variety of dishes, including salmon breakfast toast ($15) with salmon gravlax, free-range egg salad, cherry tomatoes, capers, and red onions on grilled sourdough; arugula salad ($12) with tempura-fried eggs, shaved almonds, and pickled red onions; pigs in a lemon ricotta blanket ($15) featuring fluffy lemon ricotta pancakes rolled around chicken apple sausage, fresh berries, ricotta mousse and maple syrup; and pork belly frittata ($16) with Coca-Cola braised pork belly, cherry tomato confit, ricotta, zucchini, eggplant, fingerling potatoes, and free-range eggs.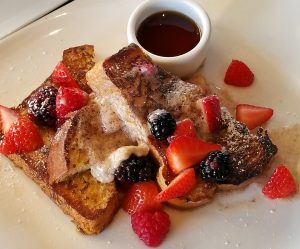 Catherine's favorite dish was the crème brulee French toast ($13) with cinnamon-vanilla French toast topped with caramelized bananas, fresh berries, cinnamon cream and maple syrup.
Christopher raved about the crab Benedict ($15) with Alaskan crab cakes and free-range poached eggs, drizzled with a jalapeño hollandaise sauce on top of English muffins.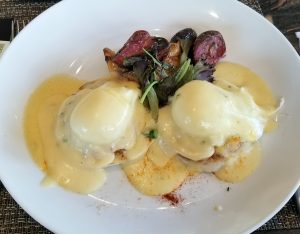 We also had a side of Applewood-smoked bacon ($4) which Catherine deemed "perfect."
We had to ask Executive Chef Porfirio Gomez, who loves to combine Californian flavors with Spanish and French cuisine, how he makes his lovely tempura eggs.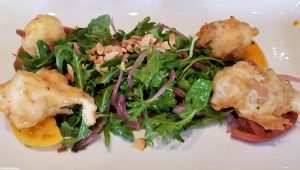 "First they are poached, then dusted with flour and tempura batter and deep fried for about 20 seconds," he explained. "They come out very light and not too mushy."
"I loved the eggs Benedict with the jalapeno hollandaise, it was subtle yet flavorful," said Christopher. "And everyone is raving about the fingerling potatoes."
"I cook them with water, garlic, bay leaves and salt, and then roast them in the oven," said Chef Gomez. "I add herbs and garlic, white balsamic vinaigrette and olive oil, and that's it."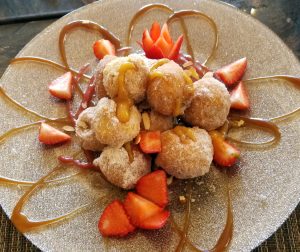 For dessert we had peach cheesecake beignets ($8) with warm peach cheesecake-stuffed beignets, caramel sauce, and cinnamon whipped cream. It was a decadent end to a delicious brunch.
Saturday Brunch is offered every weekend from 11 a.m. to 2:30 p.m. Guests can dine in the open restaurant or on the rooftop terrace, covered in herb and citrus gardens.
For more information, visit andreisrestaurant.com.